Last Updated on Sep 19, 2023
Facing Facebook messenger notifications issues on your iPhone lock screen or home screen? Worry not, I'll help you to fix all problems related to Facebook Messenger notifications. For instance, why don't I get messenger notifications until I open the app iPhone, or messenger notifications not showing on lock screen? Let's follow the article to free fix.
Potential Clues to fix iPhone Facebook Messenger Notification Not Working
Solution One: Check for Network Connection
FB messenger is an online base Application, likely Snapchat, Instagram, Facebook, Twitter, etc. If your phone is not connected to a Wi-Fi mesh or with cellular data, you are incapable of getting push notifications for any online applications. so the first thing is that you should check out the network connection;
if you are using Wi-Fi:
please make sure the Wi-Fi toggle is turned On
– Go to Settings > Wi-Fi > Turn Wi-Fi Toggle On/Green.
If it's already turned on, even though Facebook Messenger won't work, then maybe your Wi-Fi connection will conflict, so it probably stops transferring data packets to your Phone. Would you please check the Wi-Fi router (if possible, then restart your Wi-Fi router)? If Wi-Fi management is not controlled, please switch to another Wi-Fi network.
For those users who use Celluar data on iPhone and FB messenger, problems occurred, likely not loading chat threads, etc.
Would you please check the cellular data plan is not outdated? If your data plan consumes complete data, it no longer works even; you can see 4G or LTE active on the Top status bar of your Phone.
Go to Settings> Tap Celluar or Mobile > Turn toggle ON for Celluar Data or Mobile Data.
My data toggle is On, but Why don't I get Messenger notifications on my iPhone? The same question you have?
> Go to Settings
> Tap Celluar or mobile data
> Turn toggle Celluar Data ON
> Scroll down the screen turn toggle green next to the Messenger.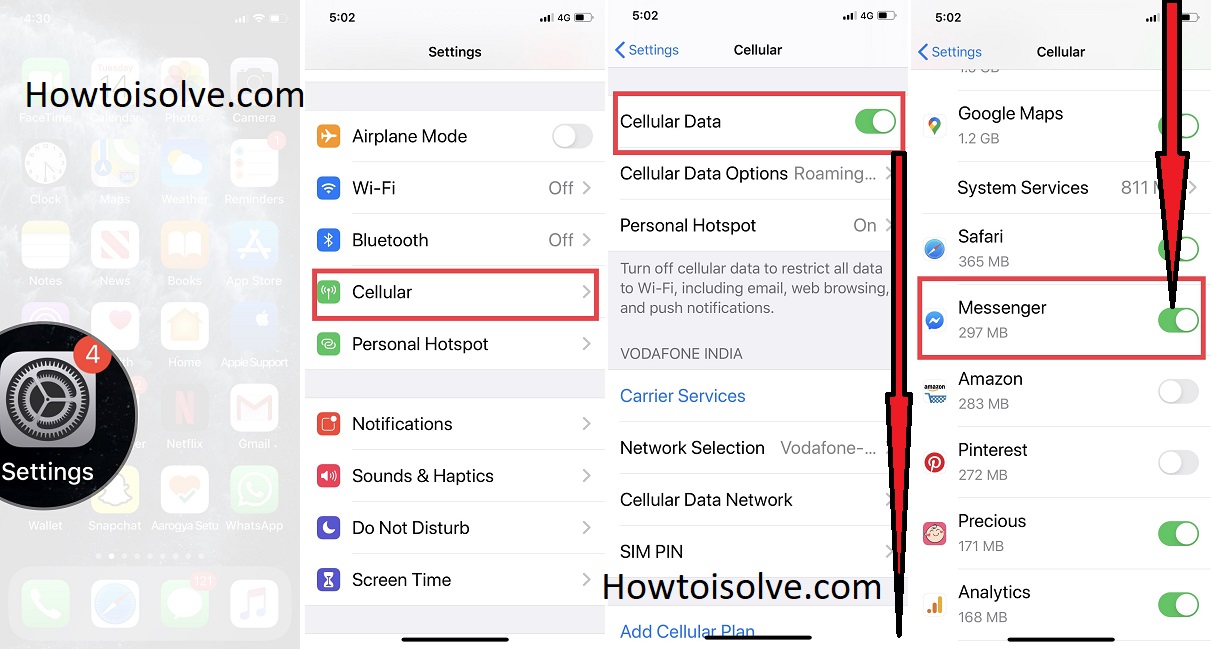 Note: if you can't turn on cellular data for FB messenger, refer to this guide to turn on cellular data for Messenger.
If not found network-level Facebook Messenger issues on your iPhone. Go to the following upgrade-level workarounds.
First of all, check out your iPhone running with the latest version of FB messenger because sometimes, due to official bug updates, various issues occur.
Also, Get Fix Facebook Messenger Notifications quick reply on the Phone Lock screen.
Solution Two: Make Sure that Messenger Notification toggle On in your Phone System and App settings
Let's see here > How do I turn on notifications for Messenger on my iPhone?
Go to Settings App
Tap Notifications
Scroll down the screen under NOTIFICATIONS STYLE heading Tap Messenger (Banners, Sounds, Badge)> Turn Allow Notifications On/Green.
you can set ALERTS style
For lock screen, Notifications Center, and banners style
Tap banner Style – here on-screen two options – Temporary & Persistent [Please choose a single option]
Now, if you are addressing that Facebook messenger notification sound not working on iPhone.
Turn Sounds toggle On/Green. If it is already ON, then once turn off and do switch On.
Do you want to get Notification counts on the Messenger icon? It would help if you turned on badges toggle Green/ON.
There are two advanced options:
Show Previews: Always (Default, When unlocked, Never) [keep Default]
Notifications Grouping: Automatic, By App, and Off [we suggest choosing Automatic]
Also, Make Sure Focus is Turned Off on your iPhone [Manage Focus from iPhone settings, Open Settings app > Scroll to Focus > Tap on Unwanted Focus and Delete Focus. or Turn off Focus, Open Control center on iPhone > Tap on Focus to Turn off].
Now Set the Messenger Notifications setting in App
Let's open Messenger App > Tap Profile Picture > Under the PREFERENCES section Tap Notifications & Sounds
Now read the below instructions carefully:
1) Do Not Disturb – make sure DND toggle is Off/White [For iOS 15 and later users – Know about

new Focus Mode

]
if toggle ON for DND, then it does must notifications for all conversations. For your specific selected time.
2) Show Previews– you must turn to toggle Green next to the Show Previews to get a Push notification on the lock screen for Messenger.
3) in-App Sound – you can adjust sound and vibration settings for messages you get when using the app
Tap in-App Sound
> Turn Sound On/Green.
>Turn the Vibrations switch On/Green. [if you would like vibrate your phone when you get a text message at the time you using the messenger app ]
Remove from Spam
Messenger app is featured with ignore messages from the individual profile; ignore Messages option will go into the spam list, Remove from the chat list, and not receive a notification. Follow the below steps to Remove from a spam list and Re-Enable Notification.
Open Messenger app > Tap on Profile > Message Requests > Spam Tab > Tap on Profile and Chat with them to remove from the spam list.
Facebook Messenger Stories notification not working on iPhone or android?
Open Messenger App > Tap profile Picture appear left-upper side> Tap Notifications & Sound > Turn Story Notifications toggle On/Green. the same steps also work for the android messenger app; for the iOS screen, see the above screen.
Below the screen is the Android app and Notifications settings for Android,
---
Solution Three: Update/Reinstall Messenger
To Update Facebook messenger on iOS 13, iOS 14 & Later iOS
Go to App Store – tap Profile picture appears right-upper side corner – Now scroll down the screen under the update section find Messanger app – if not found then use the App Store search bar and navigate the messenger app – will be an update there? Would you please tap the update to install the latest version?
If no update is available – Please delete and reinstall Messenger. Let's see how to delete and reinstall the Messenger app on your Apple iPhone?
Go to your Phone home screen, find Messenger tap, and hold on the screen till the Messenger App icon starts to jjiggle> now tap X mark sign appear on Messenger app icon > so you'll get a popup- Delete and cancel > Tap Delete to confirm.
Now, reinstall the Messenger app,
Go to App Store> Enter MMessengerinto App store search bar > Tap Messenger > Tap cloud with a down arrow icon to reinstall Messenger.
Log in your MMessengerwith a FaceBook User ID or Email and password; after, you'll get a popup- for Notifications – Tap Allow.
That's it!
---
For iOS 12 and Earlier Users,
Step 1. Launch App Store from your iPhone home screen.
Step 2. Next, hit on Updates
Step 3. Now, find the Messenger app on the screen; If any update is available, please do.
Currently, FB messenger's latest version is 334.0.
Solution Four: Your Phone Firmware must be updated
First, connect your phone to a Wi-Fi network, then follow the bottom steps;
Go to Settings > Tap General> Tap Software Upadate> please Download and Install the latest version of iOS 15.2 -if available.
Sometimes the system's outdated software bugs some apps features, likely here; we discuss messenger notification problems.
Solution Five: Reboot Your Phone
Apple iPhone 8, 8 Plus, and X series all iPhone users should follow the steps below [no physical home button models]
press and quickly releases the Volume Up button
press and quickly releases the Volume Down button
press and hold on the Side button till your Phone turn Off
next, press on the Side button to turn On and enter screen unlock Passcode to use as routine.
> For iPhone 7, 7 Plus: Press and hold on the Volume down button and Power button at the same time until your Phone gets off/ black screen.
> For iPhone 6 Plus and Earlier: Press and hold on the Home button and Power button at the same time until your Phone gets off/ black screen.
Solution Six: Turn Facebook Messenger Notifications Off and On
Go to Settings > Tap Notifications.
Tap Messenger.
Now Toggle off Allow Notifications.
Wait for 30-40 seconds.
Next Toggle Allow Notifications back on/Green.
Let's select your alerts style including the Show on Lock Screen, Notification Center, and Banners. Turn on Sounds and Badges.
I hope one of the above solutions helped you. If none of the clues worked for you, write a bug report to the Facebook team; you can do that as mentioned below.
Solution Seven: Write a bug report to Messenger App Developer
Open messenger App> Tap profile picture appears Left-upper side> scroll the screen tap Report A problem> Write down your concerns. Here you can get ideas on how to contact the App developer to send feedback on notifications not working as you before did.
How do I fix Messenger problems?
Why is my messenger not giving me notifications?
Why don't I get Messenger notifications on my iPhone?
How do I get notifications for messenger?
How do I turn on notifications for Facebook Messenger on my iPhone?
How do I get Facebook Messenger notifications on my iPhone?
How do I get Facebook Messenger notifications?
And Send a Report.
Facebook Messenger Notifications Not Working on Apple Watch
Facebook Messenger also works on our Apple Watch, just like iPhone, so you should receive notifications on Apple Watch if it is working correctly. However, if your Facebook Messenger Notifications are not working on Apple Watch, what should be done to fix the issue? Here's what is to be done.
Quick Tips,
Restart your iPhone and Apple Watch.
Disconnect and Reconnect iPhone to Data Connection.
Enable/Disable Airplane Mode.
Solution One: Update Apple Watch and Facebook Messenger App
Often, updating the firmware resolves various bugs of the iPhone and Apple Watch, so make sure to check the updates for iPhone and Apple Watch and keep them up to date. If possible, back up the iPhone before updating it to the latest version. Also, remember the rule, update the iPhone first, and then Apple Watch.
Before updating, be sure to connect the charger to Apple Watch and iPhone.
To update the iPhone,
Go to the Settings app and tap General.
Scroll down and select Software Update.
To update Apple Watch,
On your iPhone, launch the Watch app.
Go to General and Software Update.
Note: Alternatively, for watchOS 8 or later, open the Settings on Apple Watch > General > Software Update to update Apple Watch without iPhone.
Solution Two: Enable Messanger Notification on Apple Watch
We can enable or Disable the push notification mirror on Apple Watch from iPhone Watch App. So that Prevent from receiving unwanted app notifications on the apple watch screen or Somewhere focused on Apple Watch Battery draining issue. Follow the below steps for enabling FB messenger notification on Apple Watch.
Open Watch App on your iPhone that's paired with your Apple Watch.
Find, Notifications Option and Scroll down on the screen, and Enable Messanger Notification toggle.
That's it.
Solution Three: Toggle Off and On Bluetooth
If Facebook Messenger is not sending notifications on Apple Watch or only some notifications, it might be possible that the bluetooth connection between Watch and iPhone is corrupted. To fix, No Facebook Messenger Notifications on Apple Watch, turn off and on Bluetooth.
Navigate to the Settings app on your iPhone and tap Bluetooth.
Disable and restart your iPhone and then Enable it.
Solution Four: Enable Background App Refresh
Many users keep the Background App Refresh disabled to save the battery life of the iPhone and Watch. If you have also turned it off, enable it to receive Facebook Messenger Notifications on Apple Watch.
Launch the Watch app on iPhone.
Tap General > Background App Refresh.
Turn ON Background App Refresh and then enable the same for Facebook Messenger.
Solution Five: Reinstall the Facebook Messenger App
On your Apple Watch, press and hold the Facebook Messenger app, uninstall it, reinstall the Messenger app, go to the App Store, and download it on watchOS 8. Similarly, delete the Facebook Messenger app from the iPhone and install it.
Solution Six: Uninstall and Install the Watch App on iPhone
Before uninstalling the watch app from iPhone, let's unpair Apple Watch from iPhone. First, navigate to the Watch app and Tap on (i) next to the Watch you want to unpair and tap Unpair Apple Watch.
To uninstall Watch app on iPhone, press and hold the Watch app for more than 10 seconds until the apps start jiggling and tap (X) to uninstall the app. Then, to reinstall, open the App Store and download it.
Solution for Mac/PC: Get Push Notifications on Desktop Browser, Email
Here are the critical Facebook notification settings you receive in your Email inbox or Devices' push notification. Let's manage FB notification settings from a desktop browser, Either Mac or PC. Follow the below steps,
Go to Facebook.com on your browser and Enter your Facebook username and password.
Then, Click on the Down Arrow icon at the top right corner of the screen.
Next, Settings and Privacy > Settings.
Open notifications from the sidebar panel and Manage Different Types of Notifications for Email and push notifications.
and the last section is to receive push notifications on your Desktop browser.
That's it.
You may also like these threads location sharing on Messenger, Block Messenger call & text, FaceBook chat using scan code.
I hope these clues will be helpful to get rid of your issue. Also, do you have any other problems related to the Facebook messenger notification? Feel free.
Let's know in the comment below. We'll assist you with a possible way.