🗓️
October 18, 2023
By ✍️
Jaysukh patel
Sorry, you can't create a club, the most reported Clubhouse error by its users, as Clubhouse is not allowing to create new Clubs unless the user is most active in the community. Another says from their end is, in a month, Clubhouse allows to create only Two clubs, and that too chance is given to the most active user in the community. If you're an old Clubhouse user and feel like you are a deserving candidate, then keep reading this article.
These are the most basic solutions which have worked and fixed many other Clubhouse Errors on iPhone and Android; here's how to fix Sorry; you can't create a club issue.
You must know: Get Clubhouse for Android
Fix Sorry; you can't create a club on the Clubhouse App
Solution #1: Check Clubhouse Servers
When you're unable to create a club on Clubhouse App, the first thing should be to check the Clubhouse Server. If the server is down, no matter what you do, the Clubhouse App won't work. Therefore, when an app stops responding or you experience weird activity, stop using the app and check the server status of the same app.
To check the server of any app or website, the best way is to visit their Twitter Account or any Social Account, where you will get complete information.
For Clubhouse, visit the Twitter Account of Clubhouse and check the latest tweet to know about Server Status.
Solution #2: Join More and More Clubs
As you know, the Clubhouse is too weird to use; from its concept of Invite Only-App to listening to Audio in Rooms, Clubhouse is giving quite a competition to most used Social Apps. However, Clubhouse is in the beta phase; there is no way to sign up and start using Clubhouse, unlike you've received an invite to join; another thing is it's hard to create new Clubs unless you're an old user.
If you're receiving, "Sorry, you can't create a club!' on Clubhouse, then use the Clubhouse App few more days.
If you're new to the app, then I'd suggest you participate in more and more groups, increase your account's activity, and then try to create a Clubhouse Room. Else jump to the next solution.
Solution #3: Force Close Clubhouse App
Start troubleshooting the Clubhouse App by force closing/force stopping the app and then restarting the device.
iPhone without home button: Swipe up the middle-bottom screen and when the App Switcher shows up, swipe up the Clubhouse app.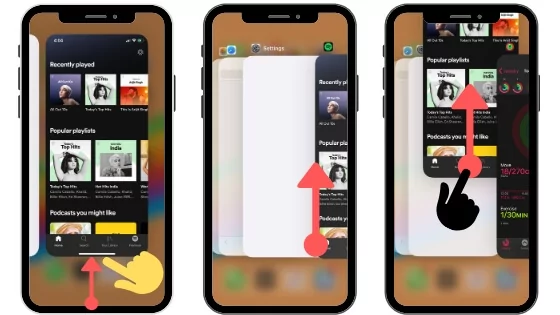 iPhone with home button: Double press the home button, and from the App Switcher, swipe up the Clubhouse app.
Android: Go to the Settings app > App or Applications > Clubhouse App > Force Stop.
Solution #4: Turn Off VPN
Not all the applications work nicely with VPN and could show errors like this. If your phone is connected over VPN and trying to use the Clubhouse App, creating a club by yourself is impossible. Therefore, for few minutes, disable the VPN on the phone and then restart it; and try using the Clubhouse App and create your Club.
Disable VPN on iPhone:
Go to the Settings app.
Tap General.
Tap VPN
Next, turn the toggle to the right side to turn off VPN.
Disable VPN on Android:
Go to the Settings app.
Tap on Connections (>More Connections Settings) or Network & Internet Settings.
Go to VPN.
Disable VPN.
Solution #5: Re-install Clubhouse App
Where did you download the Clubhouse App? From App Store or Play Store or any other unknown resource? Always download the app from App Store or Google Play Store to secure your privacy and, of course, the phone itself. Using the phone for a long time could cause multiple random errors with any app, or even it is possible that the Clubhouse app has glitches from random sources, which is stopping you from creating a club.
If that's the case, uninstall the Clubhouse App and re-install it.
On iPhone:
Find the Clubhouse App on the home screen.
Touch and hold the Clubhouse app icon.
Select Remove App.
Tap Delete App
Tap again on Delete
Step to re-install clubhouse App in iOS
On Android:
Locate the Clubhouse App.
Tap and hold the Clubhouse icon.
And delete it.
Solution #6: Report Issue to Clubhouse
Clubhouse has various platforms to reach their Customer Support, like submitting a ticket, dropping mail, messaging on a social account, tweeting, forums, and more. We've made a separate article on how to contact Clubhouse Support.
Explain what issue you're facing as easier way as possible and also elaborate, so they can properly guide you and fix the issue if it is from their end.
Solution #7: Wait a While
At this point, there is nothing we can do to fix can't create a club in the Clubhouse App error. It might be possible the servers are busy handling the requests of other users and couldn't completely yours. The best case is to wait for a while; try after few minutes or a day. Alternatively, you can try to use the Clubhouse when others are sleeping, not in the peak hours.