🗓️
August 14, 2023
By ✍️
Jaysukh patel
The clubhouse app won't let me log in it means you are Unable to Sign In to Clubhouse App? Clubhouse showing "We are unable to sign you in, please try again later"/"There was an error logging you in. Please sign in again"/"That wasn't right. Please try again" I've seen many people reporting this error while trying to login to Clubhouse App on iPhone and Android. If you're the one searching for a solution to get this issue fixed, try our below-mentioned workarounds to get rid of it. With apps like this Server causes such errors most of the time, but if it is not, then troubleshooting your device is recommended.
If you are trying to unravel the best possible ways to fix the can't log in to Clubhouse App, you've landed in the right place.
Fix We are unable to sign you in; please try again later. Clubhouse: iPhone/Android.
Solution #1. Are Clubhouse Server Down?
Apps like Clubhouse operate on servers, and it's evident due to some or other reasons, the Servers go down. Furthermore, it might be possible the Clubhouse app is under maintenance, and that's why the Server is down.
How do you know Clubhouse Server is down? The first and easiest way to get the correct information is by visiting the Official Twitter Handle of Clubhouse, and secondly, you can rely on other websites to check the Clubhouse Status via CH Support.
What to do when Clubhouse Server is down? We can do nothing when the Clubhouse server is down, so stay tuned to their Twitter account; their team will update the status.
Solution #2. Troubleshoot Internet Connection Issues
Can you use other apps like Facebook, Instagram? Have you tested the Internet Speed? Is Google or Safari browser working with the connected Internet? All these things will clarify whether it's a network problem or a glitch from Clubhouse's side.
First of all, open the Safari App or Chrome or any web browser and search for anything. If you see results on the web page, that means an internet connection is fine and not to be blamed.
Do the same testing with other apps like Facebook, YouTube, Snapchat, Instagram, Telegram, etc. If the messages are going and receiving like water, then the internet is clearly working.
Test Internet Speed on Fast.com is a platform that shows you real-time internet speed.
Solution #3. Verify Phone Number if Clubhouse can't register
if your phone Clubhouse can't log in? This is one of the most common mistakes people make while login to apps like Clubhouse. The Clubhouse needs your phone number to log in; therefore, kindly check the number you're entering is the same number you used earlier while registering on the Clubhouse.
Furthermore, don't forget to mix up other country codes with your phone number in a hurry; make sure that the country code and phone number are correct, or else you'll face issues while logging into Clubhouse.
Solution #4. Dual-SIM Phone Owners, Set Primary SIM
Here changing the criteria for the Dual-SIM iPhone is necessary to ensure everything is going in the right direction. Once you enter the phone number to log in on Clubhouse, their Server will send you a verification code to verify; in your case, set the phone number as Primary. Keep in mind- the new iPhone 13-series comes with two-ESim and 1 physical Sim, hence check what sim is enabled currently? And follow the bottom steps.
Launch the Settings app on your iPhone.
Tap on Cellular.
Tap on the phone number for which you want to make changes.
Select Cellular Plan Label.
Enable and use it for the "Turn on this line" toggle.
Now give it a try to log into the Clubhouse App after making the changes mentioned above. Let's follow my guide if the Clubhouse verification code not working.
Solution #5. Update Clubhouse App
Apart from troubleshooting the Clubhouse app on your own, why not update it to the latest version, in most cases, updating the app resolves the problem. Because the developers have already fixed the glitch, you're busy figuring out the solutions here.
On iPhone:
Open the App Store.
Tap on your profile icon in the top menu bar.
Scroll down to the Clubhouse App and tap Update.
On Android:
Go to the Google Play Store.
Search Clubhouse in the search bar.
Tap the Update button.
If Clubhouse app won't update, try here given troubleshooting.
Solution #6. Turn off VPN
Are you trying to log in to Clubhouse when VPN connected? I'm not sure, but if VPN is not providing stable internet connectivity to the device, Clubhouse could not allow you to log in. In simple words, the internet connection while login into Clubhouse must be stable. And another reason is VPN tries to mask your original IP Address; that could be another reason why you are unable to login to the Clubhouse app.
For some time, please turn off the VPN on your phone and then try it.
For iPhone:
Navigate to the Settings app.
Turn the VPN toggle to the left side to switch off.
For Android:
Go to the Settings app.
Tap Network & Internet.
Tap VPN and disable VPN toggle it.
Solution #7. Switch to Cellular Data or Wi-Fi
If you're using Wi-Fi, then switch to Cellular data. There are some cases where the Wi-Fi faces problems while running the apps, even though YouTube is working fine over Wi-Fi connection, but the Facebook, Instagram, or other apps won't load the new data.
With Cellular Data, this type of error is less expected, and that's why we're recommending you to try using Cellular Data instead of Wi-Fi while login into Clubhouse. Get here fix Clubhouse only work on Wi-Fi
Solution #8. Reset Network Setting
Reset Network Settings: Fix the issue related to network settings by simply Go with the Reset Network settings option, Without Resetting any Other data like Contacts, Photos, Apps, and Other Data.
Step #1. Open Settings App
Step #2. Tap General
Step #3. Scroll down the screen to tap on Transfer & Reset iPhone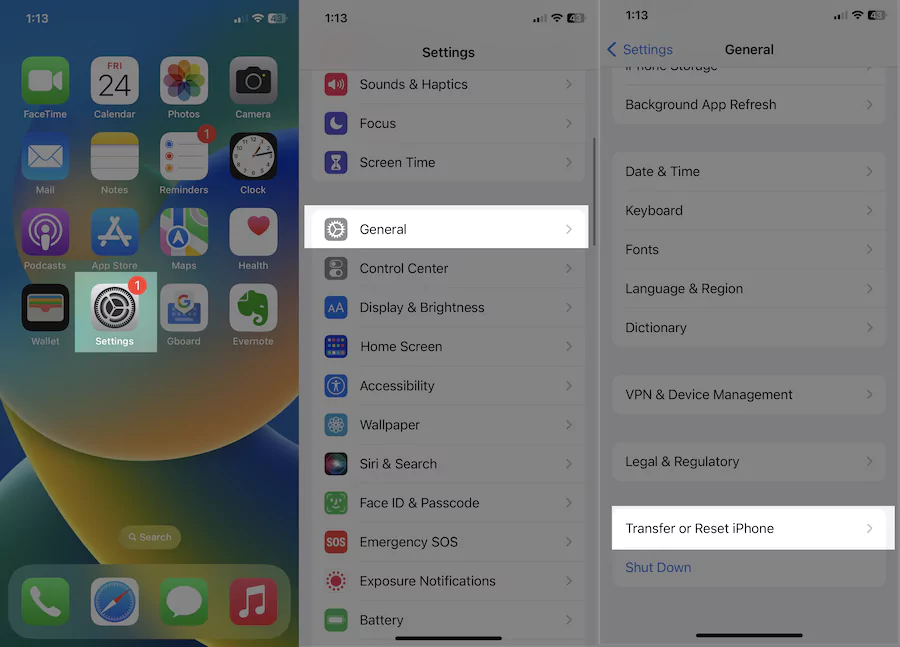 Step #4. Tap Reset
Step #5. Tap Reset Network Settings.
Step #6. Enter your passcode > If asked, Enter your Screen Time Passcode
Step #7. Finally, tap Reset Network Settings.
Steps for Android users:-
Open Settings app > General Management or Systems, According to Android Device and Version > Reset or Reset Options > Reset Network Settings > Confirm Reset.
Solution #9. Reboot Wi-Fi Router/Modem
Everything is aligned but still unable to log in to the Clubhouse app. Try restarting the Wi-Fi router. Just unplug the router's power adapter and wait for a few seconds; after that, plug it back in. Let the router reboot completely, wait for 2 to 3 minutes, and connect the phone to the same network.
Solution #10. Delete and Reinstall Clubhouse App
Deleting and Reinstalling the Clubhouse App is our last suggestion to fix the Clubhouse login not working. Doing this will remove all the supportive files and data from your device, and after installing it again, everything will be new. Since your data is stored on servers, it won't affect you.
To delete from iPhone:
Tap and hold the Clubhouse app
Select Remove App.
Tap Delete App
Tap Delete.
Step to Re-install Clubhouse App
Open App Store > Find Clubhouse App > Tap on Cloud with the down arrow icon to re-install.
On Android:
Unlock the device and tap on the App Tray button.
Find the Clubhouse App.
Touch and hold the Clubhouse App and Delete it.
Restart the device and navigate to the respective App Store or Play Store to download the Clubhouse App again.
In case of none of the above solutions work, then here you can get how to Clubhouse app Contact Support.