Last Updated on Sep 27, 2023
Make your morning beautiful with your favorite sound or custom song as an alarm sound, just like the custom ringtone option available on your iPhone, iPad. Set here I am showing the example for change alarm sound on iPhone but you can go with any iOS device running the latest iOS. Generally, iOS users trying to set meditation sounds or Hollywood songs as a morning alarm. Don't want to search and set your favorite song as an alarm, then you have 150+ built-in Apple's official HD quality sound perfect for alarm.
Here I'll give you an example of setting a new alarm or change the sound on the already saved alarm. Some iPhone users have some unique demand, So iPhone users are changing the default custom ringtone sound that feels too low during sleeping time. Here are some self-control iPhone alarm Apps for Heavy Sleepers that help to never miss the time.
change Alarm volume on iPhone
Edit/ Set Custom another Alarm volume on iPhone
Steps for Change Default Alarm volume on iPhone: Custom Music, Song, or Tone
How to Change Alarm Volume on iPhone
If you're new to the iPhone or just updated the iPhone to the latest iOS, don't miss out on knowing the correct method to add Alarm in iPhone alongside managing settings like Changing Alarm volume, Snooze Duration, and more.
Head over to the Clock app.
Tap on the Alarm tab.
If you wish to Add New Alarm, then tap on the Plus icon in the upper-right corner in orange color.
Set the Time.
Tap on Sound to change the alarm sound in iOS.
Pick the sound you wish to have.
Lastly, tap on Save to complete the process.
Change Alarm volume for Old Alarms
Follow the Same steps, Like open Clock app > Select Alarm Tab.
Tap on Edit to Change old alarm settings. Select the Alarm in Edit mode.
See the Option for change sound for particular Alarm > Save.
That's it. To set the Default iPhone alarm sound, Select "Radar [Default]" Sound.
How Do I Set a Custom Ringtone for My Alarm?
Some iPhone users like to set Custom ringtone or Louder Ring to wake without missing the chance. But still, we have a great alternate Best Alarm app for Heavy sleepers. if you don't like to install and use a third-party alarm app then go with the traditional alarm. and set the Loud sound for the Alarm from Alarm settings.
Under the Sounds option, we have a chance to select the Custom ringtones that we have added to our iPhone. here's the easiest way to add a custom ringtone on iPhone, read this article. and Select [Create a new alarm "Tap on Plus icon" or Edit the old alarm "Tap on Edit"] the Alarm settings > Sound > Under the Ringtone sections.
To Change the Wake-Up Alarm volume in iOS
Sleep|Wake Up alarm settings are also located inside the Clock app. However, if you want the extract the details of the Bedtime, then reach to the Health app. Otherwise, the Clock app is enough to change the Wake-Up alarm sound.
Navigate to the Clock app and tap on the Timer/Stopwatch button located in the Control Center.
Hit the Alarm tab to access the alarms.
Tap on Change next to the Sleep|Wake Up alarm.
After adjusting the alarm, scroll down the screen.
Tap Sounds & Haptics and pick a new tone as a new Alarm Sound.
How to Change Alarm volume on iPhone in iOS 13 or Earlier
Step #1. Go to the Clock app on iPhone, iPad, or iPod Touch Home screen.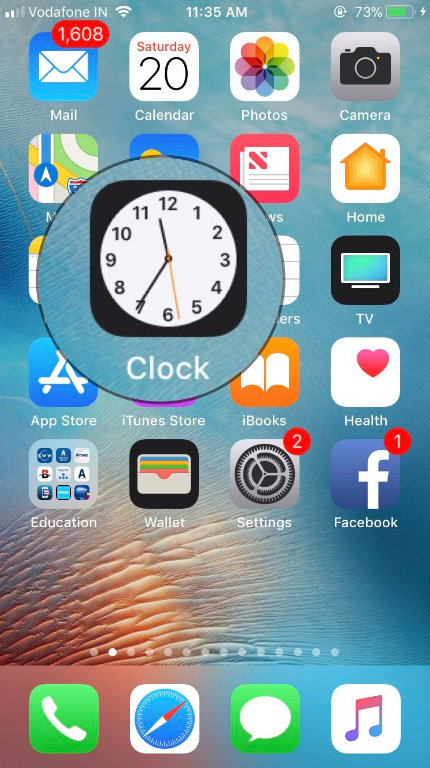 Step #2. Next, Tap on Alarm from below clock app tabs.
For iOS 11: See the Clock app settings layout.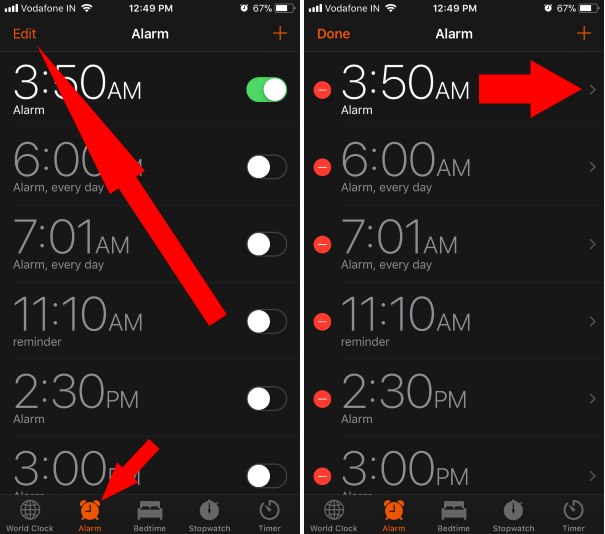 Find sound and Check with Downloaded or Purchase Alarm tone.
Note: Screen for iOS 10 or Earlier, Given in Next Steps…
Step #3. Here you can add a new alarm from the top right "+" icon.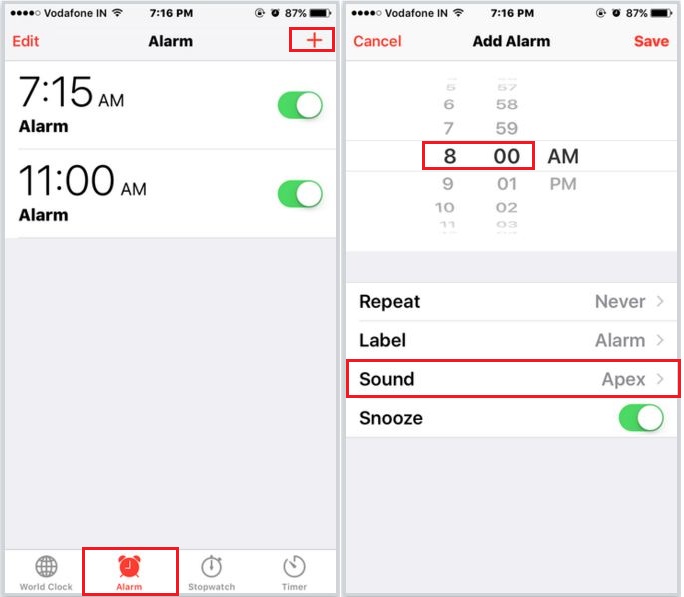 Your iPhone Alarm Not Working? No Problem! Try Below Settings
Also, check the settings for Volume/ Enable Sound from the side physical button.
Make an iPhone alarm vibrate from Settings Like Turn on/ Turn Off > Under the sound > Top of the Screen (VIbration) > Change From Default to Standard or Custom/ Create New Vibration/ you can adjust alarm volume
Want Option for iPhone Alarm Snooze: Enable Snooze
Step #4. Now, you can set your time by rotating the number wheel and AM/PM. (Here I Set alarm 8 a.m.)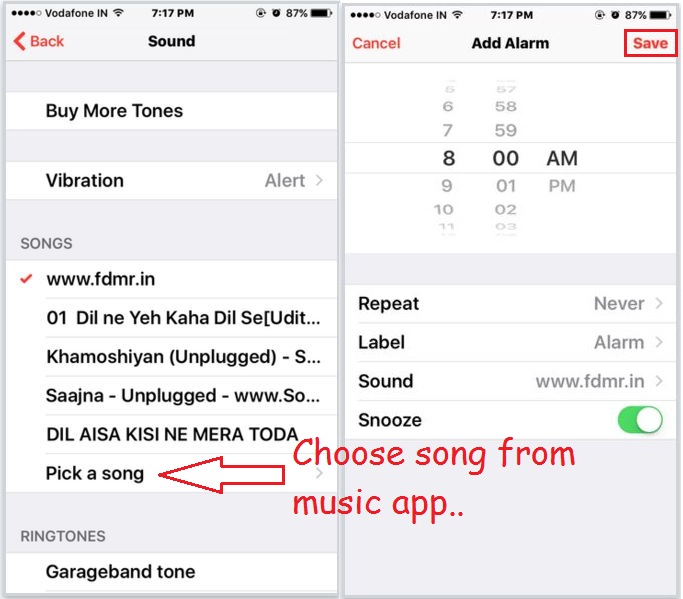 Step #5. On the below screen, Go to the Sound and Choose your favorite sound for this alarm only
Note: For your upcoming new alarm sound is automatically selected from the last one by default.
Edit/ Set Custom another volume on default alarm or Delete alarm
1. Tap on edit from the top right from Clock app > Alarm
2. Next, Tap on Sound and choose your favorite song or alarm tone. last Set an alarm for 11 a.m.
Note: From your Apple music app you can choose any type of song (Hollywood, Bollywood, POP act.) From Pick a song option.
Now you have a got perfect idea of how to change the alarm tone in iPhone or set custom songs that you want. Still, want help, share with us in the comment.