Last Updated on Apr 20, 2023
Without PC or Mac, View or Edit PDF not possible before this time, But now it's possible very effectively. You can make any changes in your PDF file directly from your iOS device (iPhone, iPad). here you can learn how to edit PDF on iPhone, iPad running on iOS. Without spent any cents you can Open and Edit in PDF viewer comes with very best Apps for PDF. Here I recommended a common app for free and pro users who want to use it for home or business use. Also some Tricks, that is personally I am recommending to the Beginners who don't want to come through the third-party app, Use the PDF markup tool that is available as a
built-in feature in the latest iOS & iPadOS.
Learn about top Uniques full-featured PDF editor apps for iPhone.
Useful: Edit PDF file on Mac
How to Edit PDF on iPhone, iPad using Apps or Without App

1). Use Apple Files App for Edit PDF File
Now in the latest iOS/iPadOS update on iPhone and iPad, you will get the pro feature in free using PDF markup tool. Open Files app on iPhone and Start Editing PDF file for Add Text with Color, Style, Erase some Text, Makes Drowaings and Lines and Shapes directly to PDF file.
Open Files App on iPhone. Next, find PDF file and Open on your iPhone.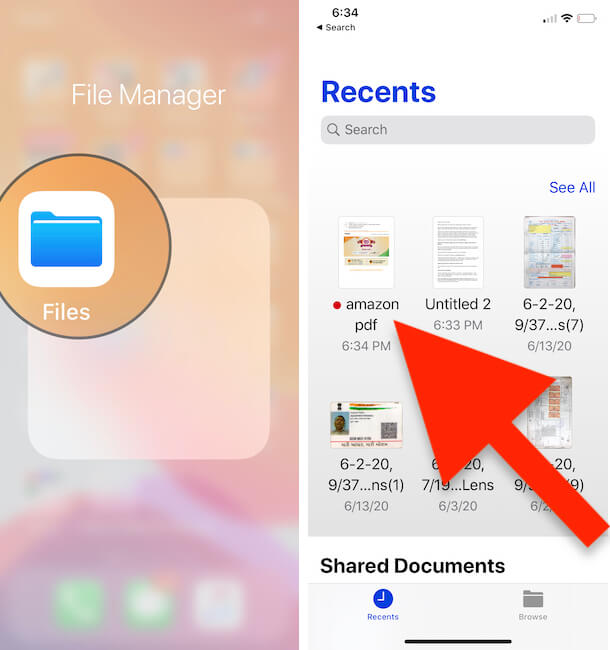 Now, Tap on Markup tool for start editing.
Once you are Done. Tap on the Done button to Apply Changes.
That's it.
2). Using PDF Editor App
Foxit MobilePDF is a #1 PDF file editor app for iOS devices. High rated and recommended by business users for prepare PDF documents or retouch PDF files on the Way. Well managed and Clean user interface for Edit PDF on iPhone, iPad.
Highlighted Useful Features:
Not only useful for PDF, But you can also view the image, DOC, PowerPoint, Excel, Text.
Tools for Edit: Pencil, Colors, Text, Font style, and more.
Easy and fast PDF file creator.
View PDF file directly from iTunes, Safari, and Email.
Easily view pages by scroll vertically.
Search on Google or Wikipedia directly from the PDF text line.
For a clear view zoom page and smooth correction at the same time.
Highlight PDF file page with Underline, Pointer, Strikeout, Highlight, Pencil, Note, Typewriter with custom colors.
Make your free hand signature on any page
Apple Security: From the unauthorized access, you can set it password through Encryption techniques. and Also remove password from Password-protected PDF files.
Easily Copy, Rename, Delete the file, and Make Zip file for compress multiple files.
Also, listen to PDF line by line using read features.
Directly store on online cloud service (DropBox, Google Drive, Box, One Drive).
In just a few cents you can get stunning features for professional and Business use.
A most powerful app for Edit PDF on iPhone, iPad, or iPod Touch for All users.
So, here's the Alternate Options for Edit PDF file on iPhone. Hope you are Enjoying!