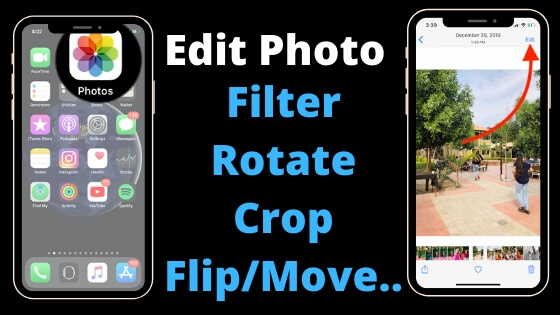 Last Updated on Jan 9, 2020
Are you looking for an Edit Photo in Photos App on iPhone, iPad? Apple brings redesigned Photos App on each version; This time in lateset iOS and iPadOS apple made big core changes and Cosmetic changes in the Photos app. All the editing tools are like a Pro, Now Photos App is a standalone app to use on iPhone, iPad as Best Photo editor, That's why iPhone users can edit photos as well as Videos on Photos app. Keep Updating your iPhone and iPad with the latest version of iOS and Enjoy new Editing features of Photos app.
we are happy to help you, submit this Form, if your solution is not covered in this article.
Also, the Apple Photos app support Markup tool on iPhone, Drow Something on Photo, apply Border, Add Text, Signature, Magnifier and more to make the picture more efficient and incredible than ever before.
1. Steps on Edit Photo Using Photos App on iPhone, iPad, iPod Touch
We have brief the editing tools of the Photos app. Some are old, and some are new, you will get to know once you edit the image in the Photos app.
Step #1: Go to the "Photos" app on your iPhone.
Step #2: Open the Photo that you want to edit.
Step #3: Tap "Edit".
Step #4: Now, the Editing Screen will appear.
The editing tools in the Photos app are divided into three categories:
Adjust
Filters
Crop
Adjust Photo in iPhone, iPad Photos app
Starting with Adjust, it contains all the major editing tools that you have used or never used before. However, you will come to know once you edit the photo in Photos app on iOS 13.
Following tools are available under Adjust category,
Auto:- When you tap Auto, the picture will automatically be edited by the Photos app. If you don't like the altered photo, then make changes on your own.
Exposure:- The Exposure option allows you to change the tone of the entire photo. Move the dial-up/down and adjust the tone.
Brilliance:- This tool is used to Brighten the Dark areas of the image by adding contrast and make the photo more lavish and classy.
Highlight:- It Highlights the small details of the image.
Shadows:- With this tool, you can increase/decrease the Shadow effect on the image.
Contrast:- Adjust the contrast of your picture.
Brightness:- Obviously, it will set the brightness of Photo.
Black Point:- With the Black Point tool, you can darken the darkest part of the photo.
Saturation:- Saturation, lets your picture warm or B&W in color.
Vibrance:- This tool simply increases the intensity of muted colors and avoids saturated colors.
Warmth:- Warmth is a newly added tool in iOS 13, which makes the image warmer.
Tint:-
Sharpness:- To make the image more sharpen this tool is used.
Definition
Noise Reduction
Vignette
Apply Filters Effects on Photos App
When you tap on Filter, multiple filters will appear such as Vivid, Vivid Warm, Dramatic, Mono, Silvertone, etc. Select the filter that suits your picture and tap "Done".
Resize/Crop Photo on iPhone and iPad: Photos App
Crop tool plays the most crucial part in Photo editing because it allows us to cut the unworthy things that are spoiling the photo. There are three different ways through which you can crop the image.
The first one is indicated by Round shape, so when you move the line, the photo will zoom out on either side.
The second tool will zoom out the left vertical part when you move the slider towards the left side that is to 30 whereas, moving the slider to -30 will zoom out the picture from the right vertical side.
The last one is similar to the second, but it crops the picture horizontally when you drag the slider to 30 and vice versa when you move the slider to -30.
How to Flip/ Move images Horizontally or Vertically?
Moreover, on the top of the screen, there is an option to move the image Vertically and Horizontally. Tap on the icon and move the photo.
How to Set Aspect Ratio on iOS 13 Photos app?
Before the Done tab, there is one rectangular symbol available, which is used to adjust the Aspect Ratio of the desired image. The following are the forms available of Aspect Ratio: Freeform, Square, 9:16, 8:10, 5:7, 3:4, 3:5, and 2:3.
Move to Original Photo on iPhone after Edited
If you don't like the changes in the edited image and want to get the original photo back then tap "Cancel" and then "Discard Changes".
Or, In Edit mode of Any Edited Photo, Tap on Revert. After that, your Photo will be back to the original quality in the Photos App.
That's it.
2. Edit Photo on iOS 12 and Earlier: iPhone 6, 6 Plus
For example, here we have taken Markup as Photos Editors. If you must have installed to get it inside Photo app. before following steps, go on Apple App Store and download cool Photo Editors, if you've not installed.
Go to Photos App → Open a Picture → Tap on Three Horizontal Lines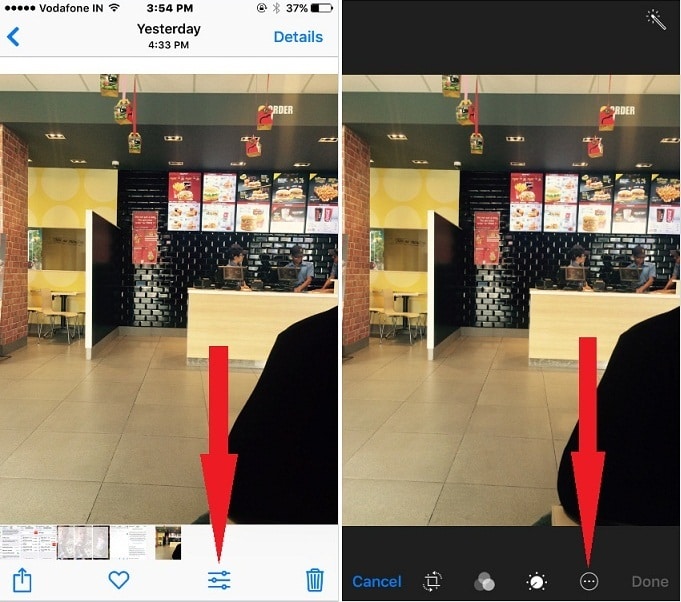 → Hit More button.
→ so you'll get here installed 

all

 

Photos Editors (Note: if you don't see any Editor then tap on More button to Enable it.)
→ Tap on Markup
→ Edit your Photo and tap on Done.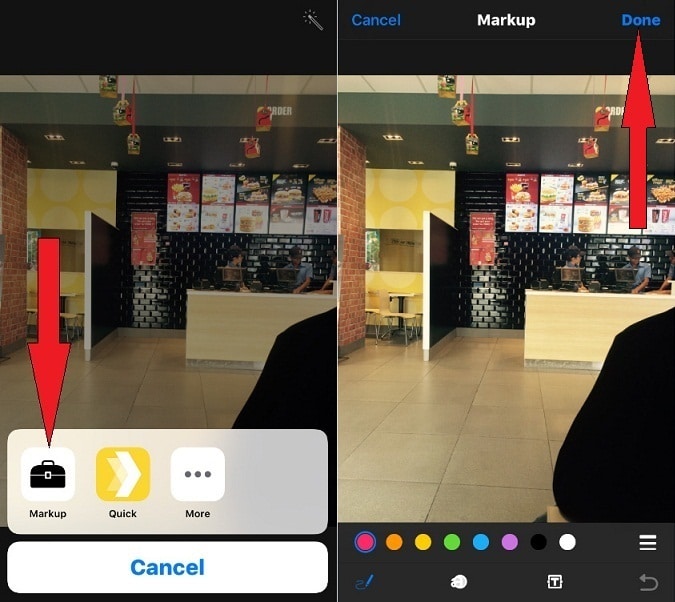 Markup gives wonder options such as different colors box, Text style, Handwriting tools, magnifier as well as undo button to get back done changes.
Premium Support is Free Now
We are happy to help you! Follow the next Step if Your Solution is not in this article, Submit this form without Sign Up, We will revert back to you via Personal Mail. In Form, Please Use the Description field to Mention our reference Webpage URL which you visited and Describe your problem in detail if possible. We covered your iPhone 12, iPhone 12 Pro, iPhone 12 Mini, iPhone 12 Pro Max, iPhone 11 Pro, iPhone 11 Pro Max, iPhone 11, iPhone 8(Plus), iPhone 7(Plus), iPhone 6S(Plus), iPhone 6(Plus), iPhone SE, SE 2(2020), iPhone 5S, iPhone 5, iPad All Generation, iPad Pro All Models, MacOS Catalina or Earlier MacOS for iMac, Mac Mini, MacBook Pro, WatchOS 6 & Earlier on Apple Watch 6/5/4/3/2/1, Apple TV. You can also mention iOS/iPadOS/MacOS. To be Continued...
Furthermore, in iOS 10, you also get your original image back using Revert to Original function. It's straightforward to use. Revert to original will remove all edits made to the Photo. The action cannot be undone.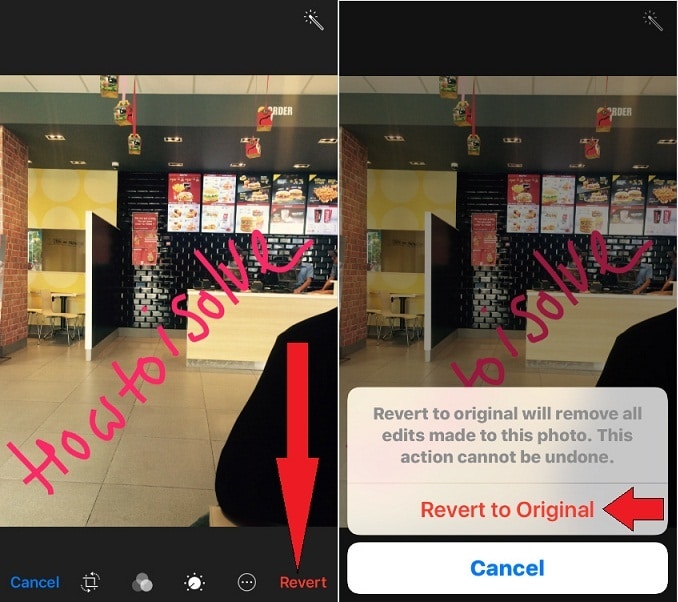 Let's share your voice and tell us how it seems this trick to Edit Photo in iOS/iPadOS Photos App on iPhone, iPad. Like it? Please Share it.