🗓️
November 7, 2023
By ✍️
Jaysukh patel
Shortcut to turn on/ turn off Night shift mode missing in the control center. Back to the side, the Apple developer gives new significant updates after the notification center widget. Now we can use a customized control center and make necessary updates by adding new settings shortcuts or removing unused ones. The developer also planned to control the third-party app settings directly from the notification center. At first glance, you might think that the iOS Night Shift toggle is missing in Control Center, But it's not aspected due to redesign. So get Night Shift sunset to sunrise, and Color Temperature access using the below guide.
Recently I found the most significant change in Night Shift mode control in the control center.  That's where I am discussing the latest iOS running on iPhone, iPad. Also on MacBook, Mac Computer running on Latest MacOS. [iPhone 15, iPhone 14/13 11 [11 Pro, Max], iPhone X, iPhone 8, 8 Plus, iPhone 7/7 Plus, iPhone 6S/6S Plus, iPhone 6/6 Plus, iPhone 5S, iPad, iPad Pro, Mac Mini, iMac, iMac Pro, MacBook Pro/Air]
Steps for Enable/ Disable Night Shift mode on Control Center on iPhone, iPad, Mac
Other functionalities are the same as like access control center on the lock screen or home screen.
Swipe down your finger from top right corner of the iPhone screen or

on the Home button iPhone, Swipe up the finger to up on the iPhone screen

, See the vertical bar mark with brightness icon.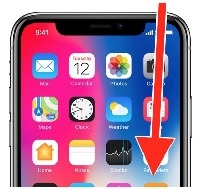 Tap on long hold on it. Now, vertical capsule bar in vertical and just below the bar see Brightness icon. Here you can find the name "Night Shift" and Current Status (Time for auto-disable or enable).
Tap on Round brightness icon.
Just single tap you can enable Night shift mode, and again repetitive tap will disable night shift mode.
More settings on Customize Night shift mode, find under the settings.
Customize Night Shift Mode on iPhone, iPad: Yellow Screen or Low Blue Light
Night Shift Screen for specific time reduces the Eyestrain, So some people are like to enable night shift on Low light or night time. Here are the custom settings for the night shift on iPhone and iPad. That helps set your schedule for auto-enable night shift mode for your specified time, Auto Enable, and Change the Night Shift screen warm level. Then, follow the below steps to enable it and the Important settings.
Open Settings app on iPhone, or iPad.
Now, Scroll to Display & Brightness settings.
Next is, Scroll to Night Shift option. and Click on it to find more settings for scheduled, Manually enable until tomorrow and last if Color Temperature.
That's it.
Disable/Enable Night Shift Mode on MacBook Mac: Customize Night Shift Mode
Shamelessly, We can also enable night shift mode on the MacBook Mac screen from the control center or customize it from the Apple Mac System Preferences settings. So follow the below steps for quick enable night shift mode and Customize it.
On your Mac, click on the Control center menu from the top right corner of the screen.
Swipe down the control center using a trackpad or mouse. You will see the toggle for enable night shift mode quickly like a shortcut on mac.
That's it. Also, we have a Night Shift mode settings for customizing on MacBook Mac.
Customize Night Shift Mode on Mac, MacBook
Change the Night Shift screen intensity, Automatically enable the night shift at sunset and disable it at Sunrise. Also, Enable Turn on Screen Time for a specific time that you decide.
MacOS Ventura
Go to the Apple Logo from the top mac menu > System Settings.
Next, Display > Night Shifts…
Now, See the Option, Schedule "Sunset to Sunrise" Manual: and Color Temperature:
MacOS Monterey
Click on Apple Logo () From Top Mac Menu.
Click on the System Preferences option.
Click on Display.
Open Night Shift-Tab, Set Schedule and Change the intensity [Color Temprature] from the settings.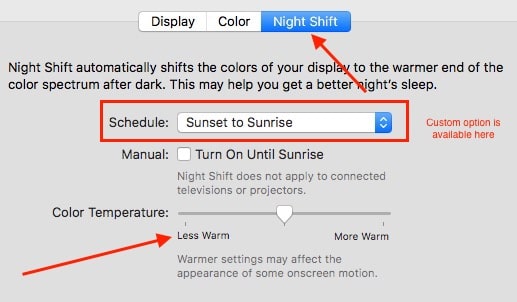 That's it.
Know more troubleshooting solutions on night Shift not working on Mac because of wrong configurations and stopped services.
Wants to test or try a new control center on your iPhone, or iPad. For a more helpful guide and tutorial, stay connected with us on the social page (Facebook, Twitter) or subscribe to us.