🗓️
October 12, 2023
By ✍️
Jaysukh patel
The latest iMessage on the new iOS message app is more convincing about playing games or using third-party apps within the messaging app. Get the guide on how to play games in iMessage on iPhone or Apple iPad.
Depending on your choice, we can put any game/app from all popular gaming categories like Shooting games, GIF pictures, Sports games, Fighting, Animation, Word games, Super Mario, and Disney Stickers with different sound and Background effects. You can also enjoy a clone feature Facebook Messenger Instant games on iPhone, Mac, and PC Without installing games.
Install Games & App, Play games in iMessage on Your Apple iPhone/ iPad
For that, you must install the iMessage Supported Game/ App from the App Store. Otherwise, the Good option is to access the iMessage app store from the Message app. It will automatically filter all Games app supported to the messaging app.
The new iMessage App Drawer is redesigned and More comfortable switching and picking a game from App Picker. Download new Game and App in iMessage: Know how to use iMessage App Drawer in iOS
(Add/ Remove/ Delete the app, Customize and Rearrange app on iMessage App Drawer in latest iOS update).
The App store menu screen shows the list of apps. Otherwise, Find the name from the search box.
Be ready to install iMessage Games & Stickers from the iMessage Store. My Favourite list of Best iMessage Games is Listed here (Will be adding more)
GamePigeon- (My Favorite)
Disney Stickers
Pusheen Animated Stickers
SUPER MARIO RUN Stickers
Polaroid Swing
Trivia Crack
CityMapper
Genius: Song Lyrics +
The Weather Channel for iMessage
OpenTable – Restaurant Reservations
Circle Pay
MsgMe WordGues
Best Text Message Games for iMessage: Two-Person Texting Game
Words for iMessage Game

Word Swipe for iMessage

Four In A Row for iMessage

MsgMe Word Guess

Words with Friends
Bookmark this page for new arrival games for iMessage.
How Do You Play iMessage Games on iPhone for Free?
Now most of the apps (Game, Sports, Sticker) support iMessage. This means we can use animated funny characters/ Team Score and Popular News in the message conversation.
Steps to install Games in iMessage App on iOS 17 & later Devices
Step #1. Open Messages App.
Step #2. Tapping on a contact in a thread.
Step #3. Click the (+) arrow icon and Tap on More (⋁).
Step #4. Taping on the Store button.
Step #5. Now App Store will open inside the Messages app; please find a game using the search bar.
Step #6. For example, I'm finding the game pigeon and clicking on the install button or tapping on the arrow with a down arrow icon.
Step #7. Now go back to the conversion and choose a game and click on it. So now you are ready to send a game request. Tap on the blue arrow button to send a play game request to your friend.
Step #8. Finally, wait for the message to be delivered, and next, wait till your friend accepts the gameplay request.
Note: in the iMessage game, any game's first turn can start by the game request acceptor, not the sender.
That's it.
Steps to Install Games in iMessage App on iOS 16 & Earlier Devices
1. Open up Message App on the iPhone home screen.
2. Next, tap on an iMessage Conversation or create a new thread.

3. You need to tap on ''>'' then tap on the App Store icon left to the text field.
4. Next, tap Search icon appears Top Right on the screen and swipe to navigate the game that you have installed in iMessage.
5. Search Game name and install on your iMessage, Your iPhone may ask to enter a password or use Face ID for install.
5. Open App or Find The installed Game app like Game Pegion. Here's the app icon.
Find your Game from Game Bundle, Here Pool Game we can select it. In the Next Screen, you have an option for select 8 Ball Pool Game or 9 Ball Pool Game before start the game. Click on the send button.
Next Play on the Blue Arrow button to send it to your Friend. Once your friend receives a notification and takes Game Turn from his/her end. you will receive notification back to play your turn.
For instance, tap on 8 ball pool, and tap Create Game and start to play. When your turn finished, you should send it to your opponent friend. And he/she will begin to turn.
We can move stick by moving the ball from the pool table and Take a Shot by swipe down pressure. See in the second picture.
That's it.
Note: first, you need to send a game request to play, and keep in mind your opponent (friend/ boy/girl) must be installed the same game on his/her iPhone. Enjoy and Play games on iMessage in the latest iOS.
Get the complete guide – how to Play 8 Ball Pool iMessage Game?
How to install/ Delete Apps, Games, and Stickers iMessage?
As I mentioned earlier, you can download the iMessage app from the leading or the iMessage app store. You downloaded it from the dedicated app store from the home screen. Imessage compatible app/ Game automatically shows on the iMessage keyboard pan, and then we can use it by selecting it. It's a real fix that works for game pigeon not working. Also, Reboot Your iPhone/ iPad.
To Delete iMessage Games/Apps on iOS device
Open the Message app and Go to your iMessage conversation. From the App Drowaer screen, Swipe to last in the App drawer panel. and Tap on more option (…) button.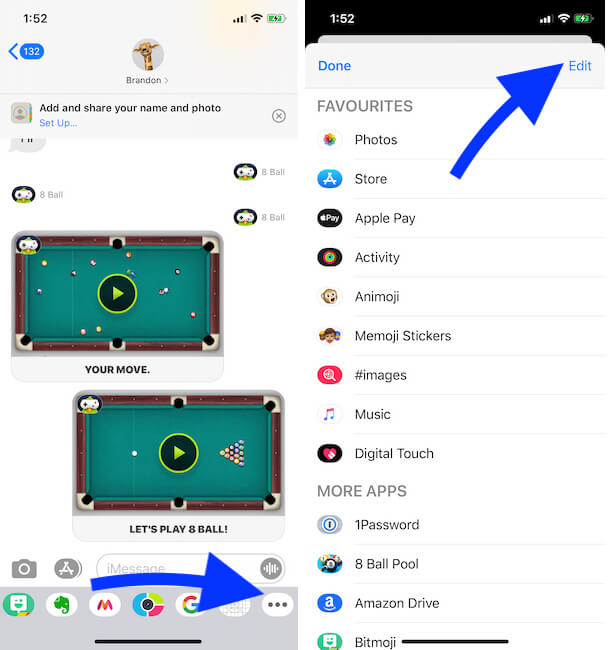 Now, Find the Game and Swipe to Right to find delete option. Now Tap on Done to save it.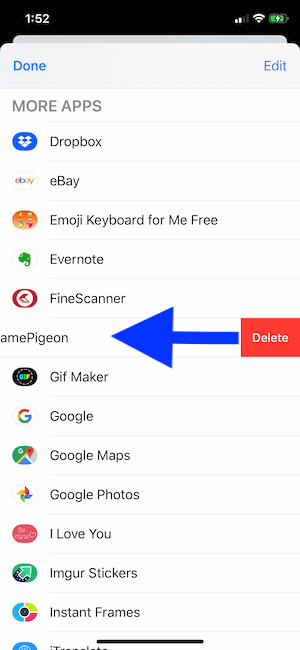 That's it.
Temporary Hide Game from iMessage without Deleting the App from iMessage.
Open the Message app and Go to your iMessage conversation. From the App Drowaer screen, Swipe to last in the App drawer panel. and Tap on more option (…) button.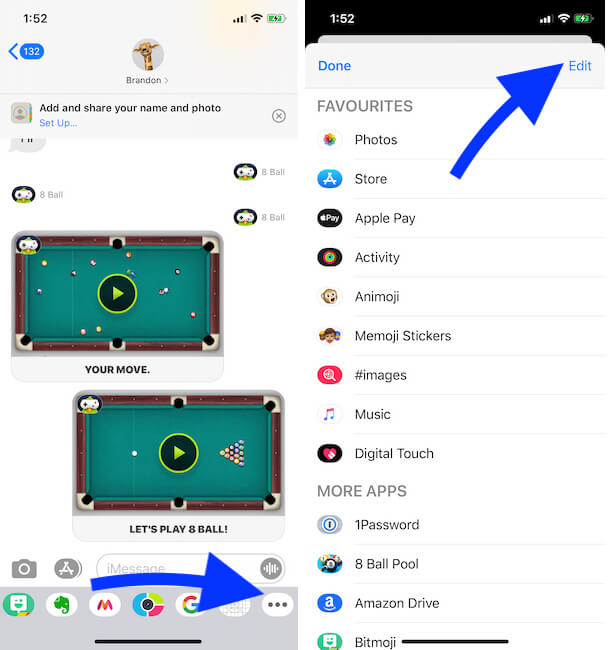 Tap on the Edit button from the top right corner of the screen.
Now Find the Toggle to grayed out. make it Disabled. Tap on Done.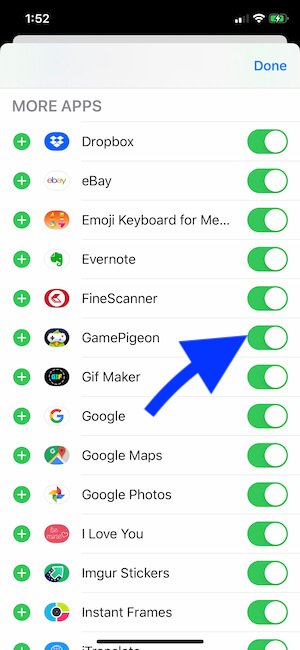 That's it.
For example, here is how do I delete Pool Game in iMessage.
Go to the iMessage Keyboard App pane,
Tap on Hold on the pool game icon until jiggle with (X) Mark at there and tap on it.
That's it.
Have we an Option for play iMessage Game on Android?
And the Answer merely is no Because Android and iOS are cross-platform. The report says over 1 billion iOS users are enjoying iMessage under security. So apple has not to be planned for iMessage for Android, just like that's available for Apple Music, Apple pay.
Share your Demand, Which types of games you would like to play in the iMessage message app.
Share the story with your friend about how to play games in iMessage iOS with iPhone/ iPad.