🗓️
November 27, 2023
By ✍️
Jaysukh patel
With iOS 10, Apple has announced that iPhone users can play games on the iMessage app. Moreover, iMessage has a separate App Store in the app itself, so if you want to install any app related to iMessage, you can do it from iMessage on the go. However, if you want to delete GamePigeon on your iPhone, here's a quick tip to uninstall GamePigeon on your iPhone.
App Drawer in iMessage is too much conjunctive, and are you looking for getting a room for the helpful app only. So, You can manage it using Delete Unused app or Game from iMessage on iPhone and iPad.
There's a problem while removing Game Pigeon from iPhone, and so we have answered the question of how do you delete the GamePigeon on iPhone? If you belong to that frustrated user who wants to remove the GamePigeon from iMessage entirely, then you will get to know how to uninstall GamePigeon from your iPhone.
Steps to Delete Game Pigeon iMessage on iPhone and iPad
iOS 17 and newer users
#1. Open Settings App
#2. Scroll the screen to Messages
#3. Click on iMessage Apps
#4. now on this page, you can see all installed apps inside the Messages App; tap on the red (-)button next to the GamePigeon.
#5. Now tap Delete
#6. Again click on Delete in a pop-up to confirm. That's all about deleting Gampigeon in iMessage on iPhone.
iOS 16 and Earlier
Step #1: Launch the "Messages" app.
Step #2: Select any Contact (Conversation).
Step #3: Under the text bar (Horizontal App Drawer), you will see multiple applications.
Step #4: Slide over them to the left.
Step #5: Tap "More". And Tap on the Edit button from the top right corner of the iPhone screen to hide from Favorite, See the below picture. If you wish to delete it completely from your iPhone, then Swipe app or Game name to Delete it [See in the next picture].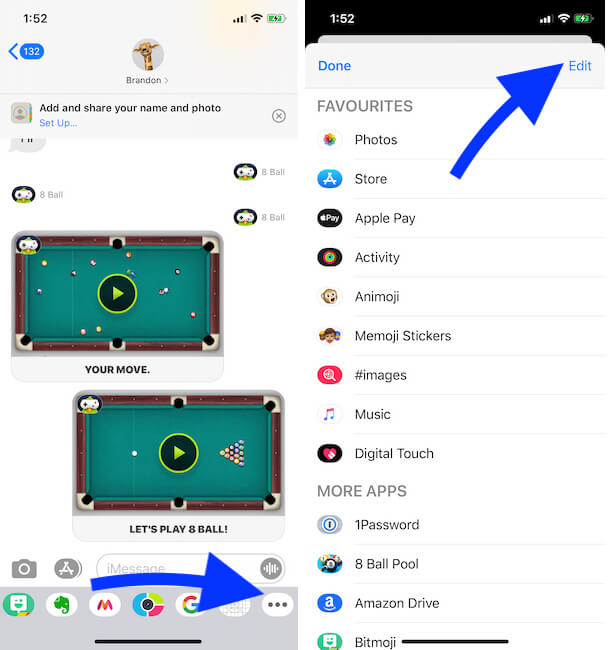 Step #6: Now, locate "GamePigeon" and Disable toggle to Remove from favorites.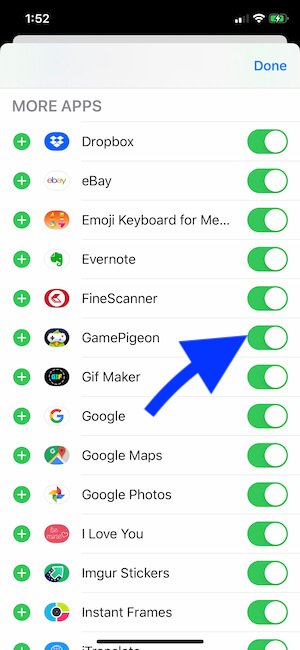 Get more: Tips to Play Basket Ball and Golf Mini in iMessage
Delete GamePigeon App from iMessage
After that, scroll down and locate the "GamePigeon" under the More Apps section.
Next, swipe left to bring the "Delete" option.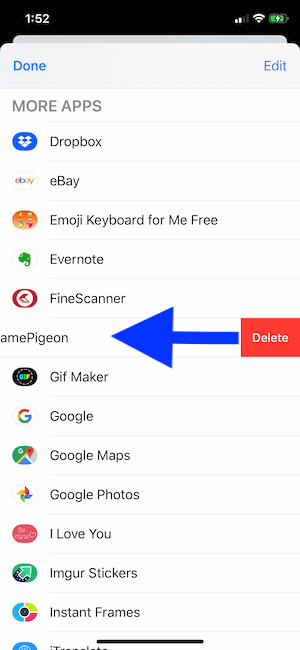 That's it.
It's done! You have successfully removed the GamePigeon app from iMessage. Also, the same process is applicable if you want to remove iMessage apps from your iPhone.
If you are unable to remove GamePigeon from iMessage, you might need to Force Reboot iPhone or Force close the iMessage app and try later to delete GamePigeon from your iPhone.
Also read: Tricks to Play Tanks Sea Battler Game in iMessage
How to Hide GamePigeon on iMessage App Drawer?
Alternatively, if you don't want to delete the GamePigeon app from iMessage, then you can hide that app. Once you hide the GamePigeon app, the app will no longer be visible in the Chat screen's App panel. To do so,
Step #1: Launch the "iMessage" app.
Step #2: Tap on a particular contact.
Step #3: Slide the apps to the last and tap "More".
Step #4: Tap "Edit".
Step #5: Find "GamePigeon".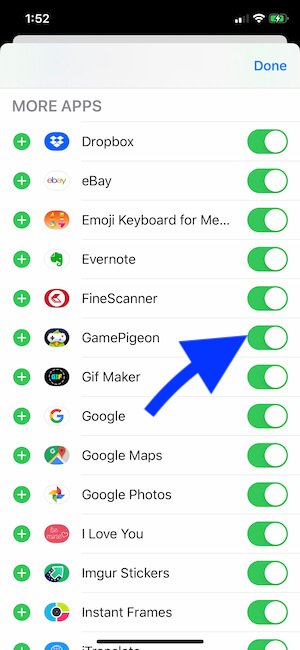 Step #6: Select the GamePigeon app to hide from iMessage.
Step #7: Tap "Done".
I hope you fix your problem of deleting GamePigeon on iMessage on iPhone and iPad. By uninstalling the app, You can re-install it from App Store from the Message app store again. Please send feedback to us and Write a comment for more tips.