Last Updated on Jun 8, 2023
In this tutorial, we will show you how to unenroll macOS Beta on Mac. This is the only easy way to switch from beta macOS to Public macOS automatically. At first, some users got excited to use the latest features of the new software update before the stable version is released, but then end up searching how to downgrade beta in Mac. The benefit of using Apple's ecosystem is, we are always allowed to enroll for beta programs and also unenroll for beta programs on Mac anytime without any questions asked. So if you are the one who wants to stick with the stable macOS and don't want to receive any updates for beta programs, then continue to read it.
The next query you must be striking your mind is, unenrolling from macOS beta on Mac will downgrade the software? No, it won't downgrade the macOS beta, only the beta updates will not appear. Just the stable updates will be sent as a notification on your Mac, and if you want to update the Mac to the latest version, visit the App Store and update it to the latest version.
Make sure to keep backup of Mac, while updating the macOS or installing the beta version, as to keep your years of hard work safe, because once the data is gone, it is difficult to get it back.
How to Uninstall & Remove from macOS Beta Programs on Mac?
Within a few tweaks you can opt-out from the macOS Beta Programs on your Mac, here's how it can be done.
To Remove macOS Ventura Beta Profile From Mac
Now, MacOS Ventura has redesigned system preferences settings that experience like iOS and iPad's Settings app. In this case hard to find the option to Remove macOS Ventura Beta Profile from Mac. Here are the steps to remove or Delete macOS Ventura Beta Profile from your Mac and Don't get and Stop the New MacOS Ventura Beta update.
1→ Go to the Apple Logo from the top Mac menu > System Settings.
2→ Now, Go to General > Software Update.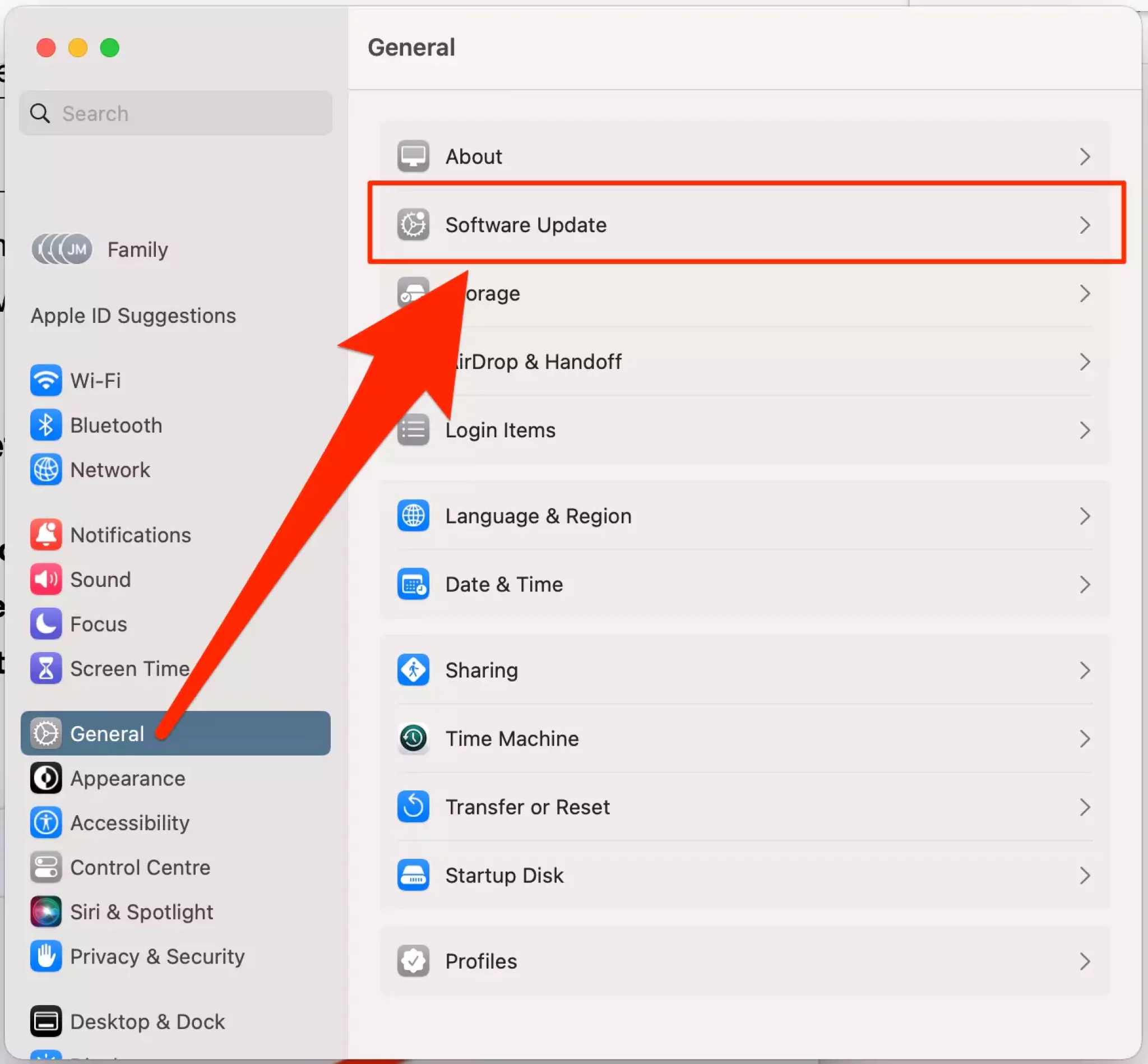 For MacOS Sonoma Installed Mac,
3→ Click on (i) button next to the Beta Updates option.
4→ See the Beta Updates selected for, That's enrolled with Apple ID Show on the same popup.
5→ Select Turn off Beta Update.
6→ Now, from the next time your Mac will get a Public macOS update that matches the current Beta Version.
That's it. For Stop macOS Venturs Bata update. Follow the next steps,
For macOS Ventura installed Mac,
3→ Click on the Details option new to "This Mac is enrolled in the Apple Developer Seed Programme" to find the Install Beta Profile,
4→ Remove it using the Option "Restore Default" Any previous updates will not be removed. we can only stop for the next Beta update.
Enter your Mac login password to verify and Unlock it.
That's it.
Note: You will not get the Public version right now, Becuase apple doesn't give the option to downgrade Beta to the Public version over the air. you have to manually downgrade MacOS Ventura to MacOS Monterey the system after backup your Mac. because the next-generation file system isn't compatible with old MacOS. and Downgrade will erase your Mac. so you have to wait for the equal macOS beta version with the Public version. until then, Install Latest macOS in Different portions on the same mac.
To Remove macOS Monterey Beta Profile from Mac:-
Navigate to the Apple Logo from top left corner > System Preferences from the Apple menu.
Find and click on Software Update.
Under the Software Update Gear(This Mac is enrolled in the Apple Beta Software Program), click on Details.
On selecting Restore Defaults, you will no longer receive any beta software program updates.

Your Mac will ask to enter the Mac login Password. Once you verify the login passcode, Beta Updates will be removed automatically.
Restart your Mac, and Here's a link for Download MacOS Ventura on Mac & Download Monterey from the Mac App Store. So, you will get an RC update or Public MacOS version on System Preferences > Software update.

If Not Removing Beta Update then click on the More info button just below the pending software update Name. Now Select the Pending update version and Click on Cancel Schedule Update. if you can't delete the pending software it will be removed automatically when it will release.
How do Uninstall Venture beta from MAC? to install Public macOS
💡Why i can't Get macOS Monterey Update option on Mac after Remove Beta Profile or Unenroll macOS.
Here's your answer,
Pro Tips! Who is looking for the Latest Public macOS Version?
You have to know the beta version is Next to the Public version. So you can install the latest version after removed the Beta profile from Mac. You should wait for the next Public Version when your Beta Version is matched to Public Version. After that, you will be able to Download and Install Public Version.
But Anyhow you want right now, Becuase of serious Software incompatible and other problems. Then you should go with the Downgrade macOS Ventura to MacOS Monterey & Downgrade macOS Monterey to Big Sur or Clean install macOS– Backup Your Mac, Follow this tutorial on installing the Public Latest version in One or two hours.
My Experience!
That was my personal experience when I felt the same issues. I had removed my beta Version macOS 12 But the Public version is not showing Becuase you have to Wait for Public macOS 12, After removed the beta profile of macOS Version 12, I didn't get macOS 12.3. I could be able to install it on my Mac unit when it will release.
This is it! From now onwards, Apple won't send you any software updates unless it is a stable version.