The latest iPhone X or later model is such an attention seeker having found new and upgrading functions to know about, and the first great thing about the iPhone X and later is the most extensive display of 5-8 inches and more giving a full-screen use as an OLED display and having HD clarity. Such large displays may make ambiguous use of the iPhone single-handedly. The function of Reachability still stays in the new iPhone 13 series of 2021, and the use of it is done without the Home button.
Turn on Half Screen access on iPhone in latest iOS and Exit From Reachability screen guide for Safari, App or Home screen on iPhone 13 (Pro Max) Mini Series, iPhone 12, and Earlier models.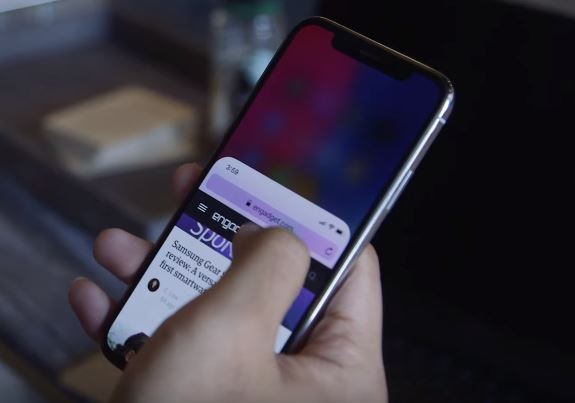 How to use Reachability on iPhone
Activate Reachability function on iPhone: Half Screen View
But the service of reachability is the only one that's not enabled by default, and you have to activate this half screen view and use of it and enjoy the Reach the Top function too all along with iPhone X gestures. For allowing the reachability function on your iPhone X, you have to follow few steps that include first of all you have to go to the settings app for its authorization.
Why and how to use Reachability on iPhone ?
That's a very big question, as some Apple users didn't know what is reachability in iPhone and how to do I reachability in iPhone. Basically, it brings ease in using large devices. Years after years Apple has made iPhone display larger and that creates trouble for iPhone users. Hence, Apple has introduced the Reachability function on the iPhone to navigate through iPhone single-handedly. In short, reachability activates half screen on iPhone so that you can reach all the functions with one finger.
Turn On/Turn Off Reachability on iPhone- iOS 15/ iOS 14 Users
Let's head over to how to turn on half screen mode on the iPhone step by step and Turn off Reachability on your iPhone.
Reachability gesture stays the same but the method to turn on Reachability slightly differs from iOS 12 or earlier versions.
Launch the Settings app on your iPhone.
Scroll down and tap Accessibility.
Open Touch.
Enable Reachability on iPhone.
To turn off half screen Gesture – just turn toggle Off next to the Reachability.
That's simple.
Now ever you try to pull down the screen from the middle to down side, then the reachability gesture won't work due to settings close.
Enable Reachability on iOS 12 iPhone
However, if you haven't updated the iPhone to iOS 13, then here are the steps to use the reachability function in iPhone iOS 12.
Go to Settings App – Now tap on General – Accessibility – next, scroll down the screen and tap Reachability and turn Reachability toggle ON/Green.
In iPhone X, there are two different gestures to get top Apps, browser's search bar and anything on the screen to the finger,
The first way to reach the top of the screen with a single hand on iPhone X-
To reach items (Apps icon) at the top, swipe down on the bottom edge of the screen.
The second way to reach the top of the iPhone X or later iPhone Screen –
Just Swipe up and down quickly from the bottom edge of the iPhone X screen.

Useful Way:
Reachability is Not Working!
Make sure Reachability is on from iPhone settings, Check on Settings app on iPhone > Accessibility > Reachability (Enable toggle).
Don't want the Reachability function on your iPhone; You can disable it by turn off the Reachability toggle. Some users Don't use Reachability because of incompatibility with the app and any other reason.
Get More: How to Activate one-handed Keyboard on iPhone
Also, Other important Function and Gesture on iPhone
To use and to enable/disable the feature of reachability you have to follow these easy steps and enjoy this function efficiently. For using this function in your iPhone X without any home button, the iPhone X is fully booked with the usage of the gestures, and they are very innovative.
Just as an example if you have to move to the home page you only have to swipe up, and you can swipe up and hold for the multitasking functions, or you can swipe left or right for frequent switching the recently open and used apps.
Get More on iPhone