🗓️
September 21, 2023
By ✍️
Jaysukh patel
Now, most of the iOS device users using own iPhone for taking picture and video with amazing photo effects comes in iOS. Also, the Camera roll photo takes several Gigabytes of storage alone. That's the right collection of your old memories for all time, so we need to care about it always. Also, Apple is giving Option for auto backup by using iCloud photo sharing. But Storage limitation we cannot do this. I also got this problem on my iPhone running iOS, Suddenly iPhone photos disappeared. Let's know what the prevention step that helps and be safe with lost camera photos are.
Why iPhone Photos Disappeared from the camera roll, Photos app on iPhone?
Accidentally photos are deleted
iPhone is restoring after update
Photo Synced from iTunes will be Removed
Invalid Data and Time
Apple ID not correct and Need to sign in again
Troubleshooting steps on fix iPhone Photos Disappeared on iPhone, iPad: All iOS
Unfortunately, you have selected multiple photos from the photo app on the iPhone and Delete at once. Yes, but we can recover recently deleted photos from the deleted photos album in the Photos app. This folder only keeps 30 days photos. Older than 30 days of the photo automatically remove from the photos app.
Open Photos app on iPhone, iPad
Tap on Albums, Scroll down the screen and See Recently Deleted folder.
Open it and Tap on Select, Use the multi-selection box and Tap on recover at the bottom right corner of the screen.
Go back and see Camera roll folder on the album.
Photos in photo app missing after Update to iOS
Upgrading iOS takes more time because it has the new file system, Features and photo file formats (HEIF, HEVC, HEIC). Doesn't support new file formats for old iOS 10 installed devices? Downgrade iOS 11 to iOS 10.
Other possibilities are your device restore process is not completed after the update. Once we install new iOS, iCloud setup, and verification required for restoring old settings and owner identity.
Photos app crashing on iPhone while we open to restoring time. So keep your photos app alone and try to access after you completely restore until your last photo was taken.
Some users are facing Photos disappeared and showed "Restoring.." Process In photos app. At this time sit back and wait for restore completely. It will take time depends on the number of photos.
Enable iCloud Photo Library
Open iPhone Settings App, iCloud Library is enabled or not. Go to the Settings app on iPhone, iPad.
Scroll down and find "Photos" > Enable iCloud Photo Library toggle.
Update Date and Time
Go to the Settings > General > Date & Time > Set Automatically.
Change from Set Automatically to Time zone or Vice versa.
Restore Data From Backup on iTunes or Finder: Mac/PC
Get back or Restore Deleted Photos from Latest iTunes/Finder backup stored on your Mac/PC. You have to think about recover backup from your Other Desktop PC/Mac Computer. The restoring process is very easy. Note: MacOS Catalina or Later macOS user can use Finder instead of iTunes. Because iTunes is no longer available on Latest macOS.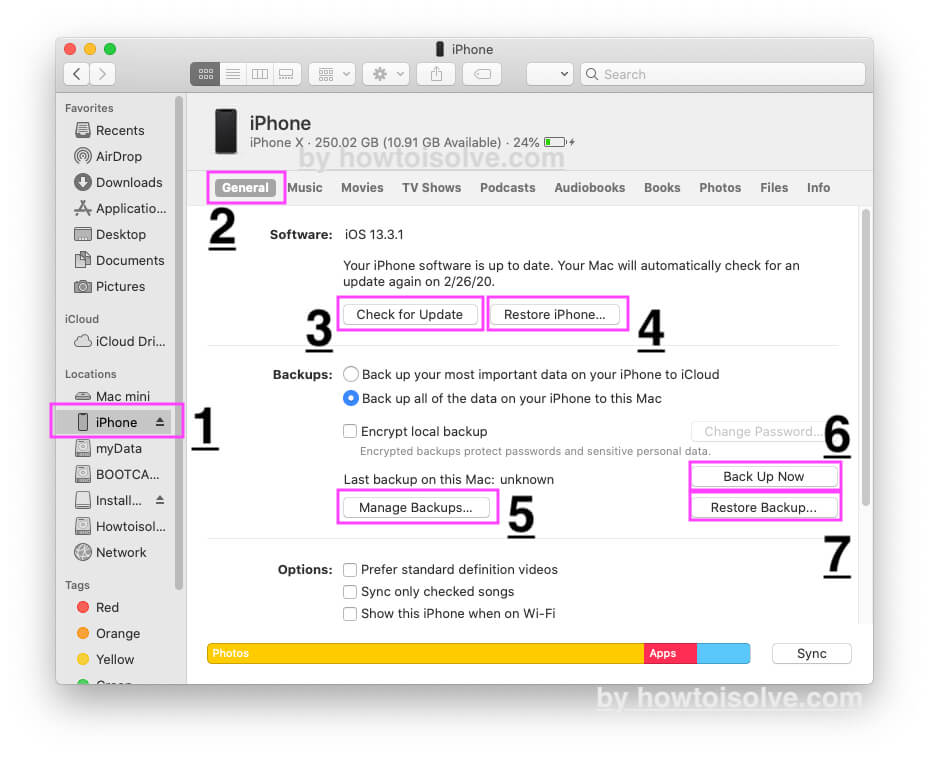 Finder: Open Finder on Mac or PC > Connect your iPhone to PC/Mac Using USB Lightning cable > Unlock your Device and See your iPhone will appear on Finder window > Click on Device from Sidebar > Click on Restore Backup [

Option 7 in above picture

] > Select Latest Backup and Start Copying/Restoring process.
iTunes: Open iTunes on Mac or PC > Connect your iPhone to PC/Mac Using USB Lightning cable > Unlock your Device and see your iPhone will appear on iTunes > Click on Device and Get Summary page > Find the Restore Backup option > Select Latest Backup and Start Restoring process.
iTunes/finder automatically backup first when we connect to iTunes on Mac or PC. Also, keep turn on OTA or WiFi Backup turns on an iOS device for auto backup data.
If you don't know about the process then you can do a walk-in at a nearby apple store.
Find and restore the latest backup on iPhone using iTunes
Photo deleted on iPhone due to iCloud Photo library turn on
Access previously saved Photo on icloud.com and download it for Mac/PC local storage. Otherwise, photos disappeared from iCloud. Because you will get messages like this: Syncing photos via iTunes is not supported when iCloud Photo Library is turned on. If you didn't get any popup, then skip this step.
Sign in with the same Apple ID for iCloud. Check your iCloud setup on an iOS device,
Go to the Settings app on iPhone > Profile Name > iCloud.
I hope you fixed iPhone Photos Disappeared from iPhone, iPad in iOS/iPadOS. Give us your valuable feedback and ping us on your Google Plus, Twitter or Facebook page.