Last Updated on Oct 23, 2020
Location services on all iOS device handy that help to get correct details using these apps. Like Maps, Weather, Nearby stores, and Services, Social app (Facebook, Instagram nearby follower, and Friends, Stories). Service finder app – Yelp, Calendar, Travel times, App Store for the relevant app, Camera – Photo, the video will be tagged on location, Share location with your Friends and Family, Find lost device, Siri & Detection. AT&T, T-Mobile, Sprint, Verizon carrier service, System Services and more always depends on location services on iPhone, iPad. GPS not working on iPhone and wrong data or direction showing on the app then fix the issue.
we are happy to help you, submit this Form, if your solution is not covered in this article.
Experiencing after location service enables, iDevice drain battery too fast! No Problem because you can save power using Battery saving tips for iOS (Apply the all battery saving rules excluding location services settings).
Still, Apple's devices don't have a shortcut for enabling/Disable location services from the control center or Widget. Every time you need to enable it with settings app manually.
Get help for the devices: iPhone XS Max, iPhone X, iPhone 8/8 Plus, iPhone 7/7 Plus, iPhone 6S/6S Plus, iPhone 6/6 Plus, iPhone 5s and iPad models.
Fix Location Service issues on your Apple iPhone, and iPad
#1. Apps won't launch: Enable Location Services
Some apps must require location services in Background, Turn on-location services. Before launch it. Otherwise, you will see the black screen, App crash on startup, Getting pop-up for enabling location services from settings.
Go to the Settings > Privacy.
Location Services.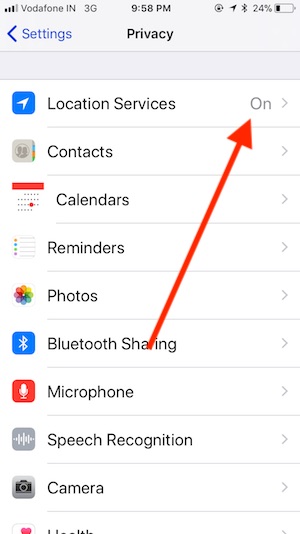 Disable & Enable Location Services.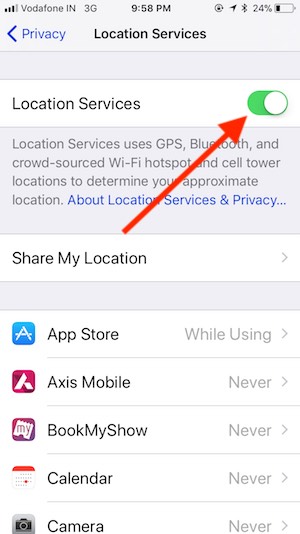 #2. Location services not Responding, Not Turning off, Greyed out
Location services enabled on the iOS system but neither show on Status bar not accessible in the app. You must restart or Force restart iPhone.
Restart: Sleep/Wake until you see the slide to turn off toggle on screen.
Force Restart: Sleep/Wake + Home button for 10 seconds, until you see the apple logo on the screen.
For iPhone 7/7 Plus: Sleep/Wake + Volume down button until you see the apple logo on the screen.
#3. Give Permission to an app for location services
We can Manage individual app for Turn on/Turn off location services from your iDevice settings app.
Go to the Settings app on iPhone, iPad.
Tap on Privacy > Location Services.
Under the location services, Scroll down the apps list. And Find your app
Now, Click on the app > Disable restriction for location services. Select never or While using the app and Always.
#4. Reset Location & Privacy that is fixed GPS Not working on iPhone
My Friends asking: How do I reset my GPS on my iPhone? Only do the steps below.
Remove all the settings for location & Privacy. Go to the Settings app on the iPhone.
Under the Settings > General
Under the General, Tap on Reset
Next, Click on "Reset Location & Privacy."
Premium Support is Free Now
We are happy to help you! Follow the next Step if Your Solution is not in this article, Submit this form without Sign Up, We will revert back to you via Personal Mail. In Form, Please Use the Description field to Mention our reference Webpage URL which you visited and Describe your problem in detail if possible. We covered your iPhone 12, iPhone 12 Pro, iPhone 12 Mini, iPhone 12 Pro Max, iPhone 11 Pro, iPhone 11 Pro Max, iPhone 11, iPhone 8(Plus), iPhone 7(Plus), iPhone 6S(Plus), iPhone 6(Plus), iPhone SE, SE 2(2020), iPhone 5S, iPhone 5, iPad All Generation, iPad Pro All Models, MacOS Catalina or Earlier MacOS for iMac, Mac Mini, MacBook Pro, WatchOS 6 & Earlier on Apple Watch 6/5/4/3/2/1, Apple TV. You can also mention iOS/iPadOS/MacOS. To be Continued...
#5. Restore your device to clean install
Remove or auto fix all internal error that we cannot change from iPhone UI or setting. Generally, this can fix using clean restore [Use iTunes restore process for getting all the data and settings very fast] iOS device with latest iOS. Before erasing all the data and settings keep full iPhone backup in iTunes.
Well, Your Device is not performing well on new iOS, then Downgrade from new iOS to old iOS.
Get Here