🗓️
October 11, 2023
By ✍️
Jaysukh patel
on Apple Support and reddit, there are many users reports on iPhone faulty speaker. if you're suffering from the same issue follow our instructions to quick fix your iPhone speaker problems.
"iPhone 12 Speaker Issues – Mono/Stereo
I just got my 12 couple of days ago, and when I was playing a song through Spotify, I noticed it was only playing through one channel. The song that was playing was missing the lead guitar riff. I tried looking in Spotify settings for any mono/stereo options, but nothing. I also looked through iOS settings regards to the speakers, but nothing.

Any feedback would be great, thanks in advance!"
Hello! Today I will address a grave issue On my iPhone 12. My neighbor had told me that the iPhone 12's left speaker is not working, what to do? Before giving solutions let me brief you about the left speaker of the iPhone 12 Actually, there is only one speaker at the bottom of the iPhone 12 Pro Max who is on the right side. On the left side, the grill is not a speaker it is a microphone. However, if your iPhone 12 bottom left speaker not working, that means during the call the other person is unable to hear your voice because the microphone is not working.
You can check by connecting any earphones and after that call someone and see if the other person is able to listen to your voice or not. If yes then the issue is with the iPhone 12 Pro Max microphone. Eventually, we have few suggestions to fix iPhone 12 left speaker not working. Try your luck.
iPhone XR Speaker not working solution: Troubleshooting Tips
---
1: Know Where are Speakers and How it will work? IS It actually bottom Left Speaker?
iPhone X or Later Model has only Two main speakers that spread sound surround the body. and it has amazing sound quality. Right now I am talking about iPhone 12 Pro Max/iPhone 12 Left Speaker not working, So where is the left speaker check-in below image, and the answer is there is not any left speaker on iPhone – Left Side holes are Microphone. Left Speaker is like Mono Speaker and Right Speaker is Bottom speaker. Settings for that you can see in the below steps. that's called audio balance,
in the Latest iOS, Settings app > General > Accessibility > Scroll to Left and Right slider.
in iOS 13 & Earlier, Settings App > Accessibility > Audio/Visual under the Hearing section > Check the Balance between left and right channels.
1: Force Restart iPhone 12 Pro Max
Starting with basic we will force restart the iPhone
Step #1: Press and quickly release the Volume Up button.
Step #2: Press and quickly release the Volume Down button.
Step #3: Press and hold down the Side button until you see the Apple logo on the screen.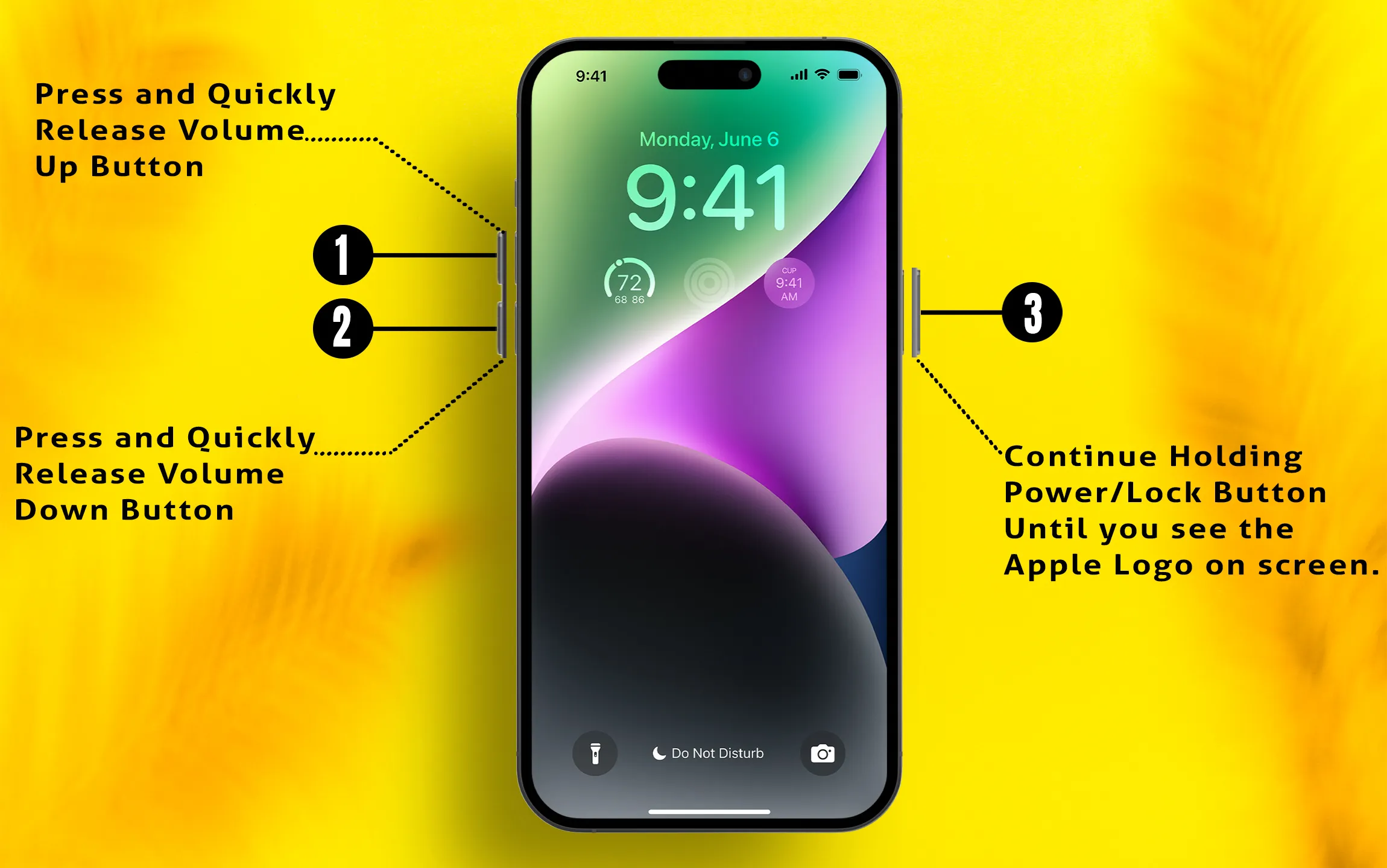 Press the side button only to turn it on.
---
Solution 2: Reset All Settings
You will encounter that iPhone 12 Pro Max's left speaker not working during calls. Like when you speak the other person cannot hear you but you can listen to that person clearly, and so the conclusion is your iPhone 12 Pro Max left speaker not working. To fix this, let's reset all settings.
Steps to Reset All Settings in iOS 15 and Later Version
Keep your iPhone Updated with the latest iOS Update, Settings > General > Software Update. next follow the below steps,
Go to the "Settings" app > Tap "General" > Find and open tap "Transfer or Reset iPhone" > Tap "Reset" > Lastly tap on "Reset All Settings" > For security reasons, you will be asked to enter the iPhone Passcode. >Tap Confirm Reset All Settings. > After that iPhone will reboot.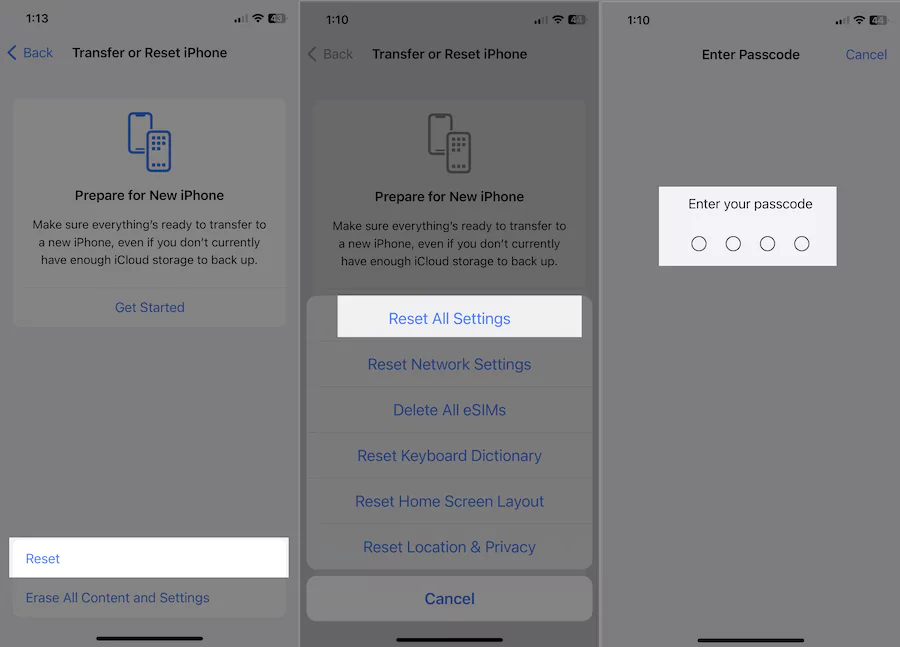 The device will restart once you Reset All Settings. It won't affect the data. Instead, it will reset all the settings to factory settings.
---
Solution 3: Check Speaker is working?
Once you reset all settings, how to check that the speaker is working as usual? Fortunately, with the Voice Memos app you can check left speaker is not working is fixed and the Microphone as well or the problem persists.
Step #1: Launch "Voice Memos" app.
Step #2: Tap the record button and sing your favorite song or say anything that your iPhone can record.
Step #3: After the recording is completed, tap "Done".
Or you Can play from the YouTube app and listen to Clear Sound from the top front calling speaker, and the Bottom left speaker.
Step #4: If you want to give the name to the recording, give it or else leave it. Now, play the recording and listen to if the speaker is working or not. If you can't hear anything, then there is a hardware issue with your iPhone 12 Pro Max left speaker. Hence you need to contact Apple Support.
Alternatively, you can try our next troubleshoot before visiting the Apple Center.
---
Solution 4: Restore iPhone 12 Pro Max to factory settings
The problem with the left speaker of the iPhone 12 Pro Max is raised due to a software fault, or some malware has affected your device then it can be removed by restoring the iPhone 12 Pro Max to factory settings. Here's how. Get the full guide on how to reset iPhone 12 Pro Max to factory settings.
Backup iPhone first, Factory Reset your iPhone then copy back all data using Restore process.
Step #1: Open "Settings" app.
Step #2: Tap "General" > "Transfer or Reset iPhone".
Step #3: Lastly, tap on "Erase All Content and Settings".
Step #4: Enter the password to continue.
The iPhone will take a few minutes to erase all the contents and it definitely the time depends on how much data is stored in your iPhone.
Contact Apple Support
if your problem looks hardware-related, then you must go to the Apple store before you hand over your iPhone to a third-party repair service. Apple Support will identify, what problem is actually with your iPhone. Get the right way to fix it. That may be Free or Paid Repair, device replacement, or more.
Don't be panic, Speaker problems on smartphones generally happen. But we can fix it at the end of the day. Cheer up! Like us and Share this post if you agree with me!