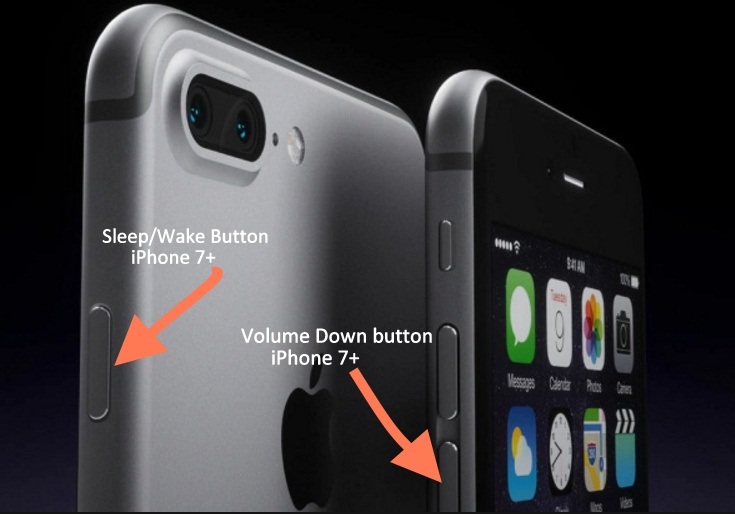 Last Updated on May 18, 2019
The Force Restart method for iPhone 7 and iPhone 7 is a little bit different than iPhone 6S Plus and earlier models. Hence, you will need to know this necessary procedure as early as possible. Because, Force Restart/ Reboot way is an ideal, essential and official way (while Phone gets stuck, Screen occurs unresponsive (touch not working), App crashing and for DFU mode) suggested by Apple. You're an iPhone 7 or iPhone 7 Plus owner, then keep remember to reboot new iPhone 7 & 7+ don't go with the old way. Otherwise, force restart iPhone 7 will not be work for Apple new Smartphone 2016 models.
we are happy to help you, submit this Form, if your solution is not covered in this article.
Like to Know: there are many iOS users we seen, they always worrying regarding do hard reset iPhone, because the question is, could I lose my data?
Answer: ''You will not lose any data or settings'' on your iPhone 7 and iPhone 7 Plus. Hard reset is a process like rebooting your computer. An ideal fix and the last resort, while iPhone 7 (Plus) not responding or Stuck at Apple logo.
→ Restart, Force Restart or Reboot & DFU Mode on iPhone 8, iPhone 8 Plus, iPhone X: Restart/ Reboot iPhone
Steps to Reboot or Force Restart iPhone 7 and iPhone 7 Plus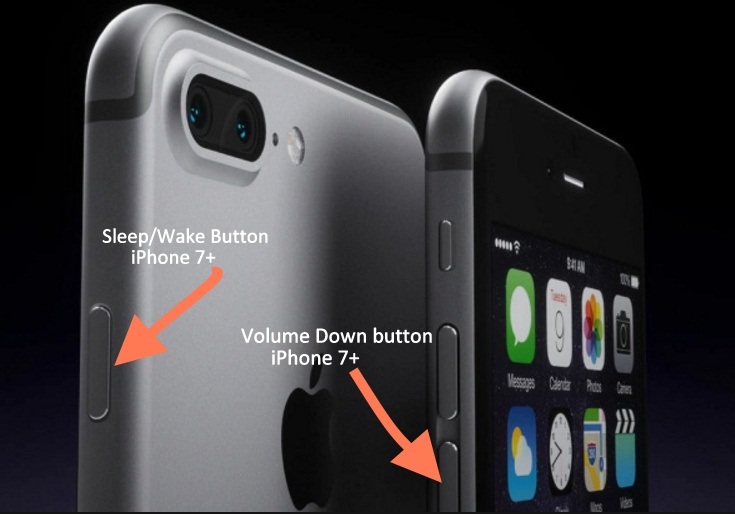 Step 1. let's take your iPhone 7 (Plus) on hand.
Step 2. Press and hold Sleep/Wake and Volume Down buttons for at least 10 seconds, until you see the Apple logo.
Step 3. after a while, Follow above explain steps to Turn On your iPhone.
You're done.
How to Restart iPhone 7 and iPhone 7 Plus
To Restart iPhone 7 or to Restart iPhone 7 plus an earlier model, you will have to perform below-given steps.
Step 1. Press and Hold on Sleep/Wake button until the red slider appears on the screen.
Step 2. Next Up, you have to Drag the Slider to turn off your iPhone 7 (Plus) completely off.
Step 3. After the Phone turns off,  Press and Hold the Sleep/wake button again until you see the Apple logo.
That's it.
Premium Support is Free Now
We are happy to help you! Follow the next Step if Your Solution is not in this article, Submit this form without Sign Up, We will revert back to you via Personal Mail. In Form, Please Use the Description field to Mention our reference Webpage URL which you visited and Describe your problem in detail if possible. We covered your iPhone 12, iPhone 12 Pro, iPhone 12 Mini, iPhone 12 Pro Max, iPhone 11 Pro, iPhone 11 Pro Max, iPhone 11, iPhone 8(Plus), iPhone 7(Plus), iPhone 6S(Plus), iPhone 6(Plus), iPhone SE, SE 2(2020), iPhone 5S, iPhone 5, iPad All Generation, iPad Pro All Models, MacOS Catalina or Earlier MacOS for iMac, Mac Mini, MacBook Pro, WatchOS 6 & Earlier on Apple Watch 6/5/4/3/2/1, Apple TV. You can also mention iOS/iPadOS/MacOS. To be Continued...
Hope, you understand this new way to Force Restart iPhone 7 (Plus) a little bit different than prior all iPhone family. Like this? Share on Facebook, Follow on Twitter and be in the loop to get more trick and trips on new iPhone.