By disable or stop location share on iMessage on iPhone X, iPhone 8 Plus, iPhone 7 Plus, iPhone 6S Plus, iPhone SE/ iPad, so no one can track your location sent sharing request by you from iMessage or Find friends.
Share your location on iMessage is easy between All iOS devices (iPhone/ iPad). Once you sent a request to your friend about your location that will continually track the current location and will be shown to receiver friends or family member at iMessage or Find Friend app. If you don't want then disable it. Although you want no one can share even your current location to your friends via iMessage, that's also possible using Disable/ Stop location share on iMessage iOS app.
By Turn off/ Stop location share on iMessage app, your friend will get "location not available" text popup on Map. In case if you experienced that, mind it your friend Enable "Stop sharing my location".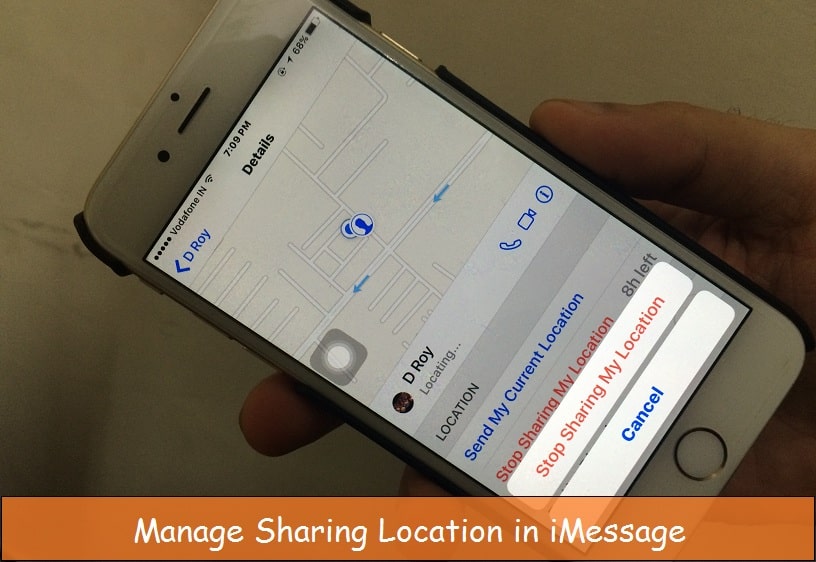 Steps to Stop sharing Location in iMessage on Apple iPhone
Step 1: Go to Message app on iPhone/ iPad.
Step 2:  Swipe down the finger on the screen, you can see the search box for finding the Message conversation with a name.
Step 3: Here I go for my Friend iMessage conversation "D Roy".
Step 4: Tap on it, Next Tap on "Details" at the top right corner of the screen.
Step 5: If you see "Stop Sharing My Location" red text, means your device location share turn on for your friend.
Step 6: Tap on "Stop Sharing My Location".
Steps for Disable/ Stop location share on iMessage or Find Friend App
#1 Go to the Setting App on iPhone.
#2 Next, Tap on Privacy option.
#3 Then, Location Services > Disable Location Services (This option automatically stop for all app).
Else Go to the "Share My Location > Disable Share My Location". It will hide your device from your friend's device.
Finally, See at the top on iOS device status bar arrow icon should be disappeared. More Remove GPS triangle arrow icon in iPhone status bar.
That's it. Not the other option you need to check if you follow one of above two alternatives, for Disable/ Stop location share on iMessage in iPhone.
Jaysukh Patel is the founder of howtoisolve. Also self Professional Developer, Techno lover mainly for iPhone, iPad, iPod Touch and iOS, Jaysukh is one of responsible person in his family.
Contact On: [email protected] [OR] [email protected]