Last Updated on Aug 4, 2023
Share your location via iMessage is easy between All iOS devices (iPhone/ iPad). Once you sent a request to your friend about your location, that will continually track the current location and will be shown to receiver friends or family members in iMessage or Find My app. If you don't want it, then disable it. Although you want no one can share even your current location with your friends via iMessage, that's also possible using Disable/ Stop location share on the Messages app in iOS.
By Turning off location share on the iMessage app, your friend will get a "location not available" text popup on Map. If you experienced that, mind it, your friend Enable "Stop sharing my location."
Steps to Stop Sharing Location in iMessage
Step #1: Go to the Messages App.
Step #2: Find a Thread to turn off location sharing (Hint– you can use the message app search bar) for Example. Here I'm tapping on HowToiSolve Team chat.
Step #3: Now tapping on the Profile icon
Step #4. Click on Stop Sharing My Location
Step #5: Your screen will return to a thread conversion and show you You stopped sharing location.
That's it. Now you can enjoy, Now your recipients can't see your live location on their device. So stay hassle-free.
2nd Method to Stop Live Location in iMessage on your iPhone
Step #1. Open Messages App.
Step #2. Tap on All Messages on the main screen.
Step #3. Find a contact with which you have sent the live location.
Step #4. Now tap on the shared Location card that you can see in below given example screen.

Step #5. Tapping Stop sharing My Location. Finally, The last screen shows you stopped sharing locations for a specific contact.
Steps to Stop Share My Location in Find My App
Step #1 Go to the Setting app on the iPhone.
Step #2 Scroll the screen to tap on Privacy & Security
Step #3 Click on Location Services.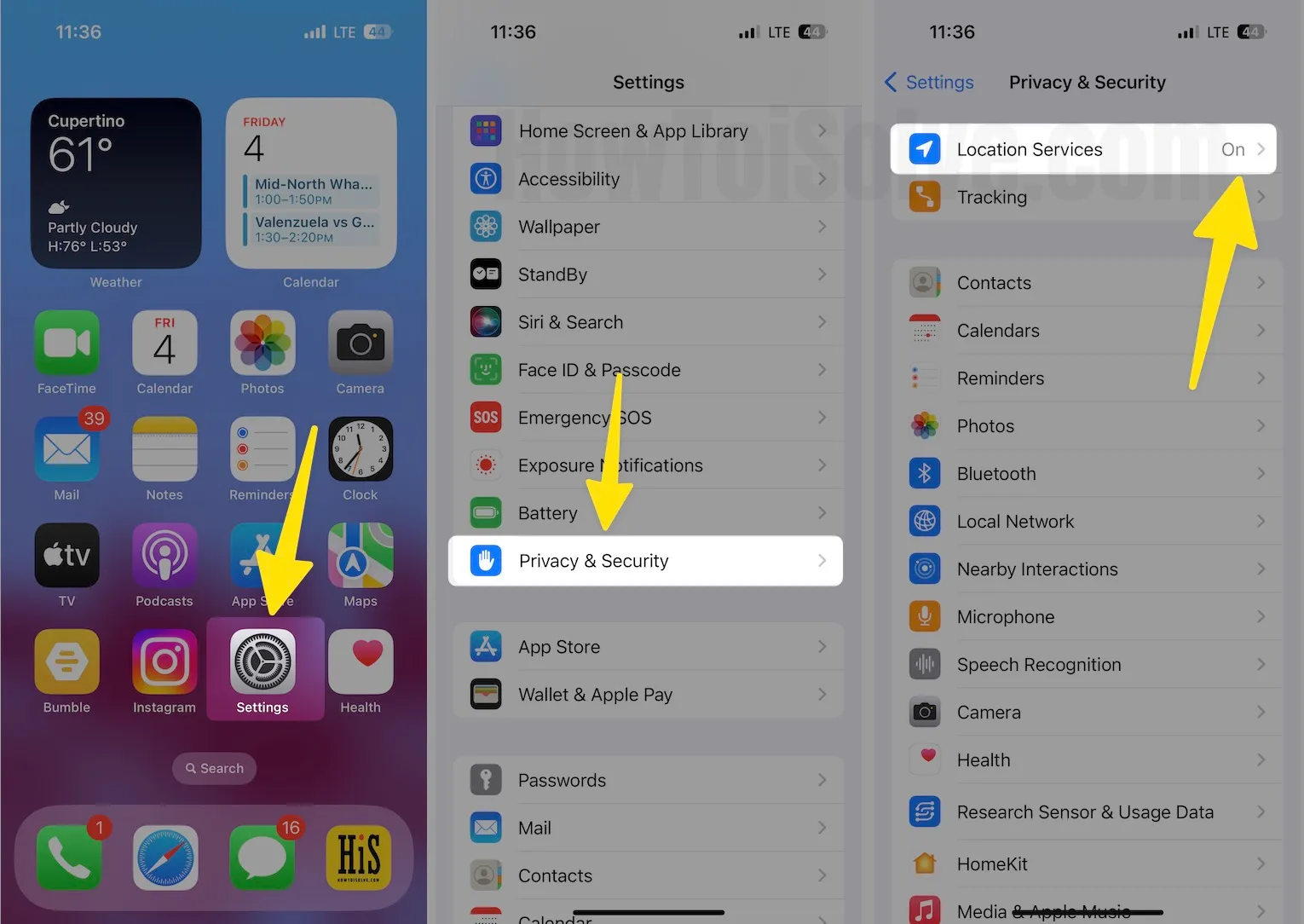 Step #4. On this page, tapping Share My Locations (This iPhone is being used for location sharing)
Step #5. Turn the toggle off/white next to the Share My Location.
So from now, your device can't share its location with others (your family members, friends, etc.)
Finally, See at the top of the iOS device status bar arrow icon should be disappeared. Remove GPS triangle arrow icon in the iPhone status bar.
That's it. Not the other option; you need to check if you follow one of the above two alternatives; stop location sharing in iMessage on iPhone.