Last Updated on Sep 23, 2022
Apple iPhone's Microphone is tiny hardware. It comes by default company fitting. So There is a significant role of the Microphone in the iPhone. It works for audio calls, video calls, Siri, Apple apps, and non-Apple applications. Therefore, a broken microphone stops many features of your iPhone. It will help if you require your iPhone microphone in working mode. Suppose it won't work on your Apple phone. Let's check out here very ways to test the iPhone microphone and the Microphone's location on the iPhone.
See here, Where iPhone Microphone located?
Generally, All Apple iPhones have more than one built-in Mic, Receiver/front Microphone, Rear Microphone, and bottom Microphone. Especially, Where is the Microphone on iPhone 14 Series, 13 Series, 12 Series, iPhone 11 Series, iPhone 8, iPhone 8 Plus and iPhone X, iPhone 7– iPhone 7 Plus Microphone locations, iPhone 6 Microphone location – front Microphone fitted next to the FaceTime camera and Rear microphone cum between the iSight camera and LED flashlight.
Alternative ways to Test iPhone Microphone
Front Microphone on iPhone 14 Pro (Max) & iPhone 14 (Plus)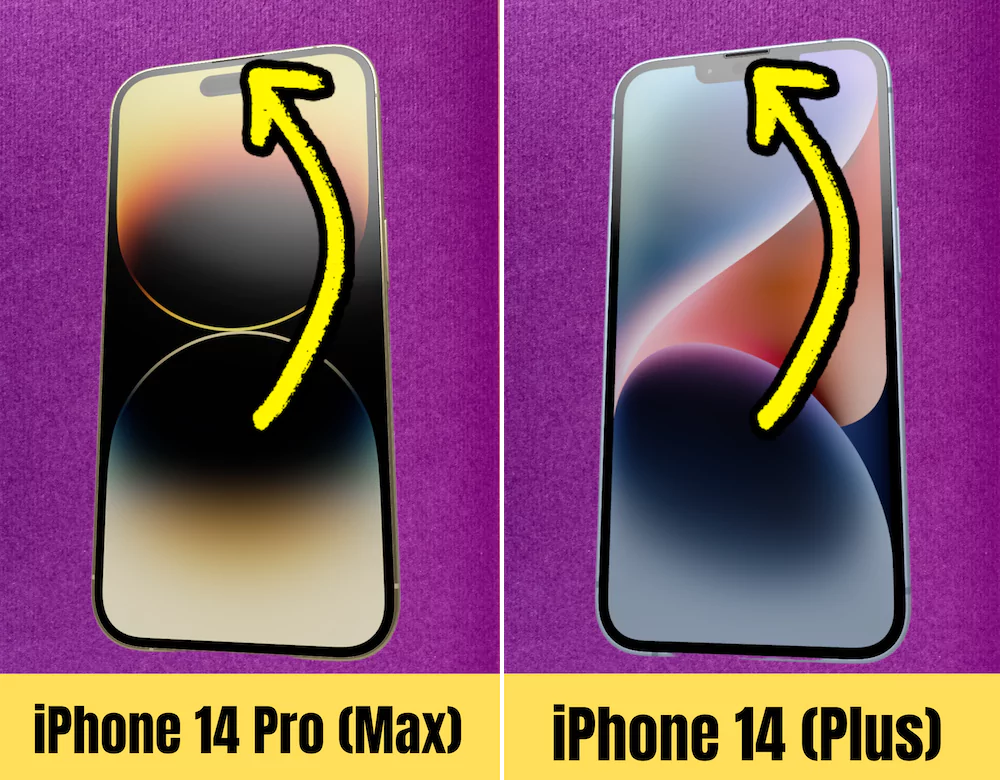 Bottom Microphone on iPhone 14 Pro (Max) & iPhone 14 (Plus)
Back Microphone on iPhone 14 Pro (Max) & iPhone 14 (Plus)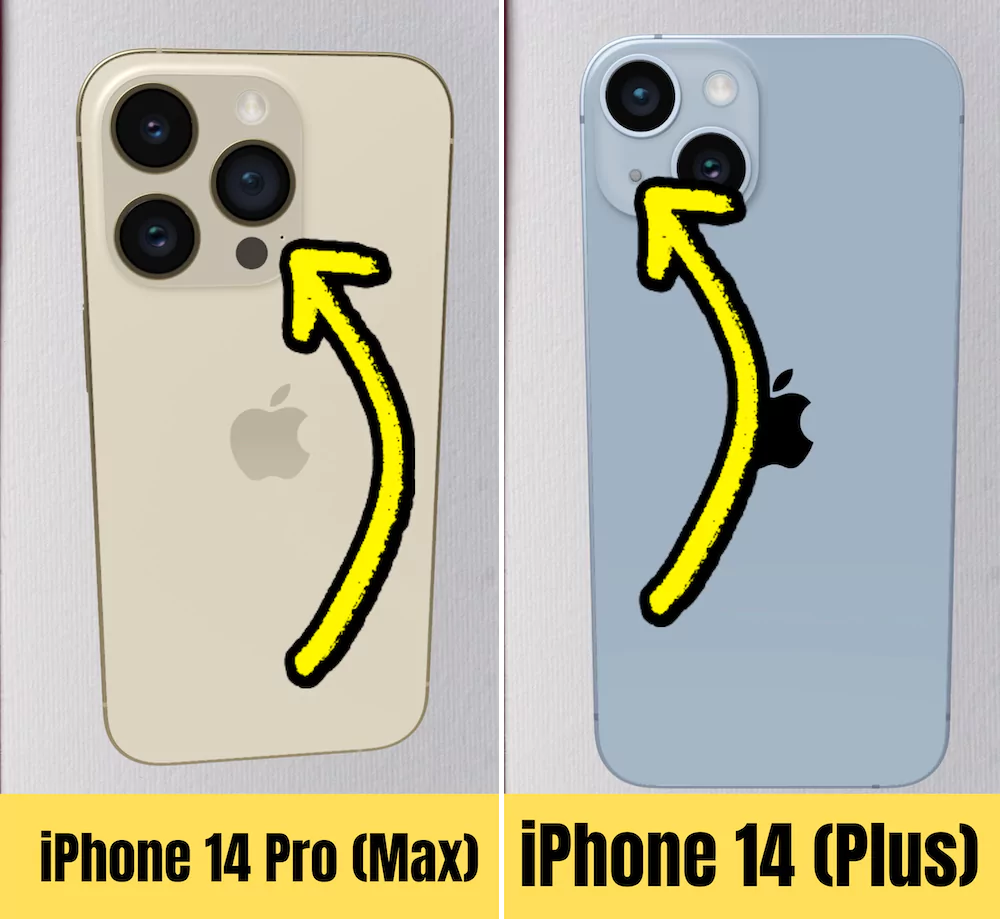 Microphone on iPhone 12 Pro & iPhone 12 Pro Max
Microphone on iPhone 12 & iPhone 12 Mini
Microphone on iPhone 7, 7, 7 Plus Models
---
---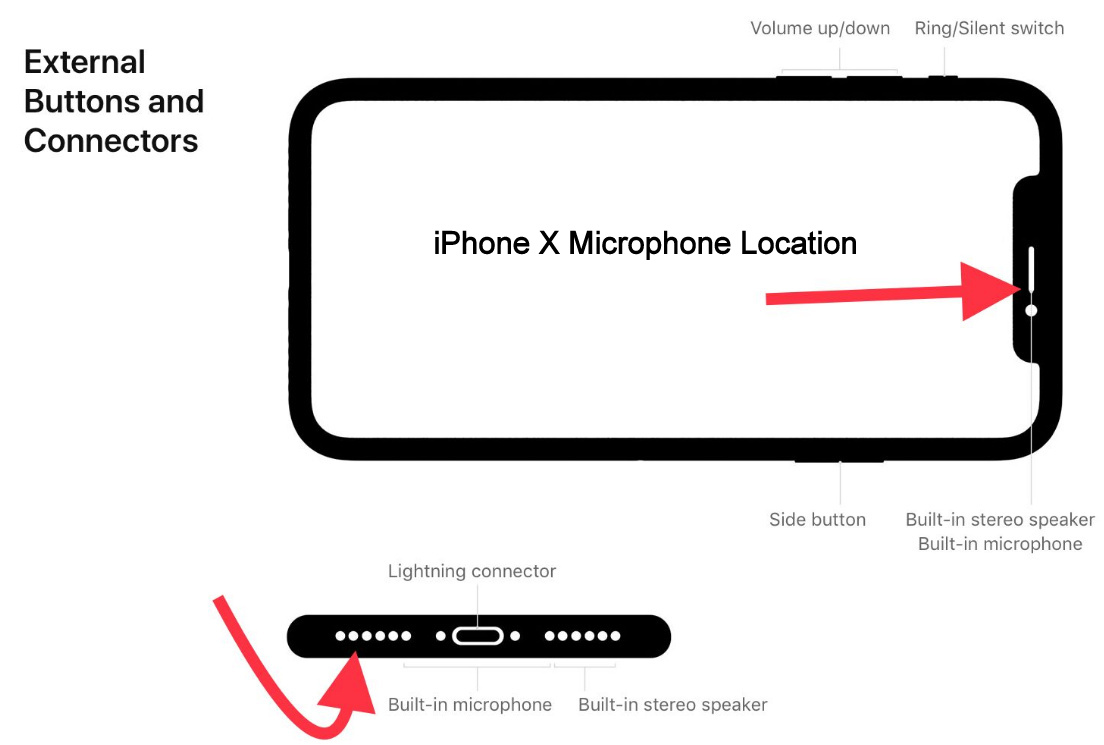 ---
Test Microphone using Voice Memos App
Step 1. Open the Voice Recorder App from your iPhone Home Screen.
Step 2. Tap on the Red button called the Record icon and start to Speaking into the microphone.
Step 3. Once you finished and then tap on the play icon to play the recording. You should be able to hear your sound clearly without any disturbance.
Microphone deserves an important factor that arises issues low call volume on iPhone at the Other End.
Test Microphone by Siri
Activate Siri by double click on the home button and Siri shows up. So now, try to speak to Siri.
Even though, if Siri not hearing you, then your iPhone microphone might be broken.
Get here More guide to Fix Siri not working on iPhone
Use the Camera App or Try FaceTime to test out Microphone
Launch the Camera app a try to record a video, after finish a clip, play that video with full volume. If it plays without sound then you can say that the Microphone not working.
Remove your iPhone XR/ XS Max/ 11 Pro Max/ 8/8+/ 7- 7 Plus Case Cover
most case iPhone X microphone not working with a leather folio case. You must be removed the Case, screen protectors, and other objects, which prevent your iPhone microphone efficiency like debris, dust with the help of the needle.
Turn off noise cancellation to reduce outside noise disturbance
Noise cancellation is a pretty good feature that does work to reduce the surrounding noise when you are making a phone call. To turn off noise cancellation on the latest iOS and later iOS, you will have to follow the below-given steps.
Go to Settings App – Tap on General – choose Accessibility – now scroll down to Noise cancellation, if here you appear green button, then turn switch Noise cancellation Off.
You're done.
Restart your iPhone
In some cases, iPhone low volumes keep crashing apps and certain bugs can be solved by restarting the phone. To restart your iPhone, Tap and hold on the sleep/wake button until you see the red slider and slide to the right to turn it off, wait for a few seconds, then turn it back on by pressing the same button until you appear Apple logo screen.
Backup and Erase your Device
If your iPhone's unable to record low sound or Week recording then I recommend to Wipe your iPhone once and try to fix it. First of all, Take iPhone back up on your Mac or PC, then Erase your Device from Factory settings. Settings > General > Reset > Erase All Content & Settings.
if this fix isn't helpful then, follow the restore iPhone in DFU mode.
Restore Your iPhone in DFU Mode
The restoring process in DFU mode will erase your iPhone completely at first, then Install a new copy of IOS on your iPhone then you can set up an iPhone like a new iPhone. And Fix all the problems related to software at once.
Still doesn't fix the problem, then I recommend contacting Apple support and Diagnose hardware issues at the apple genius bar.
Useful Tip- How to Restart iPhone without Power button
Do you like this post? Please, what way is worked in your case to test the iPhone microphone? Please drop your feedback in the comments below.