in this article, I'm explaining to you How to increase the call volume on my iPhone? Quickly Fix your iPhone Call Volume low for incoming Calls or Outgoing Call sounds (iPhone call volume gets low on its own). More people have a query on voice call quality on iPhone 6 and iPhone 6 plus. Does your device also affect this Problem? People who changed old iPhone 5S/ 5/ 4S to iPhone 6 or iPhone 6 Plus, iPhone 7, 7 Plus facing a low volume experience on iPhone.
Here is the hidden solution to your queries like " Increase call volume in iPhone 6S ", "Fix low call volume in iPhone 6S", "Boost call volume iPhone", "iPhone 6S low call volume fix", "Increase call history iPhone 5s", "Solve low volume experience on iPhone", "Remove iPhone 6 external noise". Apple Airpods is an ideal toy to make and receive calls with louder volume plus listen to music playback [For Loud Music, Video We recommend using iPhone Volume Booster].
Useful for iPhone 13 Series: Low Call Volume on iPhone 13, Pro, max Mini
Useful for iPhone 12 Series: Low Call Volume on iPhone 12, Pro, Max, Mini
So most people are using headphones, headsets, and enable speakerphone whenever a call receive on iPhone 6/ 6 Plus, 7/ 7 Plus. Thanks to apple giving amazing accessibility features on the latest iOS.
Steps to Fix and Settings For increased Call Volume in iPhone 6 and 6 plus, 7, 7 Plus
1). Enable Phone Noise Cancellation
---
iPhone 6S/6S Plus, iPhone 7/7 Plus or Later [iOS 13, iOS 14]
---
Users Can Find the Accessibility Settings here, Open Settings app > Click Accessibility > Tap Audio/Visual > Hit on Phone Noise Cancellation and Left/Right Audio Balance as well.
---
iPhone 6/6 Plus [iOS 12]
---
Step 1: Open the Settings App on your iPhone.
Step 2: Under the setting option screen, Tap on General.
Step 4: Disable/ turn off Phone Noise Cancellation.
This will ignore all interrupt coming from your iPhone, to Increase call volume in iPhone 6 and 6+. hope, this trick will help you to fix the iPhone call volume that gets low.
---
2). Turn Up the Call volume for iPhone incoming call
How do you fix low call volume on the iPhone? Can't hear incoming call sounds on your iPhone, Check the level up while you are talking on your iPhone. Turn up the volume button to the maximum level. This trick also works for iPhone connected during a call with Earpiece/Apple EarPods Lightning connector or Airpods. Apple Airpods is one of the best wireless earbuds that we can use to listen to music as well as make and receive calls with loud volume.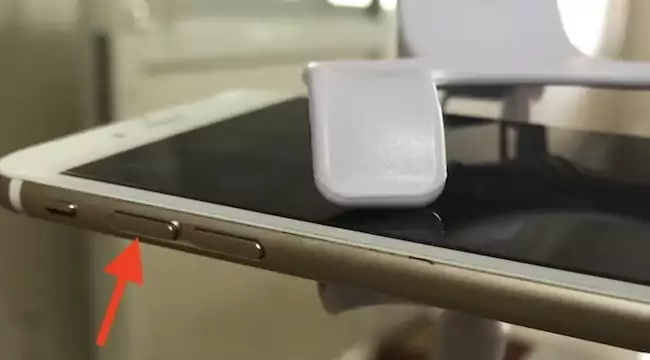 The new iPhone series iPhone 6S/ 6S Plus, iPhone 7, and 7 Plus have the same design and Input button placement.
To increase that: Use the volume up button, Increase sound intensity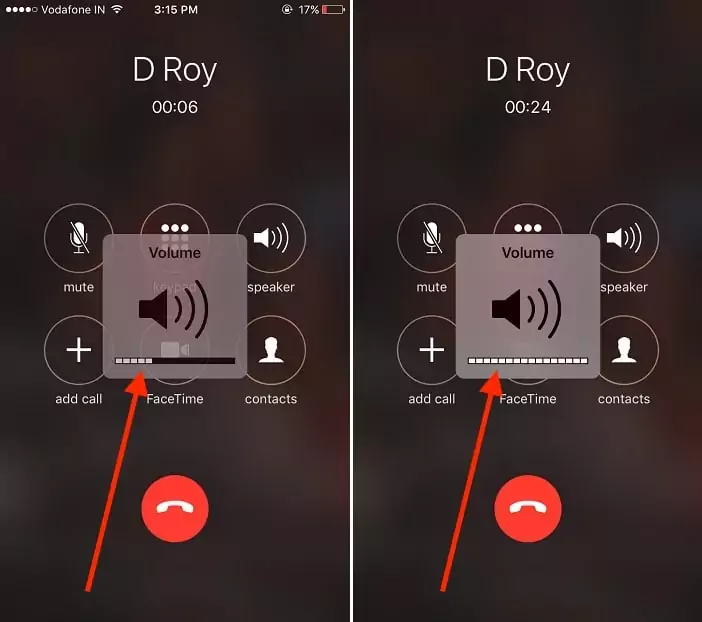 Test the sound quality, isn't any changes then move on to the next step.
Should I Go with Speaker mode: Real-time you are getting issues with low sound for an incoming call and Quick Fix, You can use the Speaker option on the Caller screen [See Above Picture]. In your spare time, you can fix microphone speakers using these steps.
Make Call Louder and Set to decrease with the side button, so no one around you can listen when you are in a public place.
---
3). iPhone 6 earpiece volume low
iPhone 6/6 Plus
---
To Change earpiece volume, Go to the Settings > General > Accessibility > MFi Hearing Device > Hearing Aid mode > ON.
---
iPhone 6S/6S/7/7+/8/8 Plus/X/XR/Xs/11 Pro Max
---
To Change earpiece volume, Go to the Settings > Accessibility > Hearing Device > Hearing Aid mode > ON.
In iOS 11: Hearing Devices renamed with "MFi Hearing Aids." Tap on it and Enable "Hearing Aid Mode."
---
4). Increase phone ring and Music volume
Other settings for Volume that help to increase ringer & Alerts volume or Media/ Apple music volume on the speaker.
Using the physical Volume button: From your iPhone Home screen only, Change the volume level.
Go to the Settings > Sounds > Ringer and Alerts. Slide finder right to Level up soundbar and volume as well.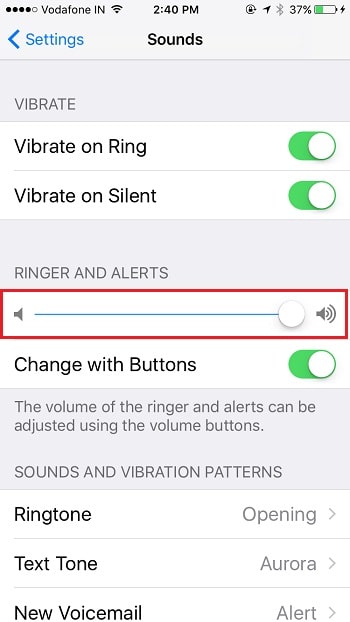 ---
Get more: Fix iPhone Bluetooth call volume low
5). Bluetooth Headphone or Airpods Paired with iPhone: Call Audio Routing
Some iPhone users Literally enable or change these options. Call Audio Routing Option is for manually setting all the incoming calls diverted only on Bluetooth Headset, Speaker or Automatic means play sound is the headset is connected.
First Check this settings Apps > General > Accessibility > Call Audio Routing > Automatic. and steps for Apple iOS 13 or later, Users Can check this settings over here, settings Apps > General > Accessibility > Touch > Call Audio Routing > Automatic.
That's it.
Also, You should Turn off or Disable Bluetooth under the settings app. Go to the Settings app > Bluetooth > Turn off Bluetooth. [So All Bluetooth devices automatically disconnect and you play or listen to voice to your iPhone speaker as normal]
---
6). Remove dust from your iPhone speaker slot
Going out, after a few months and years, you can notice the extra layer of dust covering up speaker holes with clammy dust particles.
Use, Soft kids toothbrush that removes dust from too many small holes on the speaker, a Wooden stick, or repair kit tools (if you have any), alternatively you can use it to clean iPhone's outer speaker port. Are you an expert in repair? You can clean it inside after completely opened.
---
7). Remove Small Peace of Plastic Cover on Top Speaker
The hoarse or Rough voice also makes low call volume iPhone. And the causes are this,
iPhone users like to use your iPhone with a Temporary cover. That prevents scratches on the screen. But you should remove it. Because This plastic covers the Hearing speaker of your iPhone and it's not visible usually.
Are you using Screen Card as an iPhone's glass protector? Double-check this thing.
---
8). Reset All Settings
Might be Your Previous iOS settings don't override in New Latest iOS after the Update. So You can check it by resetting all settings. This option will don't delete data (Contacts, Messages, Mail, Media File, or App). This will reset the settings to default. Don't be afraid about in-process your iPhone will reboot once and take time.
Go to the Settings App on iPhone > General > Reset > Reset All Settings.
After Reboot, Check the Above steps and implement them one by one. This will help to boost the sound quality and better performance on call.
9). Software Update on iPhone
Latest Software update iOS 12.4.8 for iPhone 6 Plus Earlie Phone and iOS 15.6 for iPhone 6S and later Phone firmware available right now]. Settings > General > Software Update. See the below screen, if your Apple iPhone is up-to-date and still has the volume problem then Erase your iPhone and Restore it. This process will repair the System files from the root. That is given in the next step.
10). Erase All Content and Settings
Erasing all content and Settings is a tedious task for iPhone users, But this solution is found helpful among my friends. In this process, You must have to back up your All Data at first using a very easy method. Use iTunes or Finder on Mac, To backup all Data from iPhone to Mac/PC. [Full Backup includes all the things such as Messages, Contacts, and All Settings, Media, Apps at all]
Important! Here's how to backup Apple iPhone before erasing the device.
Steps for Erase All Content and Settings on iPhone
Open the Settings app on the iPhone.
Next, Tap on the General option.
Now, Scroll to Reset > Erase All Content and Settings option.
Your iPhone will ask to enter the iPhone passcode to move forward.
That's it.
Now Copy All Data back to iPhone storage, Called Restore Backup.
---
11). Can't Hear Anything When I make a Call iPhone
No Sound comes from Ear Receiver, That Means your call is stuck and something else. Try to make another number for just testing out yourself. in your testing, The Same Problem persists on another number, now there is a problem with your Carrier or your iPhone.
Contact your Carrier through the customer care number given on the official company website
Start Ear Receive using the on/Off Speaker mode that is given on your calling Screen.
That's it.
---
Walkthrough Video on Call issues on iPhone 6/7/8/X/iPhone XR/XS Max
12). Reduce Loud Sounds: Headphone Volume Low
iOS 14 or later Update comes with a new feature that helps in Check Headphone Audio levels and Limiting the headphone volume Preventing hearing loss during calls & Music. Using the below steps you can turn off Reduce Loud Sounds.
Open Settings app on iPhone > Sounds & Haptics.
Now, Scroll to Reduce Loud Sounds > Turn off toggle Reduce Loud Sounds.
Otherwise, keep enabled Reduce Loud sounds toggle and Increase the volume limit level.
We can level up volume up to 100 decibels. That's it.
13). Get Apple Support Help!
Still not any help, Contact apple support or technical team. Apple Will care for and repair your device for free if Your iPhone is under a warranty period. Hardware Problem also covered in this Warranty, I have an Experience about that, So don't worry and As quick as fast reach nearby apple service center.
In case are you failed after following the above steps accurately, Apple will help you? That causes some hardware problems giving low call sound volume from your iPhone 6 and iPhone 6 plus, send for replacement at the nearest store.
In case you know that mono audio also helps to improve or increase sound quality with better understanding. Get the whole idea on mono audio, refer to my helping tutorial and turn on it.
Are you using the older iPhone version and installed iOS, then don't miss out to check this option correctly.
if your iPhone phone call volume is very very low not solved then you should book a Genius Bar appointment. learn here how to make a genius bar reservation.
A great option for the guys who talk remotely without iPhone keep on ear mostly while driving or during Working time. Best AirPods Alternatives.
Also Read: Fix Bluetooth Call Volume Too Low on iPhone.
Now it's your turn, How this tutorial is helping out to Solutions iPhone call volume issues. Don't miss sharing your experience on Increase call volume in iPhone 6 and iPhone 6 plus tips that are different or personal from yours.
10 Tips to Boost/Increase Low Call Volume on iPhone 11 Pro, 11, 11 Pro Max: Volume issues
An issue with iPhone Music Volume