in 2019, Here is the iPhone 6 call volume fixed solution on how to increase call volume in iPhone 6. You can also remove unwanted voice during your call on iPhone 6.
Quickly Fix your iPhone Call Volume low for incoming Call or Outgoing Call sound. More of the people have a query on voice call quality on iPhone 6 and iPhone 6 plus. Have you also affected this Problem? People who changed old iPhone 5S/ 5/ 4S to iPhone 6 or iPhone 6 Plus, iPhone 7, 7 Plus facing low volume experience on iPhone. Here is the hidden solution on your queries likes " Increase call volume in iPhone 6 ", "Fix low call volume in iPhone 6", "Boost call volume iPhone", "iPhone 6 low call volume fix", "Increase call history iPhone 5s", "Solve low volume experience on iPhone", "Remove iPhone 6 external noise".
Also fix This problem: Improve iOS Battery Life.
So most of the people are using headphone, headset and enable speakerphone whenever call receive on iPhone 6/ 6 Plus, 7/ 7 Plus. Thanks to apple giving amazing accessibility features on iOS 8. And Continue in iOS 10, iOS 11, iOS 12.
Steps to fix and settings for increased call volume in iPhone 6 and 6 plus, 7, 7 Plus: iOS 12, iOS 11/9/8/7
iOS 13 Beta Users Can Find the Accessibility Settings here, Open Settings app > Accessibility > Audio/Visual > Phone Noise Cancellation and Left/Right Audio Balance as well.
---
Step 1: Open the Settings App on your iPhone.
Step 2: Under the setting option screen, Tap on General.
Step 3: Under the wide option related to accessibility, Tap on Accessibility.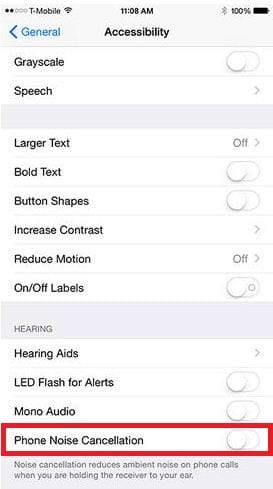 Step 4: Disable/ turn off Phone Noise Cancellation. This will ignore all interrupt coming from your iPhone, for Increase call volume in iPhone 6 and 6+.
---
Level Up volume on iPhone 6 for the incoming call
Can't hear incoming call sound on your iPhone, Check level up while you are talking on iPhone. Turn up the volume button to the maximum level. This Tricks also works for iPhone connected during a call with Earpiece/Apple EarPods Lightning connector or Airpods.
New iPhone series iPhone 6S/ 6S Plus, iPhone 7 and 7 Plus has the same design and Input button placement.
To increase that: Use the volume up button, Increase sound intensity
Test the sound quality, isn't any changes then move on the next step.
Should I Go with Speaker mode: Real-time you are getting issues with low sound for an incoming call and Quick Fix, You can use Speaker option on Caller screen [See Above Picture]. In spare time you can fix microphone speaker using these steps.
Make Call Louder and Set to decrease with the side button, So no one around you can listen when you are in public place.
---
iPhone 6 earpiece volume low
To Change earpiece volume, Go to the Settings > Accessibility > Hearing Device > Hearing Aid mode > ON.
 In iOS 11: Hearing Devices renamed with "MFi Hearing Aids." Tap on it and Enable "Hearing Aid Mode."
---
Increase phone ring and Music volume
Other settings for Volume that help to increase ringer & Alerts volume or Media/ Apple music volume on speaker.
Using physical Volume button: From your iPhone Home screen only, Change volume level.
Go to the Settings > Sounds > Ringer and Alerts. Slide finder right to Level up sound bar and volume as well.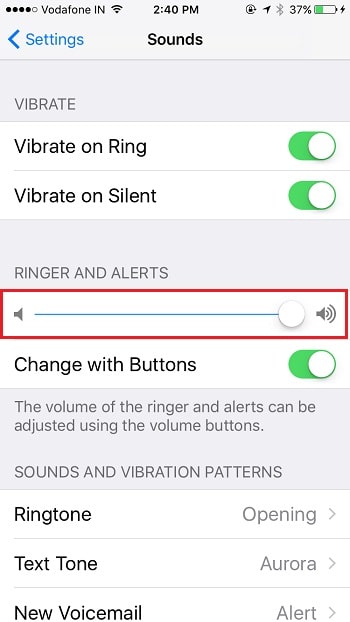 ---
Remove dust from your iPhone speaker slot
Going out with, after a few months and years, you can notice the extra layer of the dust cover up speaker holes with clammy dust particles.
Use, Soft kids toothbrush that removes dust from too many small holes on speaker, Wooden stick or repair kit tools (if you have), alternatively you can use for clean iPhone's outer speaker port. Are you an expert in repair? You can clean it inside after completely open.
---
Remove Small Peace of Plastic Cover on Top Speaker
The hoarse or Rough voice also makes low call volume iPhone. And the causes is this,
iPhone users like to use your iPhone with a Temporary cover. That prevents from scratches on screen. But You should remove it. Because This plastic cover the Hearing speaker of your iPhone and it's not visible usually.
Are you using Screen Card as an iPhone's glass protector? Double check this thing.
Still not any help, Contact apple support or technical team.
In case are you failed after followed above steps accurately, Apple will help you? That causes some hardware problem giving low call sound volume from your iPhone 6 and iPhone 6 plus, send for replacement at the nearest store.
In case you know that mono audio also helps to improve or increase sound quality with better understanding. Get the whole idea on mono audio, refer my helping tutorial and turn on it.
Are you using older iPhone version and installed iOS 8, then don't miss out to check this option correctly.
Great option for the guys who talk remotely without iPhone keep on ear mostly while driving or on Working time. Best Airpods Alternatives.
Also Read: Fix Bluetooth Call Volume Too Low on iPhone.
Don't miss sharing your experience on Increase call volume in iPhone 6 and iPhone 6 plus using the above solution.
For iPhone XS Max/iPhone XS
Low Call Volume iPhone XS Max, iPhone XR, Incoming Call Sound Quality is not good
Low Call Volume on iPhone X, iPhone 8, iPhone 8 Plus Sound Problem: Speaker, here's Fix
An issue on iPhone Music Volume
iPhone X Music Volume too low: Fix Volume issues & Boost Sound Worth for iPhone XS(Max), XR
Jaysukh Patel is the founder of howtoisolve. Also self Professional Developer, Techno lover mainly for iPhone, iPad, iPod Touch and iOS, Jaysukh is one of responsible person in his family.
Contact On: [email protected] [OR] [email protected]