🗓️
September 14, 2023
By ✍️
Jaysukh patel
High blood pressure, or hypertension, is a major health crisis facing today. According to the World Health Organization, hypertension affects approximately 1.28 billion people worldwide between the ages of 30 and 79, with the vast majority living in low- and middle-income countries. An estimated 46% of people with hypertension are unaware of their illness.
It sounds concerning!
Hypertension is a dangerous medical condition that raises the chance of developing heart, brain, kidney, and other problems. But, everything is not as gloomy as it may sound. You can fight this hazardous medical illness by being more aware of your body and exercising prudence. With the assistance of medical research and technological gear, you can notice it promptly and keep an eye on it.
Here is a list of the seven best blood pressure monitoring devices you can Record for Save, Control from your iPhone.
Naver miss these: 25+ Best Health Accessories for iPhone
The Best Smart Blood Pressure Monitors 2022
1. Omron
The monitor and controller are positioned on the cuff of this all-in-one gadget. You can examine your findings without having to reach for your iPhone. Having said that, the Omron connects to your iPhone over Bluetooth, providing you with availability to a plethora of extra capabilities via the Omron app for iOS or Android.
If you want to share this device with others, the app can support an endless number of participants and an infinite record of measurements for each participant. Omron goes above and beyond in this regard. If they enable recording data for various people at all, most blood pressure devices can only manage two; others can manage four. There is no limit to what Omron can do.
Best Features-
Gorgeous, smart, and portable design
Easy to use and user-friendly interface
Fulfills the Validated Device Listing standards for medical precision assessment
Great battery life
Get yourself an Omron from Amazon at an affordable price.
2. QardioArm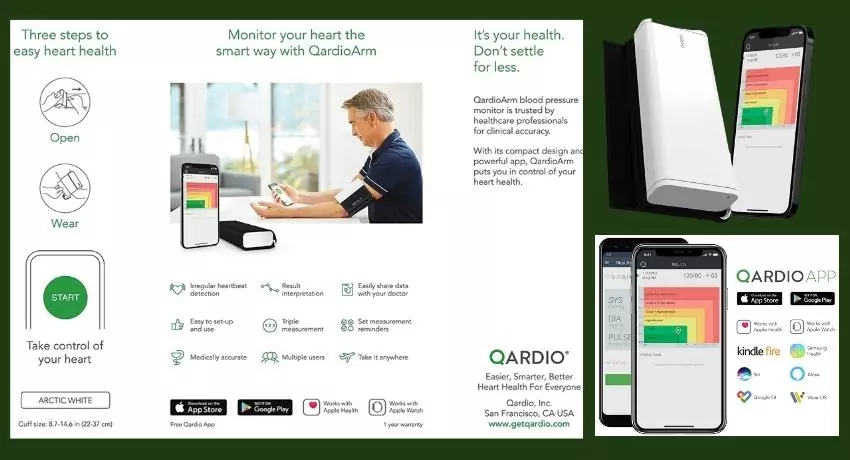 QardioArm is a wireless wearable blood pressure tracking gadget that can assist you in preventing this dangerous illness. Users have confirmed that it provides the most reliable measurements, which appear to be in accordance with the reliability of the medical care facility equipment with which it was evaluated.
The gadget is simple to set up and use, and it might be your best option for keeping a check on your blood pressure. Once you have your findings on the iPhone screen, you may share them with your family or a family doctor using the app, which is free to download.
Apply the triple measurement procedure to get the best possible results if you wish to double-check the findings. For example, the QardioArm app constantly records three consecutive measures and calculates your mean blood pressure.
Best Features-
Easy setup and Installation
Stylish, smart, and portable design.
Excellent data security management
Assessment graphs, alerts, and the detection of irregular heartbeats
Check out Amazon for great deals on QardioArm.
3. Withings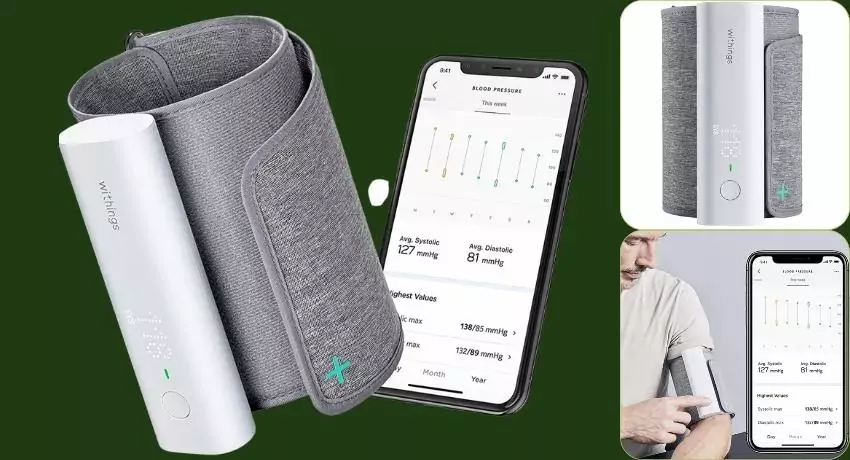 It's never been easier to check your blood pressure. Based on quick color codes, Withings can provide the most precise findings. In addition, it allows you to launch the Health Mate app instantly as soon as you switch on the device, with your cuff placed into the gauge to keep track of your readings frequently.
You can also simply transport it, so you never have to sacrifice your health. You only need a few clicks on your iPhone to keep your doctor informed, and your findings are already there after the docs.
Best Features-
FDA certified medically accurate
Easy Wi-Fi & Bluetooth setup and sync
Reliable battery life
Works perfectly with Apple Health
Withings is available on Amazon at an attractive price.
4. A&D Medical Deluxe Upper Arm Blood Pressure Monitor
The A&D Medical Deluxe Blood Pressure Monitor is simple to use, with one automated button operation. This automated blood pressure machine has been clinically verified for accuracy to match the worldwide criteria defined by the European Society of Hypertension. In addition, it provides rapid and accurate results.
You can download the free A&D Connect app to securely sync and save an infinite number of measurements using your smartphone. Setup is simple, and you can monitor infographics on your dashboard.
Additionally, you can securely share your data with your doctor or family. You don't have to worry about data security, as only those you approve will have access to your information. The monitor may also save up to 30 measures in device memory, complete with date and time stamps, for subsequent sync to the A&D Connect app.
Best features-
Accuracy has been clinically validated.
Simple one-button operation
Medium cuff accommodates arms measuring 9.0″ to 14.6″ in circumference.
The monitor has a 5-year guarantee, with a 2-year warranty on the cuff.
Check out Amazon for great deals on A&D Medical Deluxe Upper Arm Blood Pressure Monitor.
5. iHealth Neo
Another popular name on the list is iHealth Neo. It allows you to track your blood pressure and pulse and identify arrhythmia in less than a minute. You have to use the gauge on the gadget to select the ideal placement on your wrist and then push the button to get the data.
When fully charged, you can carry this lightweight device anywhere and use it up to 80 times. The kit's transfer bag keeps things orderly, especially while you're on the road. Hook it up to the iHealth app to get a visual representation of your history.
Best Features-
FDA certified medically accurate
Reliable battery life with rechargeable batteries
Simple Data Handling and Sharing
Measurement is quick and precise, with incredibly simple figures.
Get yourself an iHealth Neo from Amazon at a low price.
6. Greater Goods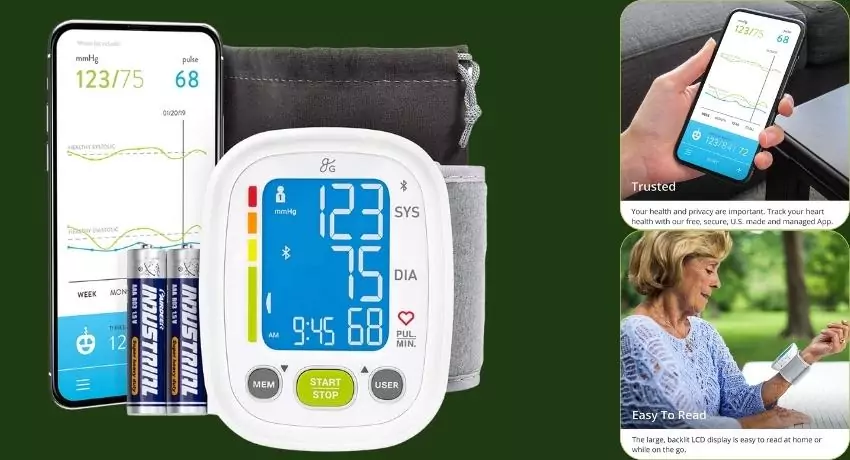 The Greater Goods has everything a home user looks for in a blood pressure monitor. It can identify abnormal heartbeats as well as mean pressure measurements. It effortlessly links with a free app through Bluetooth, and it includes a simple, lighted display. The gadget can save up to 60 scans for each of the two users, and the associated software can store an endless number of findings.
This Bluetooth tracker and its accompanying software are straightforward to use. The gadget itself gives constant measurements that can be averaged. Moreover, it features a cuff that suits most wrists, battery and power recharging choices, and a big, illuminated screen.
Best Features-
FDA certified medically accurate
Reliable battery life
The interface is simple and straightforward
Assessment graphs, alerts, and the detection of irregular heartbeats
Check out Amazon for the best deals on Greater Goods.
7. Wellue
This Wellue blood pressure monitor comes with a free iPhone app. However, it can also be used as a standalone monitor, with the read-out shown directly on the crisp OLED screen. This is an easy-to-use gadget with a one-touch operation that displays your blood pressure level and heart rate statistics in less than 30 seconds. In addition, this has a broad, comfy cuff that is lightweight and portable.
Best Features-
Extraordinarily accurate and straightforward to use.
There are two user profiles and 240 memory groupings.
Spacious, comfy cuffs with pulse rate monitoring.
Safe and dependable Data administration
Wellue is available on Amazon at an attractive price.
Whether you use an in-house blood pressure measuring machine or visit a medical professional, you still need to use a health app to record your blood pressure. And, you wouldn't believe us. We have the best app for recording and tracking your blood pressure data. So, let us introduce you to the SmartBP app.
SmartBP: Best blood Pressure App for iPhone
SmartBP is the Best App to Check Blood Pressure on your iPhone to monitor and maintain your blood pressure data. It allows you to record, track, analyze, and share your blood pressure data using your iPhone, iPod touch, or iPad, as well as your Apple Watch. SmartBP also integrates with Apple HealthKit. With your health records at your fingertips, you can now take a more significant part in your wellness.
Features-
The display will see systolic and diastolic blood pressure readings, as well as your pulse rate and weight.
Using Apple HealthKit, you can save and retrieve all of your blood pressure measures from anywhere and at any time.
Summary PDF reports and CSV files may be created, shared, and printed.
Directly print PDF reports or charts.
Analyze your development using easy-to-understand graphs and data.
Include ECG data.
SmartBP Cloud allows you to back up your health data and access it from any mobile device.
Export your file to iTunes, Dropbox, or Google Drive to backup all of your blood pressure data.
Touch ID, Face ID, or Pin keypad protection can help you keep your data safe.
Set up reminders to help you manage your blood pressure.
We think that will be enough information about this fantastic app.
Bottom Line
All these devices we mentioned above are best in class, and your choice mostly comes down to budget, your preferences, and your needs. You cannot go wrong with any of them. However, blood pressure monitors for home use do have certain restrictions. Do a Practice or Having your machine checked by a doctor or other medical professional will help assure more accurate results.
So, we will advise you to regularly check your blood pressure and visit a medical professional once in a while. In addition to regular tracking, a healthy diet and regular exercise are musts to fight against this silent killer.
Now let us look at some Frequently Asked Questions.
Frequently Asked Questions
Ques 1: What is the best Apple Watch app for blood pressure?
SmartBP is the best app for the Apple Watch because it enables you to record, track, analyze, and share your blood pressure data.
Ques 2: Can I check my blood pressure with my apple watch?
Yes. SmartBP Cloud allows you to back up your health data and access it from any mobile device, including the iPhone, iPad, Mac, and Apple Watch.
Ques 3: What is the best free blood pressure app for iPhone?
SmartBP is the best free app for the iPhone that enables you to record, track, analyze, and share your blood pressure data.
Ques 4: What blood pressure Apps Sync with Apple Health?
SmartBP is the best blood pressure app that syncs seamlessly with Apple Health.
Ques 5: Is the Smart BP app free?
Yes, the SmartBP app is free. However, a premium plan is available that gives you additional and super helpful features.
Ques 6: How can I monitor my blood pressure with my iPhone?
SmartBP allows you to monitor your blood pressure on any device, including the iPhone. Just open the app, and you will find all the information you need on the dashboard.
Ques 7: Is there a watch that monitors blood pressure?
Yes, various watches can be used to monitor blood pressure. We recommend using the Omron HeartGuide, FitVII Smartwatch, and MorePro Activity Tracker for monitoring blood pressure.
Ques 8: Is the finger blood pressure app accurate?
According to the study, the apps help track blood pressure in general, but they cannot measure blood pressure; instead, they predict your blood pressure based on other data, such as finger pulse. This cannot be guaranteed to be correct.
Ques 9: Do Smartwatches give accurate blood pressure readings?
When taking your blood pressure using a smartwatch, make sure your arm and wrist are at heart level. Blood pressure readings obtained at the wrist are often higher and less reliable than those taken in the upper arm.