Here is all about Apple watch charging stands that you should buy for your new Apple watch models. Apple's first smart wearable device compare to other smartwatches quite different in design and functions. So when watch not on the wrist then how to manage and care very well. One of the unique solutions is that Apple Watch charging Stands useful as the safest stand and Charge in proper viewing direction when you are on bad, Office chair or anywhere like iPhone charging dock and Stand. From here you can pre-order apple watch charging stands before buying apple watch, it's hence that most of the Watch stand's expert designer designed to stand for you and upcoming apple watch especially.
Watch's user must do full charging before use it for the next full day. Nevertheless, Apple manages to charge graph in a mind-blowing manner to get the full story about Apple watch battery.
we are happy to help you, submit this Form, if your solution is not covered in this article.
More: Apple watch Stand
Top best Apple watch charging stands: Dock for SmartWatch
Hellonomad: #1 No in Best Charging Stand
Choose your favorite color from two Space gray and silver coated colors, Easy to install MagSafe charging cable. Impressive size, Made in Aluminium, and Compatible with Apple watch 38mm and 42mm. lightweight but base stand technology will fit surface very well.
Order Now ($59.95) Use Code: FRND15 and get 15% off (50.96)
griffin Watch Stand
Gathering awesome #1 reviews as aanApple watch stand, with charging facility. Beautiful design and Compatible for a Watch and iPhone on the single stand, Most of the folks prefer griffin technology first due to best all types of accessories never de moderate in past. You can pre-order in just $29.29. find out more about Griffin watch stand and review
Pre Order Griffin Watch Stand go Order Now ($29.99)
GoBandStand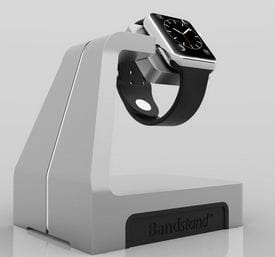 #1 best designed Apple watch charging stands for the first wearable device by GoBandStand, no hassle of Wire on your desk. The amazingly designed clean interface made this stand in big demand for future time. Useful as a charging dock and stand as well. So just drop your watch for the charge or easy to pick when you need. Set your watch face on any angle for better viewing effect from the bad also. Price is hidden but will be available very soon. Register yourself and get the notifications.
Go here: Gobandstand
HiRise
Simple user interface design and Available in Dark and light gray shining body material, wide base stand always gives high safety features compared to other charging docks, Compatible with any Watch model size charging dock in just $49.99
HiRise Apple watch Charging Dock find here
DODO case
Easy to fit your charging cable inside the DODO case, unique designed Wood Apple Watch charging dock Made in California based product, Easy to move from another place and safe to carry in your bag from office and home be rotating charging cable over the base stand.
order from here ($69.95)
Kickstarter: Apple Watch stand compatible for other iOS devices
Wide options for charging your device on single dock stand, through this stand you can charge your all devices (iPhone 6, iPhone 6 plus, iPad air or other iPad version and your Apple watch). Not for combo stand but you will get only watch enable charger from this manufacturer.
Guaranteed Fast shipping get touch by subscribing reminder from there.
Etsy
Best reviewed from the users, Totally made from wooden, Etsy will care your all devices, Wallet, Keys, and pen over the single stand. Cheap in price deal gone over by Etsy from here. You can ship this handmade product over the worldwide.
Buy in just $37.50 and the Other One Luxury Pocket Stand in just $69.99
Thinkbym: Stylish Design Apple watch battery charging Stands
No worry to buy separate Apple watch and iPhone stand, Using Apple watch you can keep your eye on your iPhone 5 and iPhone 6 from the single dock stand. Made from Aerospace aluminum. Get the update when it will ready to buy Go official site and register you.
Price tag not decided but best for combo stand with Apple watch stand.
Share your thought on amazing designed Apple watch charging stands dock, Before that, you can pre-order for easy and fast shipping at your home. Also, comment with you like most from the amazing designed/ handmade watch stand.
Premium Support is Free Now
We are happy to help you! Follow the next Step if Your Solution is not in this article, Submit this form without Sign Up, We will revert back to you via Personal Mail. In Form, Please Use the Description field to Mention our reference Webpage URL which you visited and Describe your problem in detail if possible. We covered your iPhone 11 Pro, iPhone 11 Pro Max, iPhone 11, iPhone 8(Plus), iPhone 7(Plus), iPhone 6S(Plus), iPhone 6(Plus), iPhone SE, SE 2(2020), iPhone 5S, iPhone 5, iPad All Generation, iPad Pro All Models, MacOS Catalina or Earlier MacOS for iMac, Mac Mini, MacBook Pro, WatchOS 6 & Earlier on Apple Watch 5/4/3/2/1, Apple TV. You can also mention iOS/iPadOS/MacOS. To be Continued...
Jaysukh Patel is the founder of howtoisolve. Also self Professional Developer, Techno lover mainly for iPhone, iPad, iPod Touch and iOS, Jaysukh is one of responsible person in his family.
Contact On: [email protected] [OR] [email protected]