🗓️
September 19, 2023
By ✍️
Jaysukh patel
in this article, I'm happy to show you the Cool iPhone Gaming Accessories that you should buy right now. The mobile gaming industry has developed exponentially over the years, and the iPhone is considered to deliver the best experience to gamers. Maybe the most prominent factor that made the iPhone the king of the mobile gaming market is the variety and quality of games one can find on the App Store. It's convenient, lightweight, and can run the most versatile games you can imagine, including a portion of the great independent titles. By putting together a couple of accessories like a joystick or gaming earphones, the iPhone can be made to perform even better in terms of a gaming gadget, particularly for the people who call themselves hardcore mobile gamers.
For this, you need the best gaming accessories to place yourself in the top charts of the mobile gaming community. We've gathered together some brilliant gaming accessories for iPhones that will help you in enhancing the overall gaming experience. So let's look into the best gaming accessories for iPhones without any further ado.
What Are The Best iPhone Gaming Accessories? Cool Collection
Cool Photography Accessories for iPhone
#1. Razer Kishi Mobile Game Controller/Gamepad for iPhone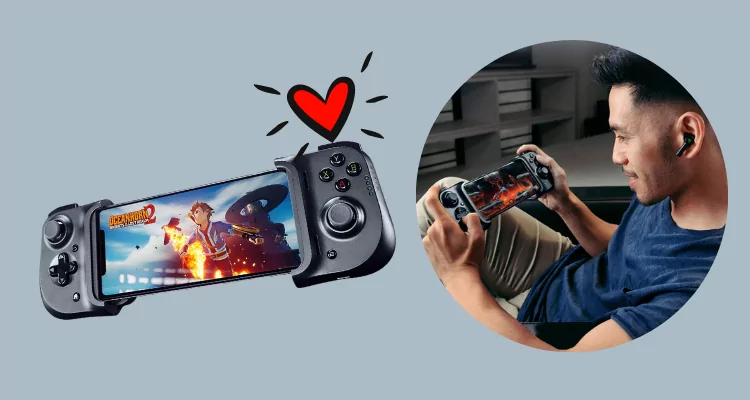 Suppose you previously used to play games on a gaming console and faced difficulties adapting to the touchscreen environment of mobile gaming. In that case, the Razer Kishi Mobile Game Controller / Gamepad for iPhone will solve this problem of yours. This device turns your iPhone into a gaming console so that you don't feel the difference between playing on a controller and on your iPhone. This unique product is compatible with hundreds of popular mobile games, including Call of Duty Mobile, Fortnite, Minecraft, Genshin Impact, emulators, and many more. It is also compatible with leading cloud gaming services, including Amazon Luna, GeForce NOW, Xbox Game Pass Ultimate, Stadia, and Steam Link, making it accessible for mobile and cloud gaming. Improve your in-game aim and movement control with the help of the clickable analog thumbsticks that provide greater accuracy and tactile feedback, and the performance buttons and d-pad deliver precision input.
Besides being accurate, this device offers a lag-free gaming experience as it directly connects to your iPhone using the USB charging port and does not use any sort of Bluetooth or wifi connection. You can also charge your iPhone while this product is connected using the in-built USB type C charging port. In addition, this gamepad for iPhone has a unique ergonomic, and flexible design for long gaming sessions as the controller feels very comfortable to grip and can be stretched and clamped on most iPhones using a Lightning port for a secure hold that won't come loose while gaming.
Every die-hard mobile gamer can get better at any game using this fantastic gamepad for the iPhone. We recommend you buy this if you have recently shifted to mobile gaming from playing on the console. So, to order this controller, go to the Amazon website to get the best offers.
#2. Rotor Riot Mfi Certified Gamepad Controller for iOS iPhone
A suitable gaming controller that gives you the feel of playing on an Xbox or a Playstation is a dream of many mobile gamers out there. With the excellent Rotor Riot, Mfi Certified Gamepad Controller for iOS iPhone, every mobile gamer can fulfill this dream at an affordable and convenient price. This gamepad is certified by Mfi and is the only controller on the market with L3 R3 functionality making it a must-buy for every mobile gamer. You can easily play a huge range of games without any lag or latency with the wired USB connector that connects directly to the charging port of your iPhone without any skips, glitches, or blur. Never about the battery percentage of your iPhone, as this product offers pass-through charging for unlimited gaming without draining your iPhone or iPad so that you can forget the batteries and simply plug and play.
This unique gamepad for iOS has an affiliate Ludu Mapp App that is compatible with over 1,000 apps and games. Now you can enjoy playing your most favorite battle royale games like Fortnite, Call Of Duty, and Madden 21 with this excellent device. You can download this App from the iOS App Store and sync it up to the game of your choice. This gamepad comes in three different colors- the default iOS, iOS (Alpine F1), and iOS (PWR+) so that you can buy this product in whichever color you like.
To get those headshots and kills quickly with added precision and accuracy, buy this essential product from Amazon and get it delivered to your doorstep without any stress.
#3. SteelSeries Nimbus+ Wireless Gaming Controller
Climb up to the top tier of any game by grabbing the SteelSeries Nimbus+ Wireless Gaming Controller that effectively registers every keystroke while playing. This is an entirely wireless gaming controller for your iPhone that uses a Bluetooth 4.1 connection to interact with your iPhone. Now you can enjoy mobile gaming just like you used to play on a PlayStation or Xbox using this wireless gaming controller. This device is compatible with all the iPhone 6S and above series, making it a very versatile controller. Don't worry about your controller's battery getting drained, as it has a great power backup of more than 40 hours and can be recharged using a lightning cable so that you can enjoy and grind the game to its fullest.
Despite being versatile, this gaming controller for iPhone has a unique ergonomic design that provides comfort to your hands even after using this device for hours. It uses pressure-sensitive keys to interact with your iPhone, ensuring that each and every gesture on this controller is registered accurately within the game. In addition, the four LED lights mounted on this controller indicate the player and battery status while playing a multiplayer game.
Hence, if you enjoy playing on a wireless controller, then the SteelSeries Nimbus+ Wireless Gaming Controller is just the product for you. So, if you like this product and want to buy it, consider ordering it from Amazon to get the best deals and discounts.
#4. Playstation DualSense Wireless Controller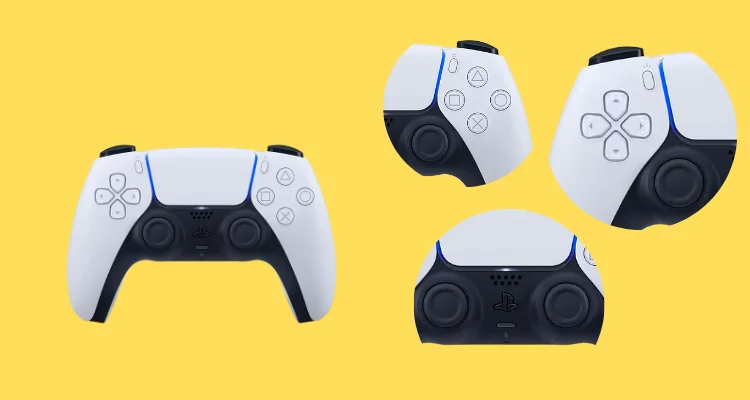 Now discover a more profound and highly immersive gaming experience with the incredible Playstation DualSense Wireless Controller that presents the action to life in the palm of your hands. This controller has a built-in microphone and 3.5 mm headphone jack that you can use to chat with your friends and has a dedicated mute button that turns off the voice capture in an instant. The dual actuators offer physically responsive feedback, which can effectively simulate the feeling of everything from environments to the recoil of different weapons. Bring the in-game action to the real world with the adaptive triggers that offer an experience of varying levels of tension and force as you interact with your in-game gear and environments.
This is a totally wireless controller with a capture button to capture and broadcast your most epic and insane gaming moments. This feature is beneficial for streamers and professional gamers as they clip and upload these critical moments on YouTube, Twitch, or other platforms for their audience. Additionally, the integrated battery that can be charged using a USB type C charger and unique ergonomic design offers both comfort and power for non-stop gaming.
The three color options and the brilliant features mentioned above make this wireless controller a good buy for every console gamer. Therefore, visit the Amazon site or App and order it straight away to make this product your own.
#5. Pansonite VR Headset with Remote Control, 3D Glasses Virtual Reality Headset for VR Games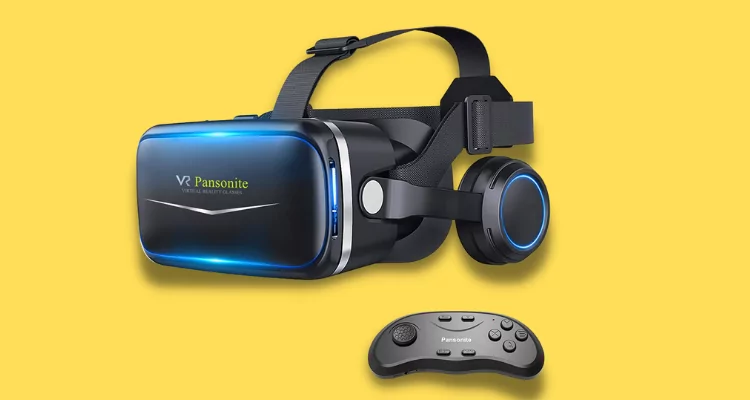 Step into the gaming world with the Pansonite VR Headset that offers strong quality and comfortable design for wearing in the immersive 3D virtual reality vision. Feel like you are physically inside the game with this 3D virtual reality headset that uses a wireless remote to control your character's movement. Simply place your iPhone within the clamp of the headset, and you're ready to go. In addition, it has an exceptional eye care feature that protects your eyes from the harmful blue light-emitting out from your iPhone even after prolonged usage.
The lenses of this VR headset are made to have high-precision and high light transmission, ensuring clear images and effectively dissipating eye fatigue and the feeling of vertigo. This headset is a very adaptive device as it allows you to quickly and comfortably wear it, even over your glasses. The wireless remote works fine when it comes to the registration of key presses, giving you a lag-free gaming experience.
Therefore, to physically experience the gaming world, purchase this excellent product from Amazon today.
#6. SakuraClub Semi-Conductor Phone Cooler, Cellphone Radiator with Dual Cooling Chip
Are you facing problems like lags and fps drops due to the overheating of your iPhone after playing games for a long time? If your answer is yes, then the SakuraClub Semi-Conductor Phone Cooler, Cellphone Radiator with Dual Cooling Chip, will keep your iPhone cool even after playing games on it non-stop. This phone cooler uses Peltier technology to actively cool down your cell phone when you get it plugged in and offers the best cooling performance. Say goodbye to fps drops with the unique gaming-focused design that cools down your iPhone by 7 to 10 degrees Celsius when playing big games like Fortnite, Genshin Impact, and PUBG Mobile.
The three durable RGB LED beads on each side of the fan provide the most beautiful and fantastic effect when gaming in a low-light environment. This phone cooler allows you to mount it on the dashboard of your car with the help of a gimbal, keeping your cell phone cool in the car while driving on a hot summer day. This excellent device can be charged using a USB to USB type C charger that comes with it.
So, to witness lag-free, smooth and render-less gaming, order this brilliant product from Amazon and pay using any of the payment modes that suit you.
Most mobile gamers prefer playing on an iOS device because of its top-notch performance. However, the action and adventure games are not that fun without a suitable gaming controller, as the touchscreen does not justify your aim's movement control and accuracy.
#7. Finger Sleeves for Mobile Gaming, Game Controllers Finger Thumb Sleeves Set
Bid farewell to sticky and sweaty fingers that restrict you from playing games on your mobile phone by grabbing the Finger Sleeves for Gaming Mobile Game, Controllers Finger Thumb Sleeves Set. If the fingers are sweaty, the in-game movement of your character will feel sluggish, and you will not be able to deliver your best in the game. These gaming finger covers are made of conductive silver fiber and spandex material, which makes your fingertips more comfortable and touch-sensitive for quickly registering touch impressions made on the screen of your mobile phone. In addition, they effectively prevent hand sweat and screen contact that might cause improper touch impressions. This excellent gaming sleeve is anti-drop, oil-proof, non-slip, and anti-fingerprint, delivering you a smooth and touch-sensitive gaming environment that helps in improving movement control and aim precision.
These excellent finger sleeves have high elasticity and can be adjusted to fit most people's finger size, including tiny fingers. This product is very compact and portable as it is small and lightweight, making it easy to carry around and put in a bag or pocket, allowing you to use it anytime and anywhere. It has a wide application as it supports most of the games on IOS and Android phones and can also be used when you are using the mobile phone for other stuff apart from playing games.
This finger sleeve's superior quality and wide applications entirely do justice to its price, which is very pocket-friendly. So go to Amazon now and order these comfortable finger sleeves to enjoy a smooth gaming experience.
#8. 2021 New 12″ Curved Smartphone Screen Magnifier, 3D Hand-held Phone Magnifier Screen for Gaming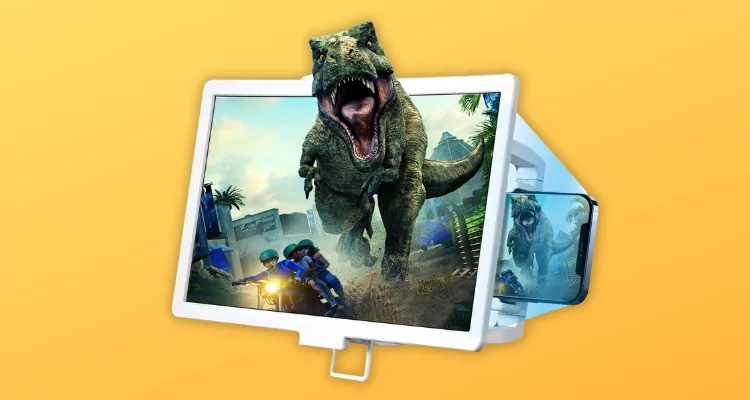 If you often feel like your gameplay is getting affected because of your phone's small screen that does not clearly show the position of far-off enemies or have difficulty in using the trigger controls on the touch screen. The 2021 New 12″ Curved Smartphone Screen Magnifier, 3D Hand-held Phone Magnifier Screen for Gaming, will take care of this problem of yours with its enormous 12-inch screen. This 12-inch phone magnifier screen provides an ultimate combination of science and technology to provide a three-dimensional and ultra-clear viewing experience with the help of its upgraded fresnel lens technology. Now you can play games by magnifying them 2 to 4 times with the use of this screen magnifier to deliver a more comfortable and realistic visual experience. In addition, this fantastic screen magnifier protects your eyes from harmful blue light by blocking it to relieve eye strain even after long hours of gaming.
This screen magnifier offers good mobility due to its foldable and hand-held stand design. It is an entirely battery-free device and is a perfect companion for gaming while you're traveling in trains, buses, or even airplanes. The adjustable stand construction offers incredible multi-angle adjustments for a better viewing experience so that you can play games on this magnifier in a very comfortable and composed position. In addition, the inserted soft pads and anti-slip design firmly grip your iPhone to prevent it from slipping or falling off from its clamps.
The durable and stylish design of this 12-inch curved screen magnifier makes it an exquisite and essential gift for your friends and families who like playing games. So, make the day of your loved ones by gifting them this unique product from Amazon today.
#9. Gaming Headset with Mic for iPhone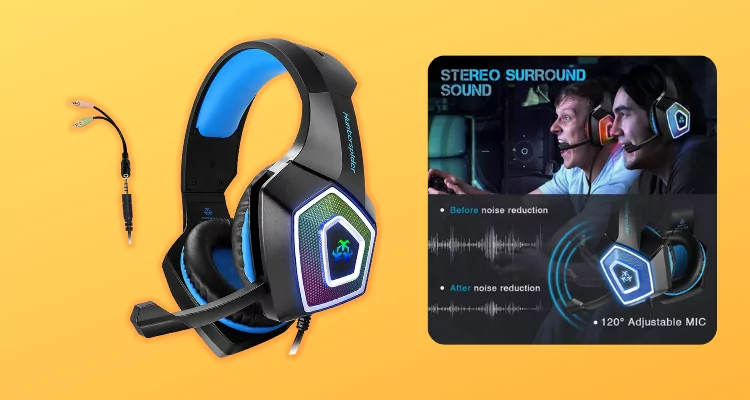 One of your iPhone's most essential and helpful gaming accessories is the Gaming Headset with Mic for iPhone by ARKARTECH. A good gaming headphone with a mic helps you communicate with your teammates and also enables you to accurately pinpoint the position of your enemy and the direction from which shots are being fired. This gaming headset has a good, and bright breathing LED light effect with seven automatically changeable colors to enhance the gaming atmosphere of your room, thus bringing it at par with the professional level. In addition, the extremely lightweight design and adjustable padded headband are skin-friendly, comfortable, and soft so that you can enjoy playing your favorite games as long as you want with the best comfort level any headphone can provide.
This professional gaming headset with a high-precision magnetic neodymium driver delivers you a significant stereo sound with bountiful details and super immersive bass. You can clearly hear the footsteps of enemies or the sound of the bullets fired within the game with the help of this driver. The improved mic with a state-of-the-art noise-canceling technology reduces noise and ensures precise voice delivery and collection. The ARKARTECH Gaming Headphones embody an in-line controller with a Mute and volume control key, making it very suitable and easy to calibrate the volume and turn the mic on/off during games with just one click. The microphone's position can also be adjusted to the extent of 120 degrees for practical use to deliver crystal clear and noise-free audio to your teammates.
So, dive into the world of gaming and never miss a footstep or sound inside the game by ordering the Gaming Headset with Mic for iPhone by ARKARTECH from Amazon to get the best offers and discounts.
For all the people debating console gaming as superior to mobile gaming, we have recommended the above-mentioned gaming accessories for iPhone to bring the console gaming experience into the mobile gaming world. All the accessories listed above are very affordable and provide the necessary aid needed for gaming. So please choose the product that fits your requirement and order it now.