Last Updated on Nov 11, 2021
Are you a content creator looking for the best camera accessories for iPhone 13 Pro Max or iPhone 13 Pro to use while using the camera of your iPhone 13 Pro Max? Correctly record Filmshooting, Vlogging, Macro Photography ideas, Fashion Photoshoot and Scientist, astrophotography. Well, we have you covered with our best recommendations here. Use the most available resources and ease your efforts to another level by choosing the products you require. These are the most affordable list of products that we have for you to check out.
we are happy to help you, submit this Form, if your solution is not covered in this article.
So, to know more about the list of products, keep reading this article further and pick your favored products without further delay.
Best iPhone 13 Pro Max and iPhone 13 Pro Camera Accessories for Photograpy
1. 3-Axis Smartphone Gimbal Handheld Stabilizer for Shooting
Enjoy foldable fun with a sleek design that will allow you to take this device anywhere you go. A handheld stabilizer is one among the 'must-have iPhone camera accessories.' For a content creator, this is an advantageous product. With this stabilizer, you can easily shoot like a pro and capture your everyday moments creatively. The handheld stabilizer will allow you to shoot videos, photos, selfies, and whatnot without you have to take extra tiring efforts. Also, the device can do wonders if you are a solo traveler. With this handheld stabilizer, you can capture all your beautiful moments with just the click of a button.
The handheld stabilizer also allows seamless tracking. It consists of a feature that enables recognizing people and pets on the move with higher accuracy to avoid any hindrances. The active sport mode feature is yet another dynamic technology you must appreciate in this product. So, if you are firm on buying this product, do so with Amazon and get it safely delivered to your doorstep.
2. 3-Axis Gimbal Stabilizer for iPhone 13 Pro Max
Make your vlogging easier than ever by getting a Hohem product. The newly enabled 3D inception mode will allow you to vertically rotate your iPhone for 360-degrees spontaneously while filming, which will give way to a professional video-making experience. The updated sports mode will ease your job to another level, and you can get beautiful motion shots in one go. With this device, you can intake all the feels of being a professional director. Therefore, we strongly recommend you get this one from Hohem.
The endless features that you can use with this device will leave you in awe, and the quality it gives out is undeniably fantastic. The stabilizer also consists of a time-lapse feature, which means that you can get all the best technology in one. So, what are you waiting for? Go, order this product from Amazon right away and enjoy filmmaking like never before.
3. JOBY GorillaPad Mobile Vlogging Kit
Designed exclusively for creators, this portable, sleek, and easily accessible vlogging kit is an ideal combination of three products required to create impactful video shots. The built-in flexibility will strengthen the grip of the device and will give out the extreme landscape and portrait shots in shoot a video in any situation.
Another feature of this device is its audio quality, wherein with this product, you can experience avoiding outside crowd noise. The product will work wonders even in low light, which enables its flawless light feature. The lights can be controlled and dimmed accordingly with the help of Bluetooth.
So, without delaying any further, make sure to order this Amazon product and enhance your picture quality towards the extremes.
4. Underwater Smartphone SeaLife Scuba Case
Get easy access to safe, secure, and waterproof photography by getting an underwater back case for your iPhone 13 Pro Max. One must-have accessory, this is a very considerable choice to protect your iPhone from all sides and angles. The case is highly waterproof and can dive deep down to 130 feet with its tight cam-lock sealing.
It consists of impressive features like shock protection, audible, visual, and moisture alarms, and an anti-fog moisture muncher capsule required to prevent internal fogging. The easy access will stay intact as the camera controls are no different from your iPhone model. You can easily enable the control settings like zoom, focus, white balance, tint, and lens selection.
Thus, this individually tested iPhone 13 Pro Max waterproof case is a perfect fit for your underwater scuba capturing experience. Therefore, stop waiting any longer and get this Amazon product before going for your next scuba dive.
5. Sealife Sea Dragon Photo-Video Underwater Light
Choose a wide-beam angle product to enhance your underwater experience. An ideal pair with compact action cameras, this product ensures the area being recorded is under complete exposure to light. The easily expandable kit can be connected to any underwater system using the standard tripod or GoPro cameras. The powerful LED light feature illuminates the area and has an assured 60-minute run time at full power.
The one-button control of this device is a form of an easy operation with three brightness modes, a hidden mode to signal emergencies, and a quick-release button. So, chase to illuminate the underwater surface by getting this Amazon product.
6. ULANZI U Rig Pro: Filmmaking Case and Stabilizer
Make way for new elements in your filmmaking experience by getting this Ulanzi U Rig Pro with lightning and microphone attachments. You can mount LED lights and videos on the rig and experience seamless filmmaking from your iPhone 13 Pro Max with this product.
The professional case will safeguard your iPhone and will contribute to excellent results. Enjoy filmmaking with this video rig by placing an Amazon order.
7. Pivo Pod Red: Motion Tracking Camera Stand
Capture every expression and move with a pivo pod red tracking stand by choosing this product that comes with advanced AI technology. As the device consists of three different tracking speeds, you can record any action on the road as per your requirement. This smart device can also track any target with its face, body, and action tracking feature.
Also, its intact stability will let you stay your target in the frame without ruining the picture quality. If you are a video streamer, this product will do wonders in bringing auto-tracking to your streams. A perfect fit for content creators, this is a product you must not miss out on.
Therefore, we recommend you get this device as your savior if you are a creator. If you plan to do so, make sure to check out Amazon for the best prices and offers.
8. iPhone Chest Mount with Action Mount Adapter
Now, record the exact point-of-view footage with your iPhone 13 Pro Max by attaching this chest mount to your chest. You can entirely rely on the attachment of this product. All you need to do is insert your iPhone's screen into the suction cups and wrap the elastic strap over your device. By strengthening the Velcro, you are all set to use this chest mount and shoot exciting films.
The adjustable chest harness will enable anybody to use it and fit it per the chest's size. Another pro of getting this chest mount is its seamless compatibility with a GoPro. Thus, you can create your videos by wearing this chest mount and using your smartphone or a GoPro and avail beautiful video and photo results.
So, wait no more and buy this chest mount from Amazon to get exciting results on your photo and video creation.
9. Portable Aluminum Alloy Selfie Stick for iPhone 13 Pro Max
Do not miss out on capturing beautiful moments if you are traveling solo! Embrace the wonders a selfie stick can do by clicking wide-angle selfies and capturing the beauty of your special moments in a whole new avatar. A Bluehorn product is sure not to disappoint you at all, as this selfie stick with an in-built remote controller will ease your job of clicking pictures to another level.
As this selfie stick is extendable and foldable, you can enjoy clicking pictures at your desired height by relying on this stick. The portable product is easy to be carried anywhere you want to without being heavy in your bag or carrier. So, enjoy a long-time usage of this selfie stick which comes with a Bluetooth control shutter to click amazing pictures.
Therefore, we recommend you get this device and enhance your picture experience. If you consider buying this product, we recommend you check it out on Amazon and place your order.
10. Fujifilm Instax: Mini Link Smartphone Printer
Get instantly printed photos and cherish the memory forever by choosing this Fujifilm Instax smartphone printer. With this device, you can add fun filters and frames to your pictures and get them at an instance. The easy-to-use product is an ideal buy as you can connect up to five smartphones, link the printer, and instantly print a collage. If you wish to reprint the photos, you can turn the printer upside down and press the button on the device.
Enjoy the quick printing speed and a vivid experience like never before by getting this smartphone printer. Therefore, do not delay in choosing this device. Place your Amazon order today and print your photos at an instance with a Fujifilm product. Browser more Top Best Smartphone Printer.
11. SD Card Reader for iPhone 13 Pro Max
One of the most essential accessories for your iPhone 13 Pro Max is a card reader that can save a huge space on your device. The two-way supportive SD card reader will work wonders on keeping the memory on your iPhone 13 Pro Max. The double-duty SD card is compatible with various memory cards, thus ensuring the reliability of this product. It also supports standard photo formats like JPEG, RAW, and 4K video forms.
You can truly appreciate its high-speed transfer and sync photos, videos, and more in just a few minutes. So, save all your memories at the right place by getting this SD card and worry no more about the storage in your iPhone. Buy this SD card from Amazon and get the best results, prices, offers, and a lot more.
12. SanDisk Flash Drive to Transfer Storage on a Mac or PC quickly
Free up the space in your iPhone by transferring your important images, videos, files, and documents in a matter of few minutes with this flash drive. The automatic backup of your videos and photos through an iXpand Drive application will ease your work to a greater level. Another noteworthy feature of this flash drive is that you can easily shoot videos on the iXpand drive app and get it backed up directly in the flash drive by first getting the footage stored in the internal iPhone's storage.
The high-speed USB 3.0 connector will not keep you waiting for long hours, and you can quickly get your content backed up in just a few minutes. If you wish to secure your files, you may do so by protecting them with a password across your iMac or a PC.
Isn't this product fascinating? Well, if you plan to get this, make sure to choose Amazon as your provider and get it delivered to your doorstep.
13. 10-inch Selfie Ring Light with Extendable Tripod Stand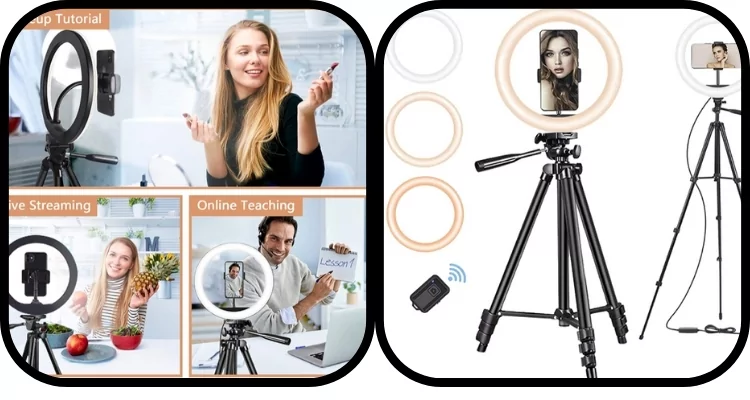 If you are a content creator, having a tripod stand should be the number-one requirement for you. We have a fantastic recommendation for you from the Sumcoo store. This ring light tripod stand is an excellent product as it comes with a feature to dim the lights you need. It adopts the latest lighting technology that contributes to delivering bright and soft lights. The ring lights also come in various colors, thus ensuring a lively environment to enhance the picture quality.
The tripod stand contains an advanced lock system that can allow you to shoot the picture from your desired height. With the 360-degree rotary, you can freely adjust any movement from the horizontal to the vertical direction. This universal iPhone holder will ensure a strict grip so as your device stays intact inside the clamp.
Therefore, get this excellent product from Amazon before it goes out of stock and enjoy filmmaking and content creation to another level.
Also Buy Best Rigs for iPhone for Filmshooting, Content Creator
14. Viozon Selfie Desktop Live Stand compatible with iPhone 13 Pro Max
Getting a selfie desktop stand can ease your work up to greater levels if you are someone who uses your phone and laptop simultaneously. The desktop stand comes with an advanced ring light feature that can cover the environment accordingly. It is also adjustable. Hence, you can forget your worries of not being able to reach the space rightly.
If you are someone looking for a perfect recording setup, this is an excellent product. The high-integration technology of this live stand can switch freely between various recording devices, and you can enjoy a multi-screen operation.
Therefore, get this fantastic product available on Amazon. Make sure to enhance the beauty of your workspace by placing your order right away.
15. TOCOL 6-pack Camera Lens Protector compatible with iPhone 13 Pro Max
Safeguard your iPhone 13 Pro Max with premium protection by getting a lens protector for your device. The lens protector will not only protect your camera but also give an enticing look to your device. Your iPhone 13 Pro Max will also be protected with any exterior dust or scratches, making this product an ideal buy. The lens also does not interfere with the picture quality, so you can completely trust this purchase.
The aluminum alloy edge will make your iPhone look extravagantly beautiful and will work wonders in protecting your device. The precise laser cut will leave you with no complaints whatsoever. Hence, we recommend you get this product now at your doorstep through an Amazon purchase.
16. Best Telescope for iPhone
Start Observing planets, moon, nebula movement, and Surface and explore the mysteries of the universe, and also Watch Solar Eclipse, Lunar eclipse live on your iPhone camera with the best Telescope that is compatible with Smart phone, including iPhone. Easy to set up any iPhone model with a Small lightweight Telescope while you travel also. Record a clip with a Bluetooth remote or Capture photo in your iPhone's Camera.
This Professional astronomical telescope Refractor Telescope is made for Kids, Students, and Professionals.
So, Don't miss the chance to see Moment in Universe. and Buy it from amazon with a warranty.
17. Thermal Imager Camera For iPhone
Transform any of the smartphones into a Thermal imager camera that is able to record temperature variances, temperature variances with a lightweight Thermal imager camera converter that supports all iPhone models. Here's the list of Best Thermal imager cameras for iPhone and Only Thermal cameras for night vision.
Buy now from Amazon and start observing the things that human eyes can't do.
Also Buy:-
As you have given a close look at the must-have accessories for iPhone 13 Pro Max, it is essential to safeguard your phone in the best possible manner. We have listed the best recommendations for you to protect your phone from all angles and sides. Hence, stop waiting anymore and get your camera accessories. Enjoy filmmaking, video-creating, and portably carrying your extra accessories everywhere you go. Do not let your solo traveling restrict you from capturing the best moments of your life. Place your Amazon orders right away and enjoy creating memories like never before.