🗓️
September 14, 2023
By ✍️
Jaysukh patel
Are you a content creator looking for the best camera accessories for iPhone 15 or iPhone 15 to use while using the camera of your iPhone 15? Correctly record Filmshooting, Vlogging, Macro Photography ideas, Fashion Photoshoot and Scientist, astrophotography. Well, we have you covered with our best recommendations here. Use the most available resources and ease your efforts to another level by choosing the products you require. These are the most affordable list of products that we have for you to check out.
So, to know more about the list of products, keep reading this article further and pick your favored products without further delay.
Best iPhone 15 Pro Max and iPhone 15 Pro Camera Accessories for Photography
1. 3-Axis Smartphone Gimbal Handheld Stabilizer for Shooting
Enjoy foldable fun with a sleek design that will allow you to take this device anywhere. A handheld stabilizer is one of the 'must-have iPhone camera accessories.' For a content creator, this is an advantageous product. With this stabilizer, you can quickly shoot like a pro and capture your everyday moments creatively. The handheld stabilizer will allow you to shoot videos, photos, selfies, and whatnot without having to take extra tiring efforts. Also, the device can do wonders if you are a solo traveler. With this handheld stabilizer, you can capture all your beautiful moments with just the click of a button.
The handheld stabilizer also allows seamless tracking. It consists of a feature that enables recognizing people and pets on the move with higher accuracy to avoid any hindrances. The active sport mode feature is yet another dynamic technology you must appreciate in this product. So, if you are firm on buying this product, do so with Amazon and get it safely delivered to your doorstep.
2. 3-Axis Gimbal Stabilizer for iPhone 14 Pro Max
Make your vlogging easier than ever by getting a Hohem product. The newly enabled 3D inception mode will allow you to vertically rotate your iPhone for 360-degrees spontaneously while filming, giving way to a professional video-making experience. The updated sports mode will ease your job to another level, and you can get beautiful motion shots in one go. With this device, you can intake all the feels of being a professional director. Therefore, we strongly recommend you get this one from Hohem.
The endless features that you can use with this device will leave you in awe, and the quality it gives out is undeniably fantastic. The stabilizer also consists of a time-lapse feature, which means that you can get all the best technology in one. So, what are you waiting for? Go, order this product from Amazon right away and enjoy filmmaking like never before.
2.1 Gimbal Extension
Make way for the brilliant gimbal extension that will put a smile of satisfaction on every vlogger's face. The YILIWIT 29 inch Adjustable Selfie Stick Compatible with Gimbal Stabilizer can be easily mounted on any tripod or slider. It is a perfect fit for DJI Osmo Mobile and Osmo mobile 3, mobile 2 OM 4, Feiyu Sgp, WG2/G5/Zhiyun Smooth Q and Smooth 4/Hohem 3-Axis, etc. This smartphone gimbal stabilizer or other devices can be attached with a ¼ inch screw mount and is compatible with Action Cameras using an extra adapter.
This adjustable gimbal extension offers telescopic length from 7.4 inches or 19cm to 28.8-inches or 74cm. It is a very portable gimbal extension made of Aluminum, making it very easy to carry around. It has a unique ergonomic design that helps in reducing fatigue even after prolonged use. It is an ultra-light, sturdy gimbal extension with a net weight of 155g or 0.34 lbs. It is effortless to operate, and you only need a twist to adjust its length. The unique non-slip design provides a firm, comfortable grip over this gimbal extension stick.
So, to order this unique and helpful product, go to Amazon for the best deals and discounts.
3. JOBY GorillaPad Mobile Vlogging Kit
Designed exclusively for creators, this portable, sleek, and easily accessible vlogging kit is an ideal combination of the three products required to create impactful video shots. The built-in flexibility will strengthen the grip of the device and will give out extreme landscape and portrait shots in shooting a video in any situation.
Another feature of this device is its audio quality, wherein with this product, you can experience avoiding outside crowd noise. The product will work wonders even in low light, which enables its flawless light feature. The lights can be controlled and dimmed accordingly with the help of Bluetooth.
So, without further delay, make sure to order this Amazon product and enhance your picture quality to the extremes.
4. Underwater Smartphone SeaLife Scuba Case
Get easy access to safe, secure, and waterproof photography by getting an underwater back case for your iPhone 14 Pro Max. One must-have accessory, this is a considerable choice to protect your iPhone from all sides and angles. The case is highly waterproof and can dive deep down to 130 feet with its tight cam-lock sealing.
It consists of impressive features like shock protection, audible, visual, and moisture alarms, and an anti-fog moisture muncher capsule required to prevent internal fogging. The easy access will stay intact as the camera controls are no different from your iPhone. You can easily enable the control settings like zoom, focus, white balance, tint, and lens selection.
Thus, this individually tested iPhone 13 Pro Max waterproof case is a perfect fit for your underwater scuba capturing experience. Therefore, stop waiting longer and get this Amazon product before going for your next scuba dive.
5. Sealife Sea Dragon Photo-Video Underwater Light
Choose a wide-beam angle product to enhance your underwater experience. An ideal pair with compact action cameras, this product ensures the recorded area is under complete exposure to light. The easily expandable kit can be connected to any underwater system using the standard tripod or GoPro cameras. The powerful LED light feature illuminates the area and has an assured 60-minute run time at full power.
This device's one-button control is an easy operation with three brightness modes, a hidden mode to signal emergencies, and a quick-release button. So, chase to illuminate the underwater surface by getting this Amazon product.
6. ULANZI U Rig Pro: Filmmaking Case and Stabilizer
Make way for new elements in your filmmaking experience by getting this Ulanzi U Rig Pro with lighting and microphone attachments. You can mount LED lights and videos on the rig and experience seamless filmmaking from your iPhone 14 Pro Max with this product.
The professional case will safeguard your iPhone and will contribute to excellent results. Enjoy filmmaking with this video rig by placing an Amazon order.
7. Pivo Pod Red: Motion Tracking Camera Stand
Capture every expression and move with a pivo pod red tracking stand by choosing this product that comes with advanced AI technology. As the device has three different tracking speeds, you can record any action on the road as per your requirement. This smart device can also track any target with its face, body, and action tracking feature.
Also, its intact stability will let you stay your target in the frame without ruining the picture quality. If you are a video streamer, this product will bring auto-tracking to your streams. A perfect fit for content creators, this is a product you must not miss out on.
Therefore, we recommend you get this device as your savior if you are a creator. If you plan to do so, make sure to check out Amazon for the best prices and offers.
8. iPhone Chest Mount with Action Mount Adapter
Now, record the exact point-of-view footage with your iPhone 14 Pro Max by attaching this chest mount to your chest. You can entirely rely on the attachment of this product. You only need to insert your iPhone's screen into the suction cups and wrap the elastic strap over your device. You can use this chest mount to strengthen the Velcro and shoot exciting films.
The adjustable chest harness will enable anybody to use and fit it per the chest's size. Another pro of getting this chest mount is its seamless compatibility with a GoPro. Thus, you can create your videos by wearing this chest mount, using your smartphone or a GoPro, and avail beautiful video and photo results.
So, wait no more and buy this chest mount from Amazon to get exciting results on your photo and video creation.
9. Portable Aluminum Alloy Selfie Stick for iPhone 14 Pro Max
Do not miss out on capturing beautiful moments if you are traveling solo! Embrace the wonders a selfie stick can do by clicking wide-angle selfies and capturing the beauty of your special moments in a whole new avatar. A Bluehorn product is sure not to disappoint you at all, as this selfie stick with an in-built remote controller will ease your job of clicking pictures to another level.
As this selfie stick is extendable and foldable, you can enjoy clicking pictures at your desired height by relying on this stick. The portable product is easy to carry anywhere you want to without being heavy in your bag or carrier. So, enjoy a long-time usage of this selfie stick, which comes with a Bluetooth control shutter to click amazing pictures.
Therefore, we recommend you get this device and enhance your picture experience. If you consider buying this product, we recommend you check it out on Amazon and place your order.
#9.1 YC Onion Motorized Camera Slider
Take your vlogging standards to another level with the latest YC Onion Motorized Camera Slider that has a newly designed 3.0 motor that reduces the noise to as low as 48 decibels and breaks the load capacity limit of the miniature electric slider industry. To avoid noise during recording, it is recommended to maintain a distance of at least 3 feet from the microphone when recording video. The YC Onion App lets you connect various other accessories to your camera or iPhone that help enhance the overall production quality of your video. This App enables you to use the YC Onion electric skateboard with Ronin-S/RS 2 or paper cloud stabilizer and can realize 3, 4 or 5-axis camera movement to achieve amazing shooting effects through these combinations. Using the sequencer function to create complex camera movements, you can link multiple poses one after another. The transition speed between each posture can be independently adjusted and looped so that the system runs back and forth in a given order without manually doing it. 
You can easily program various complex shooting effects, enabling you to add stability and uniqueness to your videos. The C-type data cable and mobile power supply can be connected to the motor, extending the shooting and running time so that you can finish recording or shooting your videos in one go. The YC Onion Motorized Camera Slider is built with a strong carbon fiber that offers a fantastic slide rail carrying capacity of 20kg horizontally, 14 kilograms, or 30.8Lb at a 45° inclination, 6 kilograms or 13.22Lb vertically. The detachable motor can freely switch between manual and electric as per your needs. This product is known for its superb compatibility as it comes with multiple ¼ inches and ⅜ inch screw holes that are compatible with various tripods. The tripod's height can be adjusted from 7.5 to 10 cm and can adapt to any terrain and ground in the field. In addition, the electric slide rail also has time-lapse shooting, parallax, and 120° panoramic shooting, making it a complete package for every vlogger or filmmaker.
So, to bring your vlogging and filmmaking standards at par with the professionals, order this excellent product from Amazon to get great deals.
10. Fujifilm Instax: Mini Link Smartphone Printer
Get instantly printed photos and cherish the memory forever by choosing this Fujifilm Instax smartphone printer. With this device, you can add fun filters and frames to your pictures and get them in an instant. The easy-to-use product is an ideal buy as you can connect up to five smartphones, link the printer, and instantly print a collage. If you wish to reprint the photos, you can turn the printer upside down and press the button on the device.
This smartphone printer offers a quick printing speed and a vivid experience like never before. Therefore, do not delay in choosing this device. Place your Amazon order today and print your photos at an instance with a Fujifilm product. Browser more Top Best Smartphone Printer.
11. SD Card Reader for iPhone 14 Pro Max
One of the most essential accessories for your iPhone 14 Pro Max is a card reader that can save a huge space on your device. The two-way supportive SD card reader will work wonders on keeping the memory on your iPhone 14 Pro Max. The double-duty SD card is compatible with various memory cards, thus ensuring the reliability of this product. It supports standard photo formats like JPEG, RAW, and 4K video forms.
You can truly appreciate its high-speed transfer and sync of photos, videos, and more in just a few minutes. So, save all your memories at the right place by getting this SD card and worry no more about the storage in your iPhone. Buy this SD card from Amazon and get the best results, prices, offers, and more.
12. SanDisk Flash Drive to Transfer Storage on a Mac or PC quickly
Free up the space in your iPhone by transferring your important images, videos, files, and documents in a matter of a few minutes with this flash drive. The automatic backup of your videos and photos through an iXpand Drive application will ease your work to a greater level. Another noteworthy feature of this flash drive is that you can easily shoot videos on the iXpand drive app and get it backed up directly in the flash drive by first getting the footage stored in the internal iPhone's storage.
The high-speed USB 3.0 connector will not keep you waiting for long hours; you can quickly get your content backed up in just a few minutes. If you wish to secure your files, you may protect them with a password across your iMac or a PC.
Isn't this product fascinating? Well, if you plan to get this, make sure to choose Amazon as your provider and get it delivered to your doorstep.
13. 10-inch Selfie Ring Light with Extendable Tripod Stand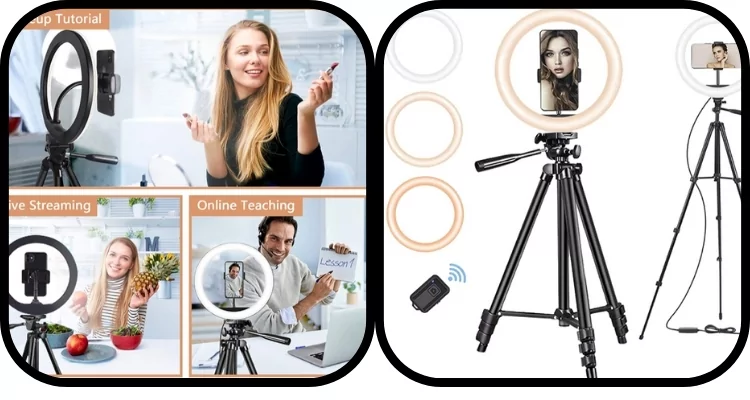 If you are a content creator, having a tripod stand should be your number-one requirement. We have a fantastic recommendation for you from the Sumcoo store. This ring light tripod stand is an excellent product as it has a feature to dim the lights you need. It adopts the latest lighting technology to deliver bright and soft glow. The ring lights also come in various colors, thus ensuring a lively environment to enhance the picture quality.
The tripod stand contains an advanced lock system, allowing you to shoot the picture from your desired height. With the 360-degree rotary, you can freely adjust any movement from the horizontal to the vertical direction. This universal iPhone holder will ensure a strict grip so that your device stays intact inside the clamp.
Therefore, get this excellent product from Amazon before it goes out of stock and enjoy filmmaking and content creation to another level.
Also Buy Best Rigs for iPhone for Filmshooting, Content Creator
13.1 iPhone's Camera Bluetooth Remote
Capture stunning videos and photos remotely easily and say goodbye to blurry photos with the Xenvo Shutterbug – Camera Shutter Remote Control. Eliminate camera shake for super crisp photos every time by snapping photos and Start/Stop video recording with the click of a button. This camera remote is compatible with all iPhone, iPad, iPod models. This device connects automatically to your phone in split seconds, ensuring you never miss another photo moment. The blue indicator light lets you know at a glance whether the shutter is paired and ready for action. It is easy to access the ON/OFF switch, making powering off and on instantly for those special moments when you only have seconds to capture the perfect shot.
Xenvo Shutterbugs are equipped with the latest American Ericsson Bluetooth 3.0 technology, which you can depend on, and offers zero shutter lag, wider smartphone compatibility, and longer battery life. It has a sleek, compact, convenient, and portable design that can be easily clipped to your bag or keychain for easy access anytime. Unchain yourself from your phone when you snap selfies and group photos with friends and family from afar with the help of this camera remote. It allows you to position your phone, jump in the shot, and click the Xenvo Shutterbug up to 30 feet away. This camera remote is excellent for nature photography as you can set up your phone and snap photos from a distance without disturbing your subject.
Hence, to experience the ultimate remote control shutter, head over to the Amazon website and order it right away.
13.2 Photography Course
If you look at the beautiful and stunning photographs captured by professional photographers and feel that this is what you want to make your career in. Then, the Digital Photography Complete Course will help nurture the hidden photographer within you. This latest edition of DK Books' complete course-based guide to digital photography will help you handle your digital camera to its complete potential in just a couple of weeks. You can discover everything you need to know about photography stepwise, week-by-week. This course is now fully updated to include the latest camera kits, making it the perfect one-on-one learning guide for budding photographers. This guide encourages you to practice your new learning immediately using a combination of easy and simple-to-understand tutorials, step-by-step demonstrations, practical assignments, and fun Q&As.
From transferring movement and using natural light to understanding how to master landscape and portrait photography, this one-on-one learning guide is a great "foundation course" for everyone who wants to take photography more seriously and professionally. You can also learn about the different modes on system cameras (DSLR or mirrorless) and bridges and demystify digital photography jargon like exposure, aperture, depth-of-field, and shutter speed. This photography program will guide you in understanding and controlling every function of your camera. With the aid of innovative graphics and simple text, you can explore a huge variety of photography genres and skills. Find out how to create landscapes, portraits, still life, and action shots as you discover the full range of your camera.
Therefore, to purchase this brilliant product, visit the Amazon site for amazing offers and discounts.
14. Viozon Selfie Desktop Live Stand compatible with iPhone 14 Pro Max
Getting a selfie desktop stand can ease your work up to greater levels if you use your phone and laptop simultaneously. The desktop stand has an advanced ring light feature that covers the environment accordingly. It is also adjustable. Hence, you can forget your worries of being unable to reach the space correctly. 
This is an excellent product if you are looking for a perfect recording setup. The high-integration technology of this live stand can switch freely between various recording devices, and you can enjoy a multi-screen operation.
Therefore, get this fantastic product available on Amazon. Make sure to enhance the beauty of your workspace by placing your order immediately.
#14.1 Over Head iPhone Camera Stand
Every professional filmmaker or content creator needs an overhead camera mount for creating exceptional and seamless videos. The Over Head iPhone Camera Stand by Heron has a 5ft Flexible Reach Radius offered by its Articulating Arm. In addition, it has a Table Clamp Base which allows easy installation of this camera stand on almost any desk or cabinet. This clamp holds the entire camera stand firmly and securely using the screws. Heron overhead iPhone camera stand has a 360-degree swivel at the base, which allows you to capture photos and videos from all the possible angles to make the best out of your filmmaking experience.
The ergonomic handle design provides effortless and fast maneuverability without you having to put in any extra effort or force to do so. The heavy-duty clamp with 3-inch bite width and horizontal screw mount basename with lightweight aluminum stabilizer offers incredible versatility to clip this camera stand on all flat surfaces. The support of up to 2lb's of equipment like mirrorless digital cameras, smartphones, tablets, or GoPro make it an excellent overhead iPhone Camera Stand.
You also get a free phone adapter as a gift on purchasing this overhead iPhone camera stand. So, to buy this unique product, go to the Amazon App or website and order it today.
15. TOCOL 6-pack Camera Lens Protector compatible with iPhone 14 Pro Max
Safeguard your iPhone 14 Pro Max with premium protection by getting a lens protector for your device. The lens protector will not only protect your camera but also give an enticing look to your device. Your iPhone 14 Pro Max will also be protected with any exterior dust or scratches, making this product an ideal buy. The lens also does not interfere with the picture quality, so you can completely trust this purchase.
The aluminum alloy edge will make your iPhone look extravagantly beautiful and will work wonders in protecting your device. The precise laser cut will leave you with no complaints whatsoever. Hence, we recommend you get this product now at your doorstep through an Amazon purchase.
16. Best Telescope for iPhone
Start Observing planets, moon, nebula movement, and Surface and explore the mysteries of the universe and also, Watch Solar Eclipse and lunar eclipses live on your iPhone camera with the best Telescope that is compatible with Smartphone, including iPhone. It is easy to set up any iPhone model with a Small, lightweight Telescope while traveling. Record a clip with a Bluetooth remote or Capture a photo in your iPhone's Camera.
This Professional astronomical telescope Refractor Telescope is made for Kids, Students, and Professionals.
So, Don't miss the chance to see Moment in Universe. and Buy it from amazon with a warranty.
17. Thermal Imager Camera For iPhone
Transform any smartphone into a Thermal imager camera that can record temperature variances and temperature variances with a lightweight Thermal imager camera converter that supports all iPhone models. Here's the list of the Best Thermal imager cameras for iPhone and Only Thermal for night vision.
Buy now from Amazon and start observing what human eyes can't do.
Also Buy:-
As you have looked closely at the must-have accessories for iPhone 14 Pro Max, it is essential to safeguard your phone in the best possible manner. We have listed the best recommendations for protecting your phone from all angles and sides. Hence, stop waiting anymore and get your camera accessories. Enjoy filmmaking, video-creating, and portably carrying your extra accessories everywhere you go. Do not let your solo traveling restrict you from capturing the best moments of your life. Place your Amazon orders right away and enjoy creating memories like never before.