Here's the complete list of best reviews Cases that handpicked by experts and people that happier to use it for a long time. Verities of cases with features are Back Card slot case, Wallet case with the Magnetic clip or Zipper closure, Stand for watch movies or Video. Also, make Payment with Touch ID or Card that keeps inside the slots. And Protection of body damages like scratches and internal hardware when falling or dropped from hand and bump.
Also, read Best iPhone 8 Plus Leather Cases. our first choice is Apple's official leather Phone case for iPhone 8 that is also fit with iPhone 7 that you can buy from here
we are happy to help you, submit this Form, if your solution is not covered in this article.
Top 12 Best iPhone 8 Leather Cases in Budget price, Back Cover, Stand, Card Holder and more
1: OtterBox: Black Folio Leather Case with Card Holder
It is a standard series case for iPhone 8 offered complete protection and security. The leather is very genuine, slim and sleek and many vertical slots for carrying the cards are designed. Get drops protection in a slim way because it does not add much bulk to the device.
It gives protection towards drops, bumps, scratches, and damage. Its installation is also honest, and it offers a lifetime warranty. It looks so casual and candid and has a professional look that satisfies the soul.
Buy OtterBox on Amazon – $22.95- Otterboxalternativee phone case by Apple that is very slim
2: SHIELDON: Vintage Wallet Case
SHIELDON looks in vintage design. The top layered of the cover is made out of genuine cowhide leather with high quality, high strength, and casual look. It is very soft in look, and the durable TPU of the body comes with the shockproof edge and ensures your iPhone protection towards drops and sudden hard damage.
The case is dual-layered in the account of giving complete protection. It offers you 3 slots for a card and other notes and one side pocket for the cash. It also offers you firm stand for the horizontal view. It gives your iPhone a great look without increasing the thickness of it. It allows easy cutoffs for all the ports and camera and gives a great fitting.
SHIELDON on Amazon – $22.99
3: KANVASA: Leather Back Cover case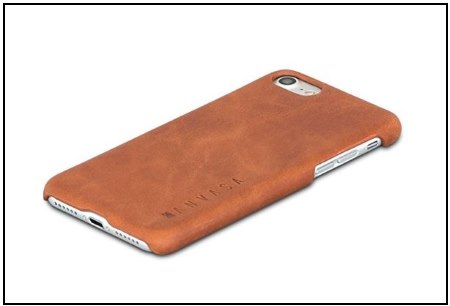 It offers you the genuine leather cover for iPhone 8. It gives the best protection to your iPhone having the best access to all your ports and camera and buttons usage.
The leather skin offers ideal protection against scratches and damage. The high production quality will extend the longevity of the cases.
Order Kanvasa on Amazon – $19.95
4: Zvedeng: Protective Card Holder iPhone 8 Case
An ultra-durable protective material and long-lasting leather Case for iPhone 8. It offers you two card slots having cards and notes carrying capacity and one cash pocket, and with this, there is a hidden slot available for your important personal cards.
The magnetic closure placed at the flip will be kept it tightens close and protects the screen from sudden falls and damages. The full frame protection allows covering all the corners and the TPU lip secure the screen from scratching and falls.
The raised platforms at the edges secure the corner. The case is made up of PU leather and TPU base shell, it absorbs maximum shocks and secures the iPhone completely.
Order Zvedeng on Amazon – $15.99
5: TENDLIN: Silicon Hybrid Slim Case for iPhone 8
It is a premium leather case for iPhone 8 and giving you a great fitting and protection. PU leather and flexible TPU of premium quality and shock absorber capacity. The fit and slim profile will secure your iPhone from scratch and damage.
The raised platform will make the corners protected, and it has a very smooth cutoff at all the ports and camera. It is easy to use and easy to install without any damages.
TENDLIN on Amazon – $11.88
6: Duckmole: Leather Case with Card Holder
Duckmole case complete fit with iPhone 8 Screen and made up of long-lasting leather, and anti-scratch shook proof material. It precisely cut at the cutoffs for flexible access to all ports and operation of all buttons.
The inner corners and uplifts edge secure all the corners during sudden fall, and the TPU lip makes the screen scratch proof and damage proof. The leather phone case is made of premium PU leather. This case includes two card slots for carrying cards and essential notes or cash. This case will give you extra relaxed and professional look during the usage and has an eye-catching profile to handle with all the care and security.
Order Duckmole on Amazon – $15.99 alternative iPhone 8 leather case with card holder
7: PASONOMI: Leather Wallet with Kickstand case
The case is compatible with iPhone 8 made up of PU leather wallet, and it feels like handmade design that gives you the best casual look having raised edge for maximum protection, and it looks like such eye-catching and straightforward views.
It is light in weight and slim in structure. The 360° protection gives complete protection to your iPhone, and the slots available carry all your essential cards and cash and also it has a hidden slot open for the first security. It can easily be converted to a stand case while enjoying the videos and movies.
Order Pasonomi on Amazon – $15.85
8: Lorem: Swivel Clip Leather Case
This iPhone 8 Case has a belt carrying option to give complete security to your iPhone. The leather belt pouch gives you perfect protection and fitting even in the rough usages. The pouch holster contains a swivel clip for robust enough to handle. It protects your iPhone from scratches and screen damage.
The magnetic closure will allow the complete protection of sensitive parts and the edges to protect the corners. The quality is durable giving a formal look to go with your personality.
Order Lorem on Amazon – $9.95
9: Benuo: iPhone 8 Vintage Leather back cover case
The case is compatible with iPhone 8 that made up of leather and gives you complete security and safety. The top material is made up of genuine leather and microfiber which offers a classic look and different attitude. The inner linings are with suede finish help in scratch resistance and shockproof.
There is the availability of 2 slots for carrying the cards and cash. The ultra slim look and lightweight increase the professionalism and gives complete and secure safety to your iPhone. The cutoff is so precise that one can easy-going use of it.
Benuo on Amazon – $18.99
10: Lumion: Apple iPhone 8 Portfolio case
The premium leather case is compatible with iPhone 8. It has three cards holding capacity and cash carrying space. The whole cover by PU leather giving it extra slim look and feel soft the magnetic strap offers additional safety to the screen by keeping it close and the cutoff for the camera and ports are also soft gives the natural use of it.
The case provides you casual and pure look having many benefits during its use.
Lumion on Amazon – $14.99
11: INFLATION: Leather Wallet Case for iPhone 8
This case is compatible with iPhone 8 and gives you a perfect look to your personality. The wallet case has a cardholder slot and Money carrying capacity. It is made up of leather material which is compatible to touch and grip properly.
It protects the whole screen by it's raised the platform. And the lip covers the screen by marks and damage. The parallel view can be easily used by the stand available in it, and you can enjoy the movie and videos. It gives you a flawless casual look to carry.
Buy INFLATION on Amazon – $13.99
12: PASONOMI: iPhone 8 Zipper Wallet Case
Zipper Closure keeps your Document papers and valuable card inside the secure place. Back Wallet is detachable so we can remove it on offside shopping.
Best design with strap and snap-on button keeps secure at all the places. Pasonomi case has Perfect cutouts for speakers, Camera, Stylus, and Ports.
Order Pasonomi Case on Amazon – $16.85
13: ZVE Wallet Case – Cool from all iPhone 8 Leather Cases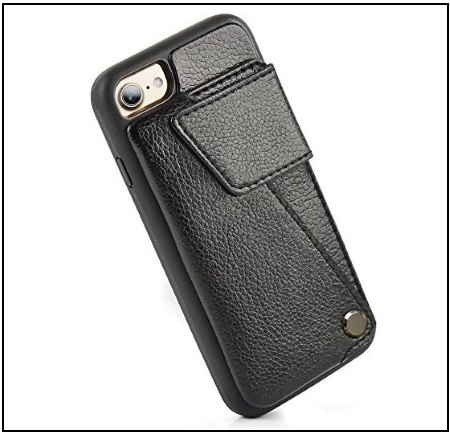 The case is compatible with iPhone 8 having an ultra-durable protective material and long-lasting leather. It offers you two card slots having cards and notes carrying capacity and one cash pocket and with this, there is a hidden slot available for your critical personal Cards.
Order ZVE Leather Case on Amazon – $14.99
Premium Support is Free Now
We are happy to help you! Follow the next Step if Your Solution is not in this article, Submit this form without Sign Up, We will revert back to you via Personal Mail. In Form, Please Use the Description field to Mention our reference Webpage URL which you visited and Describe your problem in detail if possible. We covered your iPhone 11 Pro, iPhone 11 Pro Max, iPhone 11, iPhone 8(Plus), iPhone 7(Plus), iPhone 6S(Plus), iPhone 6(Plus), iPhone SE, iPhone 5S, iPhone 5, iPad All Generation, iPad Pro All Models, MacOS Catalina or Earlier MacOS for iMac, Mac Mini, MacBook Pro, WatchOS 6 & Earlier on Apple Watch 5/4/3/2/1, Apple TV. You can also mention iOS/iPadOS/MacOS. To be Continued...
Also Useful:
What is your Favorite Best iPhone 8 Leather Case?
Give your opinion which your case is you are recommending to buy others in below comment box. And Share on the Social page and point your case for iPhone 8 that you are suggesting to your friends.
Jaysukh Patel is the founder of howtoisolve. Also self Professional Developer, Techno lover mainly for iPhone, iPad, iPod Touch and iOS, Jaysukh is one of responsible person in his family.
Contact On: [email protected] [OR] [email protected]