Last Updated on Jul 26, 2023
Last year Apple introduced Animoji for the specific device and IOS version. This year Apple Allows creating new Custom Emoji stickers on iPhone/iPad. And That's animated for supported Devices only. Otherwise, create a simple emoji. Especially for iPhone X users Use Face ID Technology. That detects your face expression and voice and converts into different animated Animojis. And now we can send in iMessage awesome for free. Animojis are the next generation emojis that cover amusing emotions and Faces of animals, including monkeys, cats, dogs and cause piles of poop.
We can not install Third-Party Animojis using Third-Party iMessage apps; it's officially added to the app.
---
iPhone/iPad users can use Animated Emojis on this model that has a True Depth camera. Not Truedepth camera iPhone/iPad users can create a simple memoji. Let's see How to Create Animated Memoji on iPhone. and in the same way, create a new memoji sticker on iPad [iPadOS].
Follow the below steps to create a new Custom Memoji on iPhone/iPad. After Create a Sticke, Download and Share Memoji on iPhone.
---
How to use Custom Animated Animoji/Memoji Stickers on iPhone
iOS 15/iPad OS running on iPhone/iPad users can create new Emoji stickers and use them for sending in Messages like Stickers or Animated Video stickers. Follow the below steps to make a new Custom memoji sticker in iOS 13/iPadOS or later.
Open Message app and Use app Drawer to find the Memoji sticker icon from your Apple Keyboard only.
Create a New Memoji and Get started.
Now, Click on the more option to create a new Memiji with New Skin, Hairstyle, Brows, Eyes, Head Nose, Mouth, Ears, and more in your custom Memoji Sticker.
Use an auto-create Memoji sticker from your keyboard to send it on message, Showing in the first step.
To send animated memoji with custom Stickers use This Memoji option available on your iPhone app drawer on the apple keyboard. Select the Recently created Memoji in a row, and Press and Hold on the Record button to send it with audio and Expression. After that tap on the send button to send animated custom memoji from the messaging app.
Let's see how to Edit, duplicate and Delete the Memoji sticker on iPhone.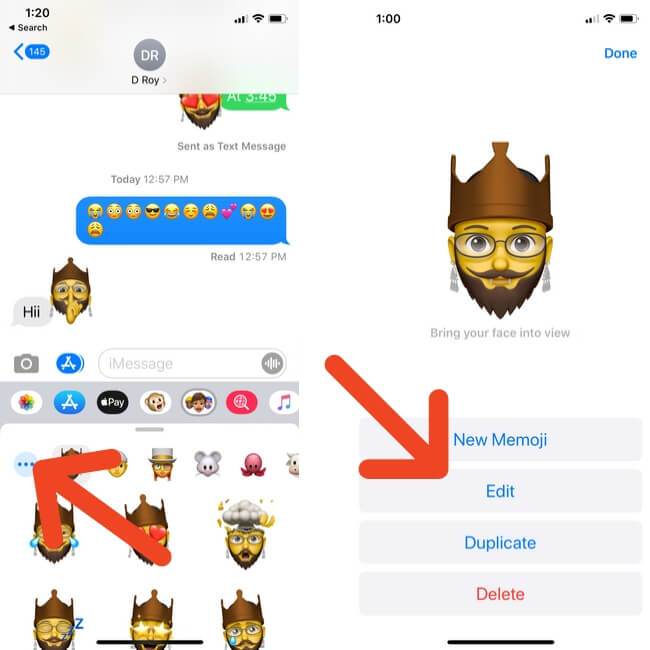 That's it.
Download & Share Custom Memoji Sticker on iPhone and Send it on social chat, Use it for Profile picture.
[Complate Memoji Guide: How to Use Memoji on iPhone]
Animoji is only available for iPhone X because of its use face detection. First, your iPhone X records your facial expression with the audio sound. After that, it's automatically converting the sample emoji into your interpretation and music just like you speak at the recipient and in iMessage.
Animoji is available in your iMessage app drawer. Pick the emoji app on your window by the tap on Emoji near the App Store icon on App Drawer. First, record your expression and send in a message with fantastic sound effects and screen effects just like you are sending a message as before.
Once your open the Animoji pane, You can switch between dozens of different types of funny and cute faces.
Create and Share animated Animoji on iPhone X on the Message app. That's recording your Voice and mirror your facial Expression.
Pre-Installed Dozen on Emoji for create Animoji sticker and Playable Animoji sticker.
You can share Animoji message on Mac, another iOS device, and Smartphone (Android Mobile and Tab in video Format)
Create and Send Animoji on Your iPhone: Record Audio and Face Expression
Open Messages app on iPhone X, Now start a new conversation or send it on existing text.
Next, Tap on the App Store icon Near to textbox.
Find and Select Animoji on the left side of the app drawer, look at your iPhone X frame, and record your Expression and Voice by tapping on the red recording button. And Stop.
Usually, Animoji can record up to 10 seconds. More than 10 seconds recording send in another message by repeat the same steps.
Before sending a play preview, tap on the "Repeat Play icon."
To delete recorded animoji, Tap on the Delete icon.
Finally, tap on the send button, Upper Arrow blue icon near to textbox.
Create an Animoji Sticker
Only create and Send Stickers on iMessage or Pin Stickers on reply. To to do that, open the app drawer, Tap on the Sticker icon. Adjust your Face in the iPhone frame, give a facial expression. Touch and Hold on animoji and Dragon Message conversation area. A message will send automatically.
Save Animoji on iPhone
Save Animoji on iPhone X: In a Message conversation, press and Hold on animoji, then Swipe up and Save.
Save Animoji on iPhone 6 and Earlier: Tap and Hold on Animoji and Save.
Alternate way: Open animoji on full screen to play it. Find the box with the upper arrow icon at the bottom tab; tap on it and Save.
Saved animoji locate in the photos app.
Note: in iOS 11, Echo and Spotlight are two new screen effects for iMessage.
It's a straightforward way to use an Animoji on iPhone x using messages app. Before you send animation emoji to your receivers, we can add emoji within the messages app.
Animoji uses the Face-Scanning features of the new iPhone X and automatically mirrors their facial expressions.