🗓️
September 14, 2023
By ✍️
Jaysukh patel
To give royal looks to your brand new Apple iPhone SE, you needed the high-profile phone case cover. Even you are looking for a cardholder pocket case cover, and then you're right on here. Of course, it would be best if you did not think about only the iPhone SE card holder case. But the case cover should be capable against drops, impacts, scratches, and so here Here we came with a list of the best iPhone SE Case with Credit Card Holder so you can pick any one case, even though I promise that you would be happy while you will use your iPhone SE/5S with this loved case.
The leather wallet case accessories are suitable in demand, along with the iPhone SE folio cover sells proportion also high. Furthermore, iPhone SE has come with a built-in mobile payment called Apple Pay. So below listed cases will allow you easy to pay with the cover. Get here the Best iPhone SE 2020 Wallet Case covers.
Please Note: if you're an Amazon Prime member, you will be getting free charge delivery and not any limits like getting free shipping on purchases above $35, etc.
Designer Best iPhone SE Case with Credit Card Holder: You can buy Today
#1. Cm 4 Q Card Wallet Case for iPhone SE/iPhone 5S
Are you an iPhone SE/5S/5 owner? Don't worry; leave your ditch wallet and try this best iPhone SE case with a credit cardholder. This durable leather wallet back case has a slot with three bank ATMs or credit/debit cards and cash.
Easy to install and handy to access all controls. The Case avoids screen scratches, daily wear, and tear from dings, and the durable entire frame case provides 360° protection. Hope, you will pick a stunning color out of red, black, brown, green, blue leather, and pink color for girl & woman.
Add to cart: iPhone SE Q Card Case
iPhone SE Credit Card Holder Case UK Deals: Order it here
#2. Kavaj leather Wallet case for iPhone SE
It's a stunning look iPhone SE designer case. The case is made of durable quality leather and stitched by an advanced machine. The perfect fit case for iPhone SE/ iPhone 5S/ 5 is to place your phone and cards in a single place. If you have a Kavaj iPhone leather case, you never miss your money to withdraw the card.
Easy to make payment via Apple Pay within the case. You can buy today bulk-free and the most secure case for 2016. Available in two colors – Black and brown.
Buy Now: Never miss deals.
Leather wallet case for iPhone SE UK customers: Get it here
#3. Verus iPhone SE leather Folio Case with Credit Cardholder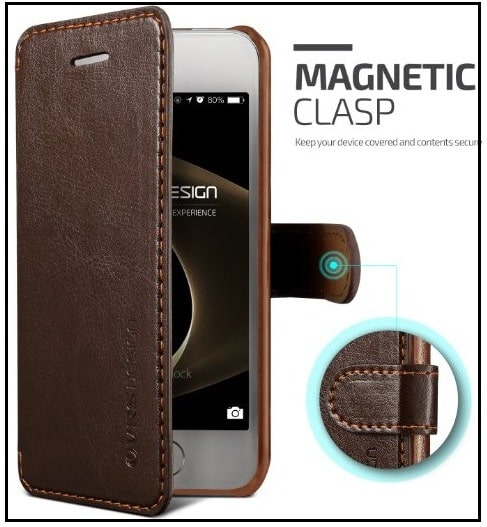 Now walks with your iPhone SE after putting it in something new and unique leather wallet case. It's a premium folio cover, and the case has credit card holder slots, so excellent alternative to a wallet.
It comes with a magnetic closure that would keep your device safe and secure. In addition, the snug fit case has all precious cutouts like a Camera, Front microphone speaker, buttons, etc.
Order Now: Price – $21.99
Best iPhone SE Case with Credit Card Holder live Deals Uk: Buy Now
#4. Best iPhone SE leather Wallet Flip & Stand Case
It's made from 100% genuine Italian cowhide leather. The case has three card slots and one great room for cash holders. Each piece of leather has its veins and natural pores.
Steeples stand supports multiples angles to watching hands-free video, movies. In addition, there is hidden magnetic closure that keeps your all valuable in place.
Add to Bag: Amazon
#5. Leather Card Holder Slim case for iPhone SE
Standard functions leather wallet case for iPhone SE. Perfect fit iPhone SE case has a strong magnetic closure, so even your iPhone will be dropped, but your iPhone will stay detectable. A beautiful PU leather case is two in one palpable wallet case. Compatible with iPhone SE, iPhone 5S, and iPhone 5.
Add to bag: Best iPhone SE Case with Credit Card Holder USA.
UK customer: Add now in cart: Amazon
#6. ULAK iPhone SE Case Card Holder Case for iPhone SE/ iPhone 5S/5
Are you looking for only one cardholder case for your iPhone SE? please, you should buy the ULAK iPhone SE Case leather wallet case. The case is structured with bulk-free designed and handcrafted items. The soft inner lining quickly contacts the surface of an iPhone.
A card slot on the backside of the cover so very easy to put and pull out.
Add to Bag: Amazon's Low-profile Case.
#7. FYY Case for iPhone SE
FYY is making protective cases for smartphones for years; check out the identical iPhone SE if you still own iPhone SE. No other brand will offer a wide range of designs and colors as FYY, and you can choose from more than 30 different colors and patterns. Also, store debit cards, credit cards, cash, or ID card within the iPhone case, so all of this stays with you all the time, no need to carry a wallet everywhere.
Anytime transform the case into the kickstand case to stream movies and FaceTime handsfree.
Check FYY Case Price on Amazon
#8. MOLLYCOOCLE Soft Leather Case
MOLLYCOOCLE is adorably crafted using soft leather, with vivid butterfly patterns printed on it. From excellent protection to beautifully designed, the case has won the hearts of many people. It covers the iPhone SE from top to bottom and right to left, except the Camera, Speakers, and Portholes, so you can use all the features without the need to remove the case.
A bundle of beautiful colors and art is available to choose from; visit the Amazon to look further.
Check MOLLYCOOCLE Leather Case Price on Amazon
#9. Wisdompro Premium Leather Case
If you are looking for a professional look, then Wisdompro PU Leather Wallet Case for iPhone with soft interior to safeguard the iPhone display from scratches and dust particles. People always prefer the PU material as it is dust resistant, stain-resistant, and looks fresh even after using it for years. Moreover, precise cut-out enables crystal clear voice from the ear speaker and from other speakers too.
Check Wisdompro Price on Amazon
You get here the Best iPhone SE 2nd generation Wallet Case covers.
Do you have any cute iPhone SE Case with Credit Card Holder? Would you please share that as a caption in the bottom comment box?