Last Updated on Sep 14, 2023
The Apple iPhone XS max Kickstand case covers have always been the priority for the people who use their phones as a media device more than anything else, All thanks to their extreme hands-free experience! With a gorgeous and beguiling display, your iPhone XS Max is a perfect inmate for watching videos and movies. How about a case that fascinates your device in a landscape mode?
Holding your phone in your hand for longer can be painful and tiresome. That's the reason we have brought you a list of ultra-modern iPhone XS Max kickstand case covers that can turn your phone into a movie theatre on the go. Just pull out the kickstand, and you are done.
Have a look at some of the modish kickstand cases you'll love to flaunt. The List of the iPhone XS Max Case withstand.
What is the Best iPhone XS Max Kickstand Case and Belt Clip Case covers?
#1. Spigen Tough Armor's iPhone XS Max Stand Case cover
The phone case Crafted with the top-of-the-line material, this case is meant to last long. The superior dual-layered structure and capability to withstand every kind of ding make this case top-notch and fantastic to hold in hand.
The neat and precise cut-outs amalgamated with sensitive touch buttons and a kickstand make your life much more accessible and shield your phone like an actual inmate. In addition, the phone case provides durable protection packed into a slim frame with a timeless look.
Order Spigen on Amazon Online store
---
#2. ESR iPhone XS Max Kickstand Case
ESR phone case is most user's love. So, do you want to buy SER iPhone XS Max Kickstand Case? Lets we see here an ESR phone case that has a kickstand feature. This ESR iPhone XS Max case is made with a metal body.
It's a particular stand case cover than other brand phone case cover; in advance, you can easily chat on face time, watch movies or TV from any angle. For this, you need to open a metal stand attached to the phone case cover, which is easy to open in one movement. The stands comfortably stand vertical and horizontal.
Get here ESR iPhone XS Max Kickstand Case
---
#3. OtterBox Defender's iPhone XS Max Case with Stand:
OtterBox kickstand case is empowered with an attractive appeal and a robust look. Manufactured with a soft inner and outer shell, this iPhone XS Max kickstand case is sturdy and can absorb shocks flawlessly.
The responsive button shell ensures that you have a comfortable grip. In addition, this masterpiece case is available in seven vibrant colors. So you can make your device ultra-stylish while protecting it from dust and debris.
---
#4. Encased Clip Clear Kickstand Case for iPhone XS Max
So you don't like your phone to hide inside an opaque shell? Pellucid cases are also proving to be tough, and the credit goes to Encased Clip clear case. This revealing iPhone XS Max Kickstand case has a transparent back frame coupled with an accenting black bumper for extreme protection.
The rotator belt frame and polycarbonate built takes the overall appeal to an extended level. Along with these, Encased is featured with a built-in stand for best-in-class video and movie experience.
Order Encased Kickstand Case from Amazon
---
#5. Bentoben Heavy-Duty Case for iPhone XS Max:
Bentoben is crafted for folks who adore heavy-duty looks. With a muscular body and 360-degree complete protection, this case is ready to bear any thwarting impact. In addition, the soft inner lining appends more strength and holds your device while keeping the abrasion at bay.
With these excellent par functionalities, you also get a back ring that assists you in maintaining the phone with a grip and also bestows you like the kickstand whenever required.
Buy Bentoben Case for iPhone XS Max from Amazon Online
---
#6. Kitoo iPhone XS Max Kickstand Case:
You should go with the Comsoon Holster case if you don't want to hurt your device by any chance. This heavy-duty iPhone XS Max Kickstand case can surpass severe drops while keeping dust and dirt far more away from your phone.
You can use your device with the utmost comfort and provisions with the best viewing angle. Plus, the buttons are easy to press, and the case doesn't add any bulk to your pocket.
Order Kitoo Now online on Amazon
---
#7. Aduro Finger-Strap Case for iPhone XS Max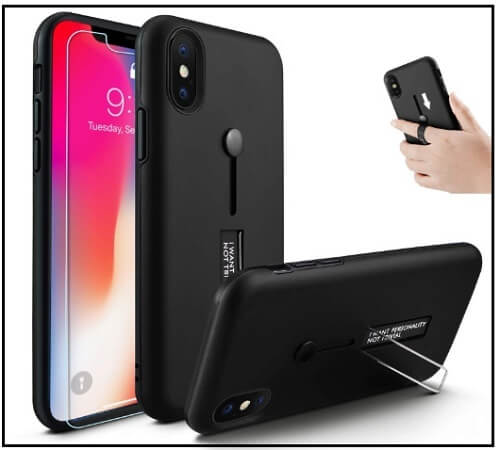 Aduro finger strap case has a sleek yet sturdy look. Its impact dispersion technology ensures comprehensive shockproof and breaks resistant capabilities while you have a comfortable grip and gentle tap buttons.
Hearing your calls becomes more than manageable with the finger loophole, and the pop-up kickstand is something that assists you in watching movies. In addition, this numerous case comes in 3 color variants, so you never have to compromise with just one with colors.
Wrap up
Whether you are a movie geek or someone who spends most of his free time watch Netflix series, your phone is most likely the go-to device for you to catch up with your favorite media content. So having an iPhone XS Max kickstand case is a great idea to enrich your experience.
With the release of the new iPhones, it's high time to make the right decision and bring home a kickstand case. Don't settle yourself for the case covers that are only charming but are good for nothing!
Don't Miss to look at other iPhone XS Max Case Covers.