Last Updated on Sep 16, 2023
When it comes to keeping your shiny new iPhone 15 juiced up and ready for action, having the best portable iPhone charger is a game-changer. With the latest iPhone's advanced features and increased power demands, finding the perfect companion to keep you charged on the move is crucial. We've selected the top-selling iPhone 15 portable charger and compiled a thorough review to assist you in making the perfect buying choice.
1. Anker
| Pros | Cons |
| --- | --- |
| Massive 20,000mAh cell capacity capable of multiple device charges | Recharging takes a long time; 10.5 hours with a 10W charger and 20 hours with a 5W charger |
| Advanced Charging Technology such as PowerIQ and VoltageBoost for an optimized charge | |
| Simultaneous charging with twin USB ports | |
Pros of using Anker Power Bank:
It supports dual charging
Provides high protection with a fire-proofing case
It has 18 month's warranty with friendly customer service
Price = $22.09
The Anker Power Bank – your ticket to never running out of juice on the go! With a massive 10,000mAh capacity, it's got the power to charge your iPhone 14 twice over and your iPad mini 5 up to 1.4 times, ensuring your devices stay alive when you need them most. What sets it apart? The USB-C port supports two-way fast charging, making it super convenient for your busy lifestyle. Safety is paramount with its fireproof casing, high-density polymer cell, smart circuit, and temperature control, guaranteeing reliable protection while juicing up your gadgets.
You can charge two devices simultaneously at up to 13W max, which is perfect for multitaskers. With the Anker Power Bank, you also get a 1.9 ft USB-A to USB-C cable, a welcome guide, and the peace of mind of an 18-month warranty and friendly customer service. 
2. Anker Nano
| Pros | Cons |
| --- | --- |
| The high-speed data transfer of 40 Gbps allows to move files very fast | The length of the cable might not be long enough for certain uses |
| Supports dual high-speed charging with advanced PowerIQ 3.0 technology, delivering an impressive 22.5W output | |
| Features a convenient foldable design for easy storage and prevention of cable tangles | |
2.1 iWALK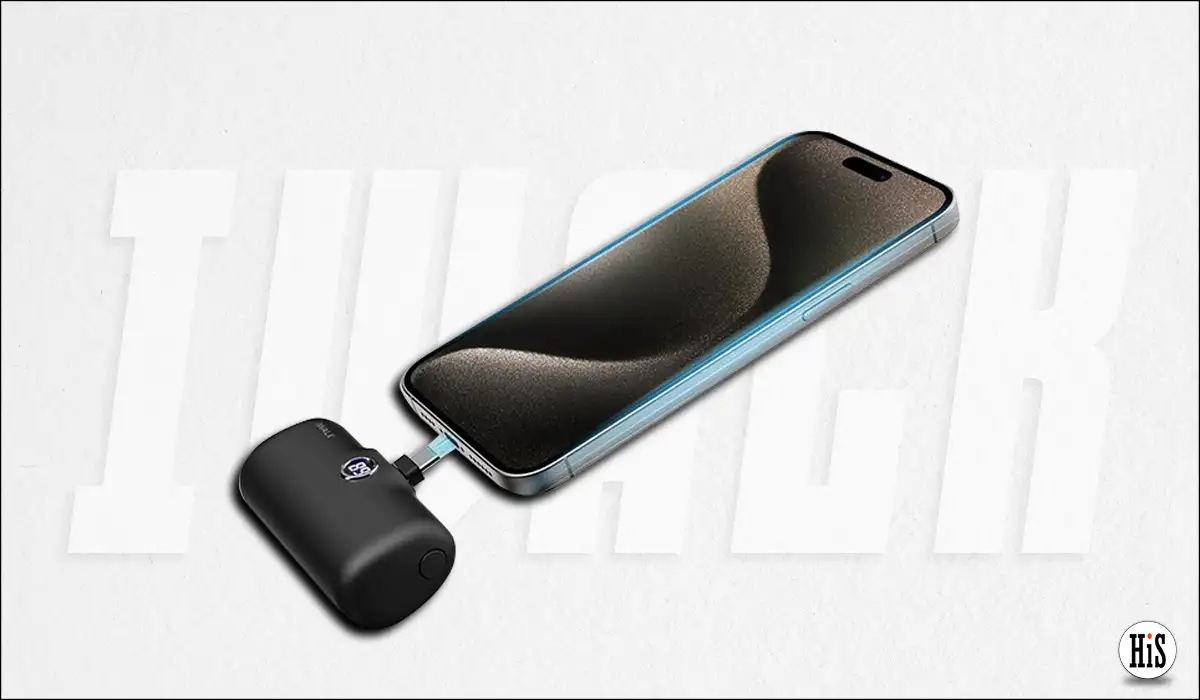 Pros of using iWALK Portable Charger:
Fast charging with 4800mah Capacity
Compact and light-weight
It has a digital display and smart power management
| Pros | Cons |
| --- | --- |
| Stylish design tailor-made for iWALK Portable Charger, allowing charging while the charger is in the bag. | Compatibility restricted to specific models of iWALK Portable Charger (3350mAh, 4500mAh, 4800mAh). |
| Provides perfect protection for the iWALK portable charger from accidental damage during daily use. | Leather texture material surface layer might not appeal to everyone's taste. |
| Allows customization with various hooks and chains offering a more fashionable look. | The bag does not come with any included hooks or chains for customization, these need to be purchased separately. |
Price = starts from $34.99- $39.99
The iWALK Portable Charger is your fast and fuss-free charging solution! With a USB-C port that supports PD fast 18W input charging, it's a speed demon when it comes to refilling its own power, taking just 1.5 hours for a full recharge. But here's the kicker: it's not just for your smartphone. This little powerhouse also caters to your earbuds, delivering a low-current charge to ensure their safety. Plus, thanks to pass-through technology, it can juice up your cell phone while it's being charged itself. With its smart power management and digital display tracking the 5000mAh capacity, you'll always know where your charge stands. It is Mini and lightweight, which effortlessly slips into your pocket, making on-the-go charging a breeze.
3. Baseus
| Pros | Cons |
| --- | --- |
| Fast charging and recharging capabilities | Requires specific 18W PD charger for fastest recharge, which is not included |
| Strong built-in magnets prevent slipping or misalignment | Magnetic function only applies to iPhone 15/14/13/12 series, other devices only support wireless charging |
| Conveniently portable and easy to carry with soft silicone contact surface | |
Pros of using Baseus Magnetic Power Bank Battery:
It has built-in strong magnets to prevent slips and falls
Smart charging protection
Ultra slim and perfect for travel
Price = Starts from $34.99- $39.99
The Baseus Magnetic Power Bank Battery is the best portable charger for travel for iPhone 12 to 15 series users. Crafted from sturdy magnesium, this powerhouse packs a 6000mAh punch while maintaining an ultra-slim and lightweight design that's perfect for your adventures. No need to worry about carrying extra cables—the package includes one, and it even supports dual device charging. With 20W USB-C charging and pass-through capabilities, your devices will never be left hanging. Plus, it's airline-approved, and with robust protection against overcharging, over-voltage, and short-circuits, your gadgets are in safe hands.
4. Belkin
| Pros | Cons |
| --- | --- |
| Convenient MagSafe compatibility provides a secure and quick power boost | Higher-capacity phones may not receive a significant charge from this 2500mAh power bank |
| Robust capacity of 2500 mAh can provide up to 25% charge in 50 minutes for iPhone 15 | |
| Slim, durable, and portable design, ideal for on-the-go charging | |
Pros of using Belkin Magnetic Wireless Power Bank:
Durable and travel-friendly
LED indicator to show charging status
Capacity of 2500 mAh
Price = starts from $35.91 – $36.88
Say hello to the Belkin Magnetic Wireless Power Bank—the ultimate solution for charging your smartphone on the fly. It is the best Magsafe power bank designed to harness the power of MagSafe technology, this portable charger is tailor-made for your Apple iPhone. The best part? It won't obstruct your iPhone's camera, so you can snap pics and scroll while it juices up. Whether you're on the road or commuting, this slim, portable powerhouse delivers a quick and convenient power boost. The built-in LED indicator informs you about your power bank's battery status. Compatible with various iPhone models, including the iPhone 14, 13, and 12 series, you can even leave your MagSafe official case on while charging.
5. INIU
| Pros | Cons |
| --- | --- |
| Fast charging with 45W PD port and a 22.5W QC port | Power bank itself can take up to 2.5 hours to fully recharge |
| Capable of charging two devices at once | |
| Full recharge in only 2.5 hours | |
Pros of using INIU Portable Charger:
Manufactured using premium quality materials
Dual 3X Faster Charging
3 years warranty and 30 days money back guarantee
Price = $35.99
The INIU Portable Charger is a game-changer with its Dual 3X Faster Charging capability, featuring a 45W PD port and a 22.5W QC port. It charges one device blazingly fast and simultaneously powers up your phone and tablet at 3X the speed, thanks to its exclusive SmartSplit technology. It has SmartSplit defies power loss, saving you an hour by charging two devices simultaneously. With a 2.5-hour rapid recharge via the potent USB-C port, you'll be back to full power in no time when paired with a 30W charger. You get an INIU 45W power bank, 1 USB-C to USB-A cable, and 1 user manual in the pack.
6. Charmast
| Pros | Cons |
| --- | --- |
| Ultra slim and lightweight design with 10000mAh battery for portability | Device could be considered too small or easily lost due to its miniature size |
| Equipped with USB C and USB A ports for PD 20W/QC 18W fast charging | |
| Convenient recharging with 3 input ports and ability to fully charge within 3 hours | |
Pros of using Charmast Small Portable Charger:
Mini-size and light-weight
It supports low-power mode
Improved built-in safety system
Price = $29.99
The Charmast Small Portable Charger is your ideal travel companion. It's ultra-slim at just 0.68 inches thick and weighs a mere 5.85 ounces, easily fitting into your pocket without any added bulk. With its robust 10,000mAh battery, you can bid farewell to weekend power worries, ensuring your devices stay charged on the go.
But the real magic lies in its charging speed. Equipped with a 20W PD and 18W QC3.0 port, it can charge your iPhone nearly 3X faster than standard chargers. Convenience is key, with three input ports, including Micro USB, USB-C, and IOS, ensuring versatile recharging. Its LED digital display keeps you informed, while the ergonomic design offers a comfortable grip.
This power bank is universally compatible and safeguarded by an intelligent chip that prevents overcharging, over-current, over-voltage, and overheating. It's FDA and CE-certified for peace of mind.
Summing up,
In the ever-connected world of today, having the best portable charger for your iPhone 15 isn't just a luxury – it's a necessity. After diving into the world of portable chargers, we've explored a range of the best wireless power bank options to ensure you stay charged up no matter where life takes you. From sleek designs to robust power, there's an iPhone portable charger here for everyone. So, don't let your iPhone 15 run out of steam when you need it the most. Pick one of our top recommendations, and keep the good times rolling, the selfies snapping, and the adventures going strong! Happy charging!
Which portable charger has caught your attention? Comment down your thoughts on the best wireless power bank for iPhone in the comment box below.
Frequently Asked Questions (FAQ):
Q1. Does the iPhone 15 have wireless charging?
According to Apple's press releases, both the iPhone 15 and iPhone 15 Pro support wireless charging. They are compatible with MagSafe as well as future Qi2 chargers, although specific details are not provided in the announcement. Check the Apple official website for the latest updates.
Q2. Are portable chargers safe?
Yes, portable chargers, also known as power banks, are generally safe when used as intended and purchased from reputable brands. To ensure safety:

1. Opt for certified models with built-in safeguards against overcharging and overheating.
2. Avoid counterfeit or low-quality chargers, which may pose risks.
3. Follow manufacturer guidelines for usage and storage.
Q3. How long do portable iPhone chargers last?
The lifespan of a portable iPhone charger varies depending on factors such as quality, usage frequency, and capacity. A well-maintained power bank typically lasts 2-4 years or 300-500 charge cycles. Avoid extreme temperatures and ensure regular charging and maintenance to prolong its life.
Q4. What are the negatives of portable chargers?
Portable chargers offer convenience but have some drawbacks. They can be bulky and heavy, making them less ideal for everyday carry. Some lower-quality models may not deliver the promised capacity. Overcharging or using a damaged charger can harm your device. Regular maintenance and careful usage are essential to mitigate these issues.
Q5. Do I need A portable charger for travel?
A portable charger can be a valuable travel companion, especially if you rely on your devices while on the go. It ensures your phone or tablet stays powered during long flights, bus rides, or while exploring remote areas where power outlets may be scarce. It provides peace of mind for staying connected during your travels.