🗓️ November 28, 2023 By ✍️ Jaysukh patelNowadays it is challenging to walk on the streets and to stay home alone because criminal behavior is increasing day by day. They put a knife on your neck or a gun on your head and in seconds take away everything you have earned. In such situations, people get scared and unable to fight them. But the time has come that you should fight back and defend yourself by getting some training with the best self-defense apps for iPhone.
There is no need to spend more money and get trained by the academy if you have an iPhone/ iPad/ iPod Touch. And so to save your few bucks we have collected the best self-defense apps for iPhone and iPad.
Take Self Training using the Very Best Self-Defense iPhone apps
1. Noonlight-formerly SafeTrek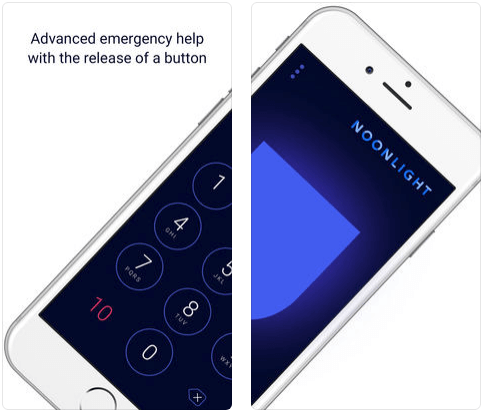 Now walk on the streets, fearless once you download the Noonlight app no need to worry about your safety. This app is designed with advanced technology, so wherever you feel insecure, just with a one-touch, you can get emergency help. Whenever you feel unsafe just hold down the button. And release the button when you reach home or to the car or any safe place and enter the four-digit code.
Moreover, if you are in danger then release the button and do not enter the phone 4-digit code, the local police will get alert, and then they will be there soon for your help. If you still have a few doubts about this apps and features then use free for the first month and then buy a subscription for $2.99/month.
---
2. Marine Martial Arts
Marine Martial Arts are the affordable self-defense app for iPhone because it only cost you $1.99. This app contains the US martial arts training manual of around hundreds of pages. Marine Martial Arts are the ultimate guide on how to protect yourself from the armed and unarmed opponent.
If you want to learn techniques hand to hand fights, then you must know some fundamental factors, which are a Physical balance, Timing, Distance, Position, Momentum, and Mental Balance. Additionally, you will also get 15-fitness-related calculators in bonus.
Download: Marine Martial Arts
---
3. Boxx
Stay healthy and fit with Boxx training app. Boxx is a self-defense app for iPhone which focuses on Boxing, Cardio, Yoga and flexibility of your body. Once you purchase the Boxx up you will get full access to the Boxx vid-app along with TheBoxxMethod.com. Besides to stay slim and tight you will get a range of healthy recipes.
A lot of high-quality videos are available to download offline so that, you can watch anytime which suits your schedule. It is bit costly, $9.99/month and $99.99/year and with both subscriptions, you will get the 14-day free trial.
Download: Boxx
---
4. fightTIPS Self Defense Guides
Get yourself trained with self-defense guides mentioned in this app. The expert Shane Fazen gives these tips in a very convenient and straightforward language. Now you can defend yourself from the thieves, rapists, bullies, attackers and such anti-social peoples. The app is straightforward to use once you download the app on your iPhone you will come to know how to use the app, and it is damn attractive.
Download: fightTIPS Self Defense Guides
---
5. Krav Maga Pro
Krav Maga is based on Israel Defense Forces. All the techniques are already learned by Israel's army which includes the men and women of 18 to 51 age group. The tactics are only based on two factors one is automatic movements which are easy to learn and remember, and the other is it doesn't require some definite size, length or age, anyone can learn. Although Krav Maga martial arts is very short-term training so your time will be saved too. The best part of this app is you will see videos and get the realistic training along and simultaneously you can track your progress from level 1. Gear up and begin your training with Krav Maga Pro at only $7.99.
Download: Krav Maga Pro
Kickstart training of Defence at your home and Learn Everywhere to be smart. Also, make others by sharing this thought and help her. Also Follow and Like us on a Social page: Facebook, Twitter or Google Plus, & YouTube.