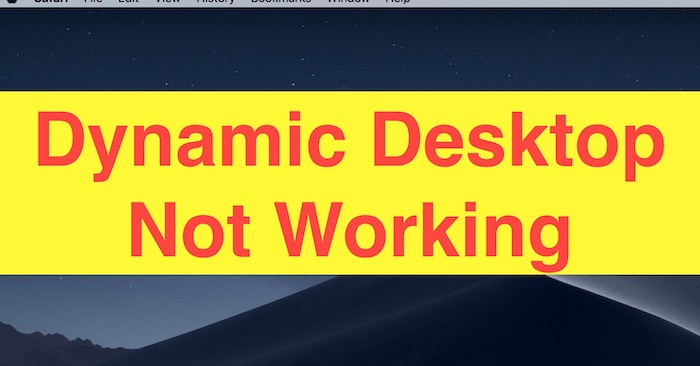 Last Updated on Nov 10, 2020
Time Shifting Dynamic Desktop wallpaper keeps updating your desktop brightness and wallpaper depends on your local time. Morning time you can see Mohave desert with full light, Sunlight, Nightlight and continuously every day. I think it's interesting & Follow the correct way to turn on dynamic Desktop on MacOS Mojave. Follow my troubleshooting guide for issues on dynamic desktop is not working AND not updating wallpaper brightness in light or dark mode between days to night time.
we are happy to help you, submit this Form, if your solution is not covered in this article.
Dynamic Desktop change its behavior depends on Your Local Date and Time, When you turn on Dynamic Desktop, your System will detect Date and Time of your location from location service. Some users have an issue after turn on location service, they unable to change or use Time Shifting Wallpaper on Dynamic Desktop.
Tricks that Works behind issues of Dynamic Desktop Wallpaper on MacOS High Sierra and Earlier.
Fixes: Dynamic Desktop Wallpaper on MacOS Mojave Not Working or isn't Update
Tip 1: Dark Mode Doesn't Override Dynamic Display Desktop Mode
→ Dynamic Desktop Works only in light mode. It doesn't respond and Supports to Dark Mode Enabled on Mac. First Disable Dark mode and Wait for few seconds you can see Wallpaper in another intensity and look.
Go to the "Apple Logo" > "System Preferences".(Or Open Spotlight Search then Try System Preferences) > General.
First Options is Appearance that's the Dark mode or Light mode. Click on Light mode to turn off Dark mode.
Also Setup or Create Dark mode Keyboard shortcut on Mac. That Quickly toggle or Switch Between this two modes.
Tip 2: Check Location Based Suggestion and System Customisation
Turn on Location Service: Go to "Apple Menu" > "System Preferences" > "Security & Privacy"
"Location Service".
Unlock Settings screen by click on lock icon and Use "Mac System password" to unlock it.
Click to "Enable Location Services".
Also you can see the apps that running on Mac and Need location Service while in use or Run in background for different Purpose. Like Auto screening Dynamic Desktop and more.
Next, Check System Services's Details:- Turn on "Location Based Suggestions" and
"Time Zone & System Customisation"
Tip 3: Wait for Software Update install
Check for update your Mac, Go to the "Apple Menu" > "About This Mac" > "Software Update" > "Update Now".
Pro Tips: Unsupported MacOS Version to Dynamic Desktop users can set Wallpaper on desktop that change automatically in 30 Minutes interval. Download 16 Bunch of Mojave Wallpaper, Set all Wallpaper as a Desktop Background in 30 minutes interval. Find your Tips here.
Hope you understand your problems and fix Dynamic Desktop Wallpaper not working on MacBook Pro, MacBook Air without Touch Bar or With Touch Bar, iMac, MacMini.
Tip 4: Clean Restore also help
Remove all internal Errors and Install Fresh, Latest MacOS Version using Clean Restore on Mac. This process remove all the data and settings from root. Formatted data isn't recoverable.