Last Updated on Sep 25, 2023
Are you wondering about the Mac or M2/M1 Mac internal or external camera not working with Camera Apps like Photobooth, FaceTime, Google Meet, Zoom, Microsoft Teams, etc.? Apple MacBook and iMac have an excellent built-in camera that lets you connect with your colleagues, friends, and family using FaceTime, Skype, and Facebook. Recently, users report that their Mac camera is not working after the update, Mac camera not working zoom, mac camera issue google meet, mac Camera Not working on Microsoft Teams, or Mac camera won't work in a Facebook video call.
Many more issues encountered with Mac's Camera with your MacBook Models Apple's Silicon M2, M1-series, M1 Pro (MacBook Pro), M1 Max (MacBook Pro & Mac Studio), M1 ultra (Mac Studio), M2 chip of 2022 (MacBook Pro & MacBook Air) Or Intel chip Mac computer, "MacBook Pro 2020, MacBook Pro 2019, MacBook Pro 2018, MacBook Air, MacBook Pro 2010, 2011, iMac Pro, Apple Studio Display".
So after looking at all of these issues, we have made a full-proof list of potential solutions that can quickly fix every reported bug.
Also, Read, Fixed "There is no connected camera" Error with a Mac
14 Fixes Workarounds will help you to fix Camera Won't work on Mac
1. Check Mac Camera Restriction
All macOS Version has robust Parental control from an older time. So, nowadays, MacOS Comes with Screen Time restrictions control. So, let's have check-in details and Enable Internal Camera Use from screen time if blocked. Then, follow the below steps and Turn on Mac or MacBook camera to use the installed Mac app or Third-Party Video Calling, Meeting Apps, or Browser.
If the Camera Restrictions is Turned on for your Mac, then the Zoom app says, "Your camera is turned off", FaceTime Shows a Black screen, and the Photo booth says, "There is no connected camera." error. Let's fix this by Turning off the Camera restrictions in Screen Time.
On MacOS Ventura/Sonoma:- Click on the Apple Logo from the top menu > System Settings > Screen Time > Content & Privacy > App Restrictions > Allow Camera, Turn on toggle.
macOS Monterey:- Click on the Apple Logo from the top Mac menu > System Preferences > Screen Time > Content & Privacy from the left side of the window > And Click on Apps Tab > Enable Check box for Camera. That's it.
Now, follow the App and Browser lever camera restrictions if enabled. Typically, the Camera is blocked under the screen time, and then You can't see the camera option under privacy showing in the next check.
2. Check Mac Camera Privacy for App & Browser
Now, you must allow the app and Browser to use your Mac's Internal or External camera. To reach out to this setting,
On MacOS Ventura:- Go to the Apple Logo from the top menu > System Settings > Privacy & Security > Allow Apps for Using Camera for Microphone, Camera.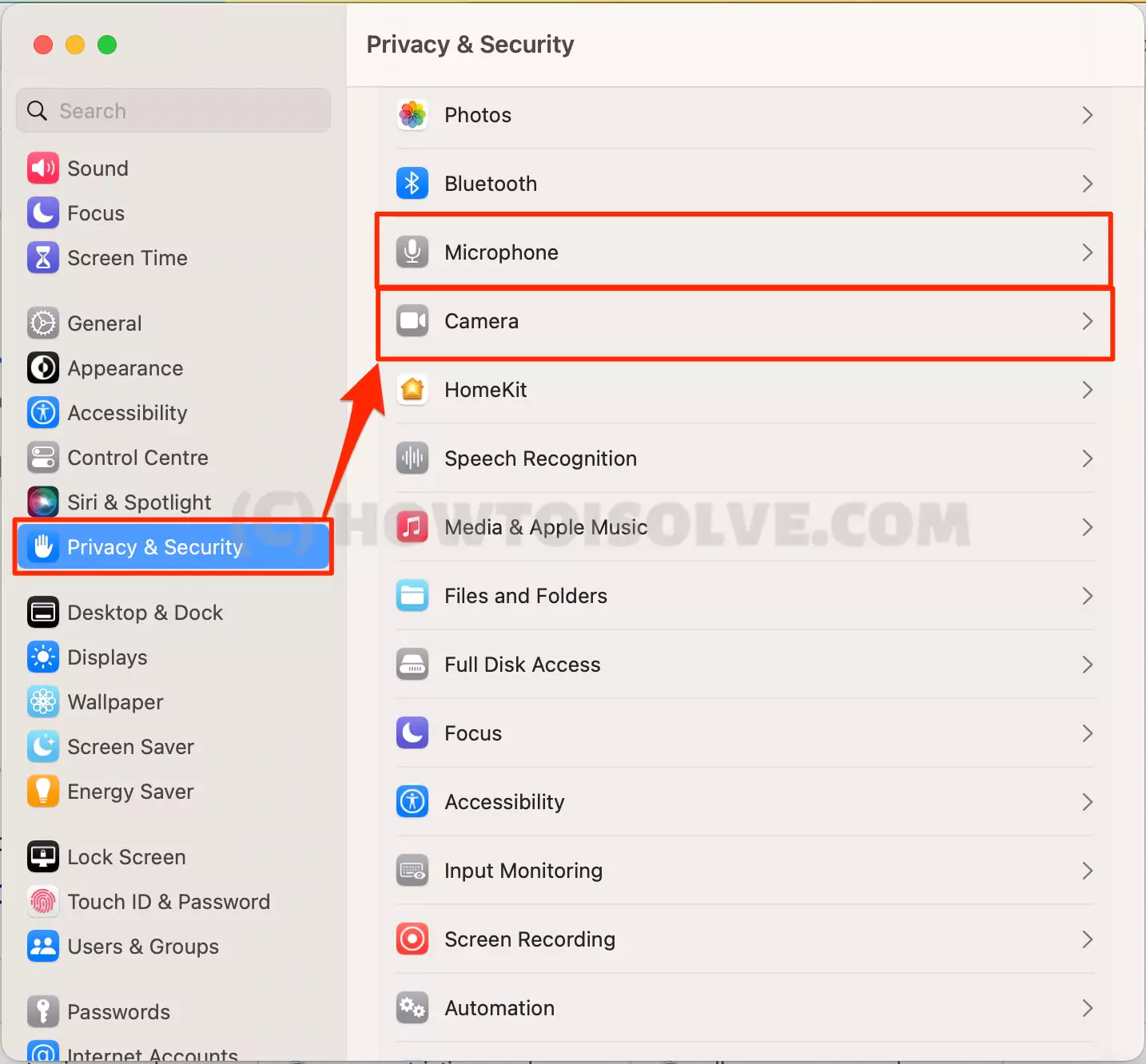 On MacOS Monterey & Earlier: Open the System preferences from Top Apple Logo on the Mac menu > Click on Security & Privacy > Camera > And Select the App to Allow Camera access [Unlock the lock to apply changes].
Most Video Calling platforms and Meeting platforms like Zoom, Webex, Google Meet, and Microsoft Teams are also available Web-based. So that users can access it from the Browser, and Users have to enable it From the Browser's address bar, here below the screen, to allow Camera access within Browser.
Also, Google Chrome users must enable "Use hardware acceleration when available" from Browser settings; in new Tap, enter: chrome://settings/system in the Address bar, then Hit enter.
You will see, Use hardware acceleration when available, enable the toglge, and Re-launch the browser. Now Your Browser can use more resources and RAM when requires.
Let's Jump into deep solutions one by one,
Solution 1: You should Restart Your Mac
Restarting Mac can fix the Camera not working on Mac if the problem is minor. It is often found that this technique undoubtedly resolves every issue. If your Mac problem may, though, continue you to the next clue without worrying.
Click on Apple Logo () From Top Mac Menu.
Click on Restart, Hope it will fix after Restart your Mac.
Still not fixed, then follow the next solution.
Solution 2: Potential Quick Fixes to remove Mac Camera Won't Work.
For you, if rebooting Mac doesn't work, many solutions are available to fix the Camera not working after the update.
#1: Try using another application on your Mac, like PhotoBooth. This, you will come to know that the Camera is not working in Facetime only, or the issue is more prominent.
#2: Another troubleshoot is logging in to your Mac with another account. If it works, then the problem is with Apple ID.
#3: Remove the camera and FireWire cable from Mac and re-plug after a few minutes to see if the Mac camera is not working on Skype.
#4: FaceTime camera is not working on MacIf. If the issue is specific to FaceTime, then it might be possible that MacBook's Camera got stuck on a built-in camera and could not choose the display camera. Let's fix FaceTime camera not working in macOS

Step #1: Open "FaceTime" in Mac.
Step #2: Go to "Menu" and click on "Video."
Step #3: Choose "FaceTime HD Camera (Display)"
---
Solution 3: Apply sudo killall VDCAssistant/ appleh13camerad Command
Step #1: Close every open tabs or App that uses Mac's Camera like FaceTime or Skype.
Step #2: Open "Terminal" directly from Spotlight.
Step #3: Enter the given command line,

sudo killall appleh13camerad

sudo killall VDCAssistant

Step #4: One more time enter code in the terminal,

sudo killall AppleCameraAssistant

Step #5: Insert the Administrative password and proceed further.
Step #6: Re-launch FaceTime or Skype or whatever App which you were using.
NOTE: if you are entering both commands in a single line, then you have to follow this syntax:
sudo killall VDCAssistant;sudo killall AppleCameraAssistant
Enter the admin passcode and complete the process.
---
Solution 4: Use Activity Monitor App [Worked]
rswc90 shared feedback this solution worked for him.
Until now, you cannot fix the Mac camera not working on a Facebook video call, and then our last option is to force closing the process from the Activity Monitor.
On M1 Mac:-
Step. 1→ Force Close all the applications that use your Mac camera. Go to the Apple Logo > Force Quit > Select All Apps > Force Quit.
Step. 2→ Open the Activity Monitor and Search Camera process using the search box and click on the Close button.
Step. 3→: To Force Quit the camera process and Restart the Process automatically.
On Intel Mac:-
Step #1: Close the Applications which needed a camera like PhotoBooth, FaceTime, or discord.
Step #2: Open the "Applications" and then click on "Utilities Folder."
Step #3: Next, open "Activity Monitor."
Step #4: Click on "Process Name," it will organize the list in alphabetical order.
Step #5: Locate "VDC Assistant" and click to open it.
Step #6: Now, click on (X), which is located on the top left corner, and close the program.
Solution #5: Check for Software Update
The old version of the software sometimes lacks some Mac functions, so kindly check for updates and install them if any are available. Apple is continuously giving free updates with some bugs fixed. You can enable automatic download software updates on your Mac or Do it manually by following these steps.
First, go to the Apple logo on Mac > System Settings > General > Software Update [Wait for Check it] if any update is available, then download it first and install it.
Solution #6: Remove or Disconnect all Third-Party Peripherals
Disconnect all third-party accessories from your Mac system. That might be Bluetooth Wireless or Wired connection. Smart Bluetooth System of Mac automatically connects your Homekit accessories like a Wireless bluetooth webcam for Mac; that's what we don't know in most cases.
If bluetooth is not in use, then Turn off bluetooth under the System preferences [Apple logo from top right mac menu bar > System Settings.. > Bluetooth > Turn off Bluetooth or Remove all bluetooth Devices manually] or From the top Mac menu.
Solution #7: Reboot your Mac in Safe Mode
Try A safe mode that detects and fixes all isolated issues on your Mac's startup disk. This mode loads only the kernel extension of your Mac. That deletes font caches, Kernal caches, and Other system cache files.
So we can identify the issues if the previous macOS is creating matters like this. Safe mode is not helpful to use your Mac because this mode will disable some Mac functionality like accessibility features, File sharing, USB functionality, etc.
To put your Mac in safe mode, Restart your Mac, Go to the Apple logo on the Mac menu > Restart option from Dropdown.
On Apple Silicon M1 Mac:- Turn off your Mac, Press and Hold Power key [Touch ID Button], Until you see Startup Volume and Options, Press Shift Key and Click on Startup volume > Now, Click on Login with Safe mode. Log in to your Mac and check the issue if fixed.

On Intel Mac:- Next, press and hold the SHIFT KEY from your Keyboard after your mac play startup sound. Release after your Mac show Mac login screen and Safe more label at the top right corner of Mac's screen. Now check your Camera is working fine.
If it's working, you should repair your Mac drive or Reinstall/Clean install macOS because it's a problem with the OS. If the camera problem is not fixed in safe mode, then your Mac's camera hardware issues or software issues as well.
Solution #8: Create a New User Account: Try in New Account File System
Suddenly your Mac has issues with the Camera; You have no time to Repair your Mac drive or Reinstall/Clean install macOS. I recommended creating a new user account on your Mac. I solved many problems when some third-party software is creating the macOS file system. Create an administrator account on the same Mac.
On macOS Ventura/Sonoma:- Go to the Apple Logo > System Settings > Users & Group > Add Account > Enter your Mac Login password to Unlock > Select "Administrator" and Enter username and Password. To Create a user.
On MacOS Monterey:- Go to the Apple logo on the Mac menu > System Preferences > Users & Group > Click on lock to Unlock and add a new account > Now Click on + Sign to Add new account > Select a User role from DropdownDropdown [Administrator],
Give a name, Enter the password, and finally click on Create User. That's it. Now Restart your Mac and login into another account to check your issues are fixed or not.
Solution #9: Repair Disk No Data Loss and Quick
We can repair your Mac Drive without reinstalling Mac OS Or Remove user data from your Mac. First Aid takes action on a particular MacOS disk partition if your Mac runs dual boot macOS. So we need to open Disk Utility on your Mac. Use Spotlight Search [Command + Space] and try Disk Utility or Open it from the launchpad. Once it is an option, Select your macOS drive partition, Now, Click on the First Aid option from the top tab > Click on the Run button to run First Aid on the Selected Macintosh HD Drive.
Some macOS problems can't resolve the First Aid disk repair option. So, you could fix using the installed macOS. This process will download and install the latest version of macOS. Follow the next solution.
Solution #10: Reinstall a Copy of macOS To Fix Camera issues
The reinstalling macOS in the Recovery mode on Mac, process overwrites the existing file and replaces corrupted files and folders. Also, your Mac is updating the latest macOS version; you must try this solution. Before starting, your Mac has an active internet connection Because your Mac downloads macOS files during installation. Now, Restart your Mac [Go to the Apple logo on Mac > Restart].
On Apple Silicon Mac [M1]:- After a wait for 10 seconds, Press and Hold the power button [Touch ID Button] until you see the startup volumes and Options > Select "Options" > Now, your Mac turn into Recovery mode > Select Reinstall Mac from macOS Recovery screen.
On Intel Mac: After mac plays, startup sounds quickly press and hold command + R key from the Keyboard. Until your Mac screen shows the macOS utility window on the screen. Now the second option in a window is to reinstall macOS.
Go with this option and follow the on-screen instruction. In this process, you must select the mac drive you want to repair or reinstall.
Solution #11: Install a New copy of macOS after Erase Drive: Clean install macOS
[This process doesn't require a bootable USB drive of macOS] The clean install process is also easy and not time-consuming; I highly recommend fixing all types of software issues that are affected by the Bad file system, Install Third-Party software, Slower Mac, and more. Before starting this process, Keep a backup of your all-important Data from your Mac to an External Drive or Use the Time Machine Backup process.
Restart your Mac [Apple logo from top Mac menu > Restart]

Apple Silicon Mac[M1]:- After waiting for 10 seconds, Press and Hold the Power button [Touch ID Button] until you see the Startup volumes and Options on the screen, Click on Options and Find the macOS utilities in macOS Recovery mode.
Intel Mac:- Quickly Press and Hold command + R keys from the Keyboard after listening to startup sound from your mac. Release Keys after you see MacOS utility windows on the Mac screen.
The last option on macOS utility Windows is the Disk utility. Click on it. And Select the Drive from Sidebar, And click on Erase option from the top.
Once Drive has been erased, close this Disk Utility window. And Back to MacOS Utility windows. Now Click the install macOS.[Second Option]
Your Mac will download the latest macOS version on Mac. Follow the on-screen instruction on Mac to install a new copy of macOS in the desired drive.
Solution #12: Camera Allow to Access by Third-Party Software
Your MacBook Camera privacy settings are preventing the use of a third-party app or software installed on your Mac. So on Newer macOS, you will find these settings under the Macbook system preferences.
Go to Apple Menu > System Settings > Privacy & Security > Camera > Enable toggle for app to allow Camera in use, and click the checkbox for allowing apps like google chrome to access the Camera.
Solution #13: Use iSight Camera
In today's market, you have a good quality USB external Camera that you can use on any system like Mac, Windows, or Laptop. But, if your MacBook cannot wake up the Camera and Your Mac is too old, you can't get free service from the Apple store. Moreover, the repair cost is very high in this case. So I recommend purchasing an external USB camera with a Microphone.
Solution #14: Check Camera Hardware problem
Check the Hardware issues, and Showing Messages like "No video capture devices were found".
Go to the Apple logo > About This Mac > System Report > Hardware > Camera > And see What's showing here.
If your Mac shows "No video capture devices were found" next contact the Apple customer help desk to Diagnose the problem
Any of the above solutions are not useful for you. Then sorry for the inconvenience. Now the First check your MacBook is under warranty period, and a new one was recently purchased. So don't waste much time, even 1 day. Because under the warranty period, you will get free service from Apple sore or replacement in some cases after analyzing your Mac at the nearby app store.
You can also contact online support [Select your country and Device] to book your genius bar appointment or Get an official Apple repair program active for your Macbook Model.
No Camera is Available on MacBook Pro
While working from home, we most need Mac's Camera for conferences or client meetings. What if MacBook shows no camera available? You don't have to worry about Mac's inbuilt Camera; check the following solutions, and fix the problem.
Solution 1: Force Quit appleh13camerad OR VDCAssistant & AppleCameraAssistant
VDCAssistant and AppleCameraAssistant are necessary background process that accelerates and helps the inbuilt Camera of MacBook to work. Using the Terminal App, you can kill the Camera, and once you do, all the camera applications, like Skype, or Mac's Camera itself, turn off for once.
Launch the Terminal App, from the Spotlight search (cmd+space).
Type the following code in Terminal App,
sudo killall appleh13camerad, and hit return.
sudo killall VDCAssistant, and hit return.
If asked, then enter the password.
Similarly, type,
sudo killall AppleCameraAssistant, and press the return key.
Now, try to use MacBook Pro Camera and check if the problem persists.
Solution 2: Make Sure MacBook's Built-In Camera is Selected as Primary Camera
You can check for the primary Camera from specific applications like Skype, and FaceTime because there is no standard settings option available from the Mac. So after going to the settings of a particular app, it can only be done from where the Camera is not working on Mac, and choose a built-in camera.
There is no Connected Camera on MacBook Air.
What you can do when there is no connected camera on MacBook Air is restart the Mac and the Mac Camera Not Working application.
Restart MacBook, to do so, click on the Apple menu and choose Restart.
If this doesn't work, then check the next one.
Press Opt+Command+Esc and select an application like Skype, or FaceTime, and click on Close.
Get a Detailed guide on No Video, Face Time Has Not Received Any Video From the Connected Camera.
Is Your Mac Camera Fixed? Don't Miss out on sharing the success way in the comments!