Last Updated on
One of my roommates found an annoying problem after iOS update concerned Notification sounds can't hear or not working when any message or text arrives on iPhone. I know that my buddy feeling so bad whether they miss important text alerts and apps notifications. Generally, he uses LED Flash for notification alerts as an extra option for nighttime and whether iPhone placed on desk or bedside tool. I advised him the optimal solution to fix annoying problem notifications sound not working. If you come the same issue iOS notifications sound not working after update iOS. Don't worry. just follow steps by step clues and get resolved.
we are happy to help you, submit this Form, if your solution is not covered in this article.
Furthermore, many users encountered iOS 12 notifications arrive but no badge appears on the App icon. So get here everything about organize Notifications Center and gets back Third-party app notification sounds. Hopefully, this will work for you.
Troubleshooting how to fix iOS notifications Sound not working iPhone
Fix #1. Make sure the mute button is upwards
First of all, you have to check that the ringer switch isn't downwards. Because the iPhone's left side ringer switch's downside position makes incoming call ring and notification alert mute. Please keep it upwards, and increase sound by pressing the Volume Up button. Now test.
Fix #2. Disable Do Not Disturb on your iPhone
Enable DND feature stops all notifications, alerts, incoming calls from making any noise and vibration. So that go Settings, tap on Do Not Disturb, and make DND toggle disabled/white. In more, you can also confirm by shortcut way just see on iPhone status bar, if you can't appear moon icon left to the battery percentage.
Fix #3. Check Notification Settings Sounds for Particular App
If you've encounter problems with any individual app then go to Notifications in Settings App. Now scroll down the screen to find an App under Notification Style section. For instance, Snapchat, Whatsapp, Facebook, Messenger, Mail, Messages, and much more.
here I give you an example of Whatsapp Messenger to organize Badges, Sounds, and banners.
Find Whatsapp under Notifications Settings – turn to Allow Notifications ON – now organize Sound, badge app icon, Alerts such as Show on Cover Sheet, Show in History, and Show as Banners, and Show Previews on the lock screen as well.
Also Check Sound Settings for Text Tone, New Voice Mail, New Mail [Push Mail], Sent Mail, Calendar Alerts, Reminder Alerts, and Airdrop.
Go to the Settings
Click Sounds
Tap Customize sound and Vibration Patterns
(Check Not Selected None option for the particular app).
Fix #4: Text Message Notification Not Working
Hide Alert will block notification shows on the lock screen for incoming text messages for individual recipients. Change this setting, Slide right to left on message conversation in Message app.
Also check Messages notification Settings Like:
Allow Notifications: Enable it for Getting a notification on the lock screen or Temporary or Persistent Banners on the Home screen.
Sounds: Pick the Message sound from Settings. We can customize message alert sound and Vibration settings from here.
Fix #5. You have to Check for Software Update in iOS
Let's check out, is running iOS up to date on the iPhone? if not, download the latest one and install it.
Open the Settings – Tap General – Hit Software Update.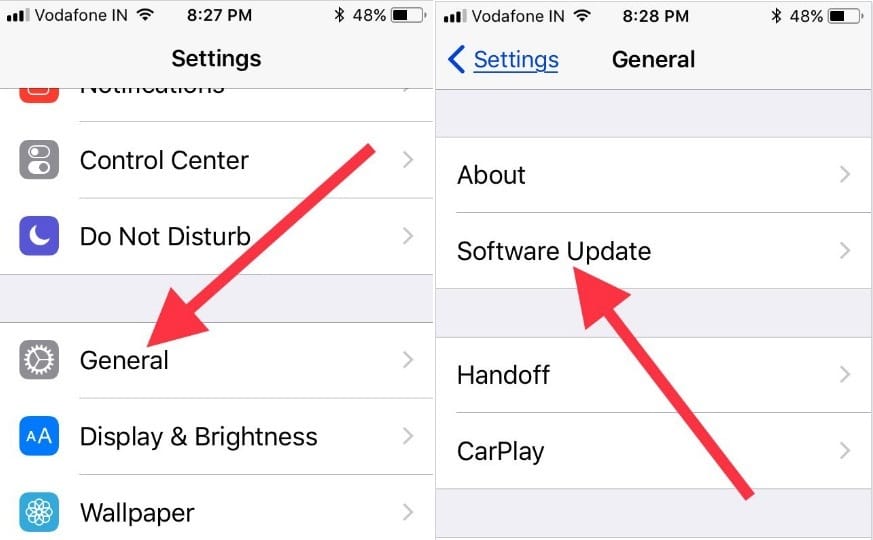 Fix #6. Good Wi-Fi or Cellular Connection
After update iOS 11 or above, many users claim that weak Wi-Fi signal or cellular data bricks certain services like notifications do not arrive as well as iOS 11 notification sound won't hear. So I advise you that keep your device has a good Wi-Fi signal or cellular data network whatever you use.
Fix #7. Reboot (hard reset) iDevice
let's pressing power and home buttons simultaneously holding them until Apple's logo appears on the iPhone/iPad screen then release your fingers. Now test set reminders and test Notification sounds. Get here how to reboot the iOS device without the Power button.
Fix #8. Uninstall App And re-install back
Note: Before deleting an app, you should take the latest backup of the App's Document and Data.
If rebooting not working In your case, then you should delete App and reinstall again on your iOS 11 or later device.
Everything old sounds come back normal. You got the solution to getting rid of ugly Tri-tone notifications.
Explore More tips: Notification Not Working on iPhone.
Also, Read – How to Clear All Notifications at once using 3D touch
Premium Support is Free Now
We are happy to help you! Follow the next Step if Your Solution is not in this article, Submit this form without Sign Up, We will revert back to you via Personal Mail. In Form, Please Use the Description field to Mention our reference Webpage URL which you visited and Describe your problem in detail if possible. We covered your iPhone 11 Pro, iPhone 11 Pro Max, iPhone 11, iPhone 8(Plus), iPhone 7(Plus), iPhone 6S(Plus), iPhone 6(Plus), iPhone SE, SE 2(2020), iPhone 5S, iPhone 5, iPad All Generation, iPad Pro All Models, MacOS Catalina or Earlier MacOS for iMac, Mac Mini, MacBook Pro, WatchOS 6 & Earlier on Apple Watch 5/4/3/2/1, Apple TV. You can also mention iOS/iPadOS/MacOS. To be Continued...
What fixes useful to resolved iOS Notifications Sound not working on iPhone, iPad, and iPod touch.
Hopefully, you can get all upcoming notification alerts like before in iOS. Drop your reply in the comments.
Jaysukh Patel is the founder of howtoisolve. Also self Professional Developer, Techno lover mainly for iPhone, iPad, iPod Touch and iOS, Jaysukh is one of responsible person in his family.
Contact On: [email protected] [OR] [email protected]