Notification is an important role to use iPhone easily. But somewhere it's not working correctly on your iPhone. Here I will discuss all Notification problems and troubleshooting in this tutorial. Check the below settings and re-fix all the notifications issues. in iOS 15 and Apple Watch's WatchOS 8, iOS 15 Group Notification by the app on iPhone, Apple Watch.
Create App Wise Settings for All incoming notifications showing on the lock screen of your iPhone, iPad, iPod Touch, and Apple Watch.
The changed User interface in iOS 15 is now confusing people about how to use new features and old options as well. in iOS 15 found new notification features for a clutter-free notification center, gt here how to use Notifications summary on your iPhone.
Here's guide: Notifications Not working on iPhone, iPad
Content
#1. Check for Update and install
The real problem in iOS, you should check for new updates and be prepared to install the new iOS 15.XX version.
Go to the Settings > General > Software Update.

#2. Hard Reboot or Reset
I am recommending this for unable to view, Open or Dismiss Notifications on iPhone
For iPhone 8, iPhone 8 Plus users:
Press and Quickly Release Volume Up button,
Press and Quickly Release Volume Down Button,
Press and Hold Side Button until you see the Apple logo on Screen.
To start iPhone, again press the Side button until the startup apple logo is on the screen.
For iPhone 6S and Earlier users: Sleep/Wake button + Home button at the same time
For iPhone 7/7 Plus users: The Sleep/Wake + Volume Down button press simultaneously

#3. View, Clear all notifications in iOS on lockscreen
View today's notifications on the lock screen, just swipe your finger bottom to top from the center of the iPhone screen. Unfortunately, we didn't clear all notifications that recently received. But clear all Notifications from Earlier today.
Open the app from the notifications bar: Slide finger left to right on a notification.
Instant View on the lock screen: Slide finger right to left and tap on View.
Remove/ Dismiss or Clear Notification: Slide finger right to left and Tap on Clear.
iOS 15 has No Clear button to Clear Notification from banner –
After iOS 15 Update, some guys facing issues while they trying to Clear notifications from banner either the lock screen or the home screen. Apple Support said this is a kind of glitch, so we hope this will be fixed in the next iOS 15 update like iOS 15.1. Hence, you will have to wait for next update, Alternatively, to clear notifications, swipe to the left side from the right to get the clear button. tap on clear. Boom!

Notification Preview
New Notification Preview settings, Turn off/Turn on Notification Previews on all in one tap: Go to the Settings > Notifications >
Show Previews >
Always [Never For Turn off or Disable].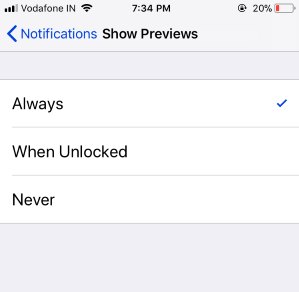 Notifications Settings for individual App,
Go to the Settings App on iPhone, iPad > Notifications.
Next, See Notifications Style Settings,
Tap on App Name and See below settings and How to use
Enable/Disable Allow Notifications for specific app,
Types of Alerts,
Show on Lock Screen: Notifications will display at a glance on the lock screen.
Show in History: This option is for display & Show in history.
Show as Banners: Banner notification is useful for reading text inside on lock screen or home screen.
Show Previews: Set it with three different options (Always, When Locked and Never).
Check all these options for notifications on iPhone. And Enjoy as you wish and be helpful.

Mail Push Notification Enable/ Disable and Set Sound tone
Disable/ Turn on Mail notification on New Mail, Settings > Notifications > Mail > Enable Allow Notifications, and Also Customize for all email accounts.
New Mail Notification sound: Change Mail notification sound, Under Settings > Sounds > New Mail > "Set another sound" or "None."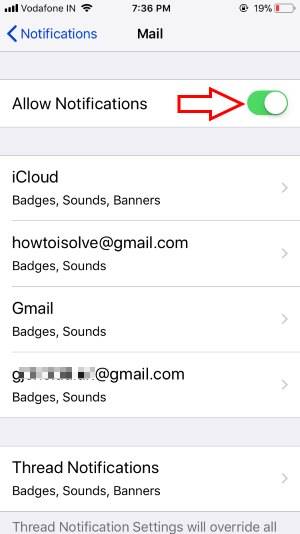 Messages app notification not working on iPhone
In iOS, hide alerts for the individual conversation we can enable. Open Messages app > See List of Conversations > Slide Right to Left and Tap on Hiding Alerts.
Repeat the above steps for Enable Messages notifications and alerts for the individual conversation on iOS. Explore more tips and Alternate options for Show/Hide alerts on iPhone.

Notification sound interval/ Disable Vibrate for Notification
We can manage or Change Notification sound for individual apps like Text Tone, New Voicemail, New Mail, Sent Mail, Calendar Alerts, Reminder Alerts, AirDrop, and more.
Go to the Settings > Sounds. Find the app and Change the alert sound from the default tone.
Also, we can mute or None, Notifications alert tone from the list of tones.
Get more tips on Notifications sound not working

LED Flash notifications not working on iOS
Go to the Settings > General > Accessibility > LED Flash for Alerts > Enable LED Flash for Alerts.
Next to this setting Also See options for Flash on Silent, Now you will notify via LED flash while on silent mode.
Above all are possible errors and Fix on your Notifications not working on iPhone running on the latest iOS operating system.