Last Updated on Nov 10, 2020
You don't want your unwanted post from your friends who are not in your friends list or in friends list. You can stop all the post updates and notification by unfollow the friends from your timeline on facebook website application. But in facebook iPhone app, you can also do it very easily by Follow and Unfollow all the facebook friends in iPhone app account setting.
we are happy to help you, submit this Form, if your solution is not covered in this article.
Compatible iOS device: iPhone 4/4S to iPhone 6, 6 Plus running on iOS 7/ iOS 8.
Facebook iOS app: Your app up to date with the latest version, because in older version might not be correct option for your query or different User interface.
Useful: Enable/ Disable auto update app in iOS device.
Steps for Follow and Unfollow all the facebook friends in iPhone, iPad
Step 1: Go to the FaceBook app in your iOS device (iPhone, iPad and iPod Touch)
Step 2: At the bottom tab, Click on more option.
Step 3: Scroll at the below for made changes in profile setting.
Step 4: Once you tap on Setting, your screen will be show pop up option menu with News Feed Preference.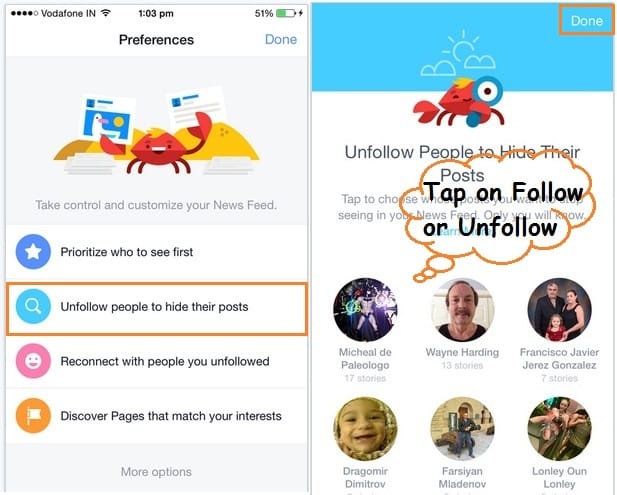 Step 5: Now, for hide friend's posts from your profile/ Time line unfollow the list. Tap on Unfollow People to hide their photos. Choose all the friends at once or tap on done from top right side.
If you want to see all the unfollowed people or re connect people that's you unfollowed. Tap on "Reconnect with people you unfollowed". Then you can see all unfollowed people and re follow by tap on it.
Now, Follow and Unfollow all the facebook friends in iPhone, iPad and iPod Touch app more easy compare to web view using above steps. Stay connects with us for more updates and new trick on FB.