Last Updated on Sep 26, 2023
We are glad to share here, How-To Tip for the latest macOS. It's a Change language on your Mac. You might have bought New Apple MacBook from the USA (United States of America) and would like to work primarily in the French language. You need Settings for Switch Language and region from US English to French English at that time. Even you have a question – How to Change language on any Mac? Or Need to change the Language of the Specific app on Mac. or Install Custome font for typing custom font from Keyboard. At all, you can get the solution to change the System language on macOS.
This tip is most useful for Apple's New Released 52-inch MacBook and 13-inch MacBook Pro, MacBook Air, Mac Mini, and iMac.
Ways to Change Language on Mac Computer (MacBook, iMac, Mac Mini)
Apple set default language and region according to selling the country. So that users get Mac display language of the country in which it was purchased, you could use your Mac up to possible languages Such as English, US, French, Chinese, Japanese, German, Spanish, Italian, Dutch, Russian, Polish, Spanish, and more.
Steps to Change System Language on macOS 13 Ventura & later
Step #1. Unlock your Mac Computer
Step #2. Go to Apple Logo on top-left side menubar
Step #3. Choose System Settings…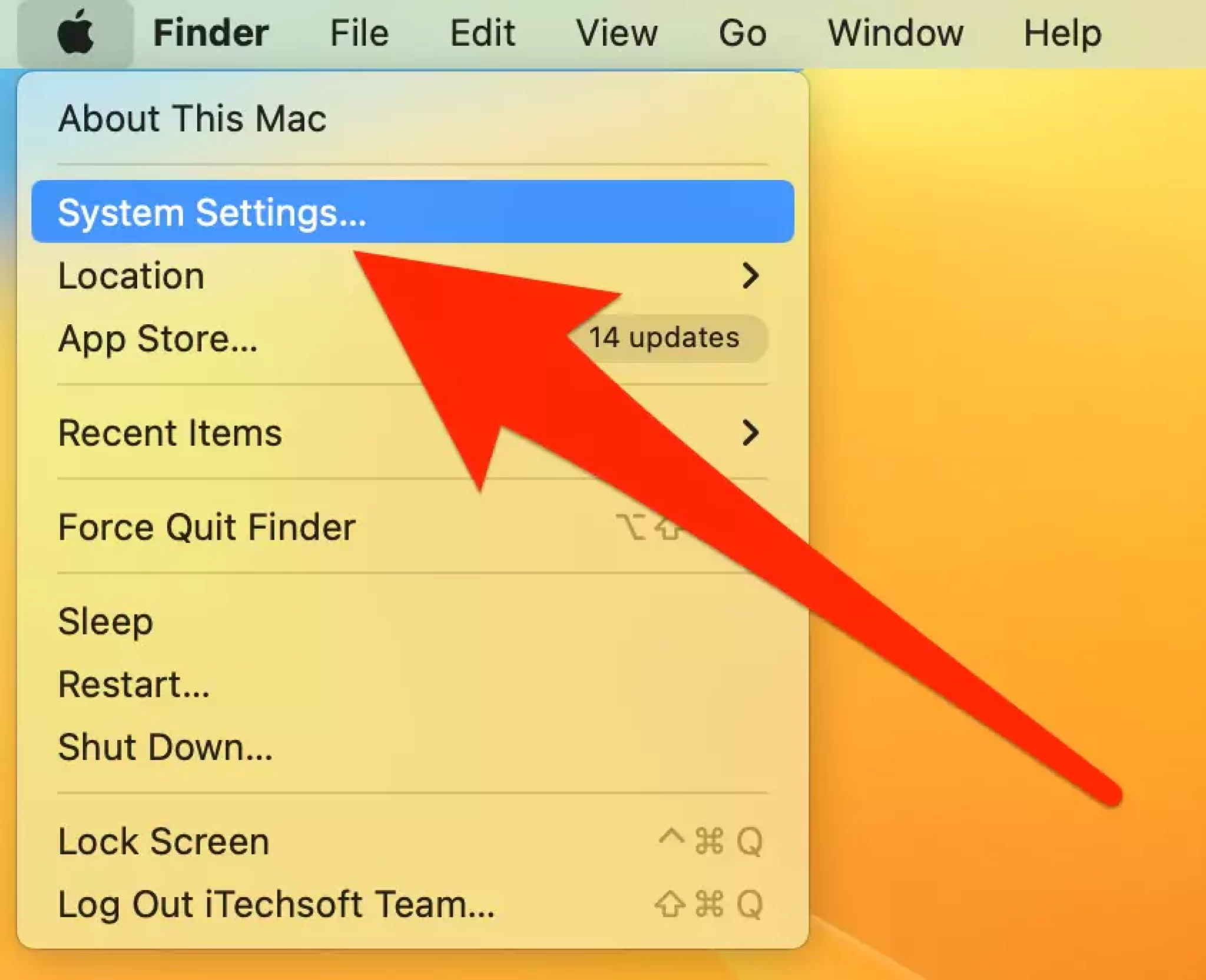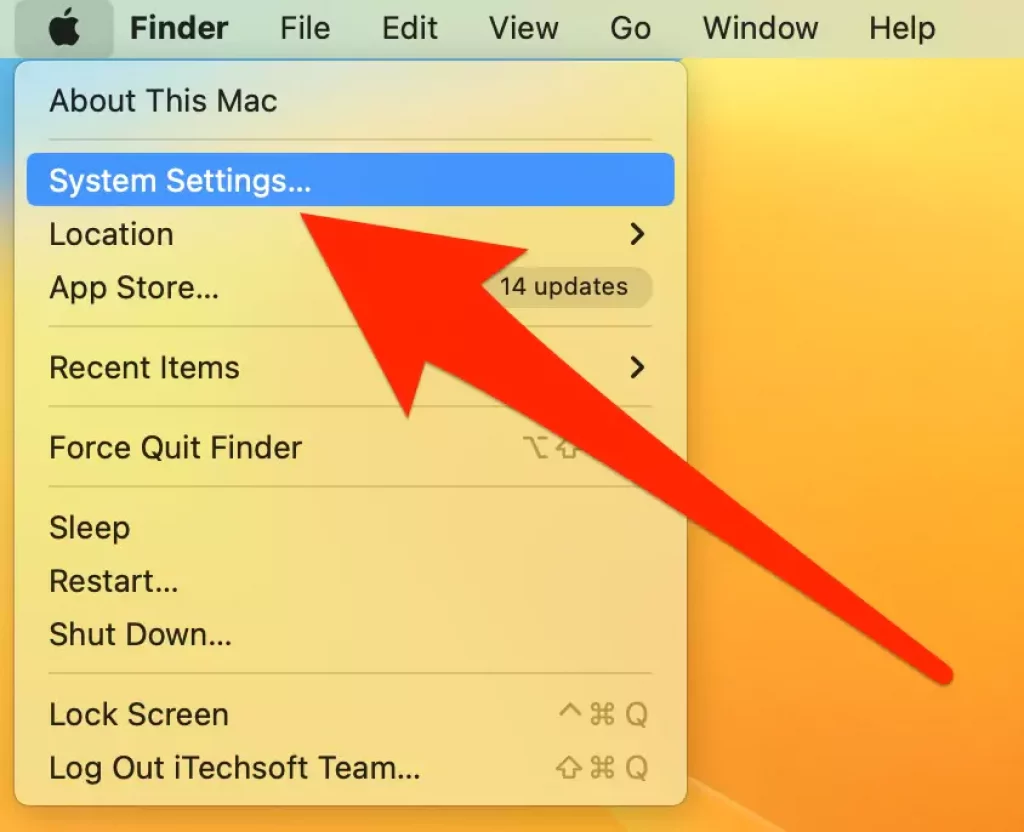 Step #4. No Click on General from left-sidebar
Step #5. Choose Language & Region
On this screen, you can view all settings related to language and region in macOS 13 Ventura. You will have to add a new language to switch between languages on your Mac system. Let's see
Step #6. Under the Preferred Languages section; Click on the + button that you can see here given the example below for a better understanding.
Step #7. Now Explore the language that you want using the search bar or scroll through the language list and pick a language
Step #8. Click on Add button.
After this,
After clicking on Add, your mac computer is ready to put the American Spanish language.
As well as, you get a pop-up message that will tell you would you like to use Spanish as your primary language?
If you want to use it, click on use Spanish. Or whatever you like to make your mac operating system primary language.
One more thing is that you can set order & disorder language lists by just selecting them & dragging them up or down.
After all, when you close the language window, you will get a pop-up that your primary language has changed. Do you want to restart your computer now?
Some applications may not use the new language till you restart.
That's it!
Steps to Change System Language on Mac Monterey & Earlier
Step 1. Select Apple Menu
Step 2. Click on System Preferences
Step 3. Click On Language & Region.
Now, you can follow one of the below options:
Option 1. Add a language:
Click on Add +, Select one or more languages in the list and then click Add.
What you can see in the pane language is divided by a separator line: above the line are for System languages that fully support OS X, and it's Shown in Menu, Messages, and more.
Second-line language options aren't fully supported for OS X, but they may be supported for the OS X app that you use and shown in their menus and Messages.
Option 2.
Change the primary language: Dreg a Different Preferred language to the top of the Preferred languages list. That's it. This tip seems to change the language in MacOS on MacBook Air, MacBook Pro, and iMac.
Change Keyboard Language on Mac, Install Font Typing
Today Mac users can start typing in Hundreds of languages that support new MacOS. For that users have to download and install custom language font from the apple server and Change on Mac keyboard settings or System Language. Follow the below steps for Download New Keyboard font and Type in Apple apps and Third-Party apps like Microsoft Word, Excel, Chrome Browser,
Go to the Apple Logo from the top Mac menu > System Preferences.
Choose Keyboard.
Go to Input Sources Tab > Click on Plus Button to Browse new Language.
and Click on Add. Wait for few seconds.
Also select "Show Input menu in Menu Bar".
Now, That's easy to change or Switch the current keyboard language of your keyboard from the top Mac menu.
That's it.
Change App Language on Mac
are you looking to set a different language for the installed app on Mac? Follow the below steps for change in your local language for the app that's easy to understand and use App functionality more conveniently. follow the below steps,
Go to the Apple logo from the Top Mac menu > System Preferences.
Select Langage & Region.
Choose, Apps Tab > Click on Plus sign to apply a new language to the selected app.
Select Application and language from the dropdown.
Click on Add. Here I added French to Microsoft office word.
Now, My Office document menu and options show in the new Language.