Last Updated on Sep 22, 2023
Know how to change WhatsApp ringtone on iPhone. Because you've different options to set cellular phone ringtone as well as WhatsApp ringtone. Whet knowe knows the way for Change ringtone sound of iPhone Cellular calls, And suppose you guess that to Change WhatsApp ringtone on iPhone is the same steps, then beware it's totally unmatched way. Because iPhone Ringtone you can change from iPhone settings Sound tab, While to change WhatsApp ringtone on iPhone you can do from iOS WhatsApp app Settings.
In the latest version of iOS WhatsApp, you can be getting iOS WhatsApp to use on Web feature, Message notifications sound, customize Group notification sound, chat backup and more.
Just to note, this is not a special explanation for the iPhone. All earlier iPhone's WhatsApp users can follow here outlined way as changing WhatsApp Notification sound on iPhone for individual Message Notifications and Group Notifications.
Also Check: iPhone Notifications not Working.
Beneath given steps teach you to Change WhatsApp Ringtone on iPhone
Change Notification Sound for Individual Conversations
Open WhatsApp on iPhone, Go to Profile for that conversation you want to change.
2. Scroll Down and Find "Custom Tone". Select Your Favorite sound.
3. Tap on Save from a top corner of the screen.
Change Notification Sound for all WhatsApp Notification
Step 1. Launch latest WhatsApp on your iPhone
Step 2. Navigate Settings (appear at the lower-right side on Screen)
Step 3. Touch on Notification then
Step 4. Tap on Ringtone under the WhatsApp Calling section
Step 5. So now you can see Ringtones likely Opening (Default), Apex and Beacon.
Apparently, you can choose a ringtone from giving three options.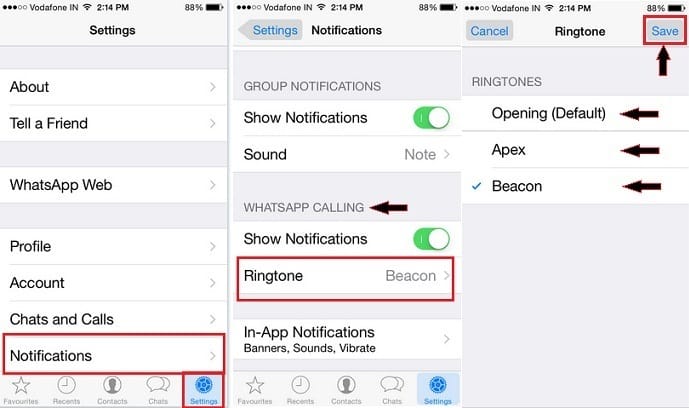 Step 6. Select one Ringtone and tap on the save button.
You're done. Typically, there are more Ringtone options on iPhone for a call, Even though for WhatsApp call Ringtone you get least options compare to iPhone.
Having you any other issue about iOS WhatsApp then feel free to tell us, we'll try to found the best solution and serving on our site with better understanding. Keep in touch with us and learn daily something new for your iOS or Mac devices.
Must Read: WhatsApp Notification Sound not Working and Sounding on incoming new WhatsApp notifications. Check Notification Sound fix on iPhone.
You can also enjoy LED flesh for Alert on Notifications. Get LED blinking on Every WhatsApp notifications.
Video of 21 Whatsapp Tips & Tricks You Should Know
What do you expect in the next update of iOS WhatsApp? Write into the comment box.