Last Updated on Sep 13, 2021
Suddenly, your iPhone LED light stopped blinking on incoming notifications alerts. Fix it and Troubleshoot LED Flash Alerts Not Working on iPhone. We can enable LED Flash alert on every notification, Incoming call, Call on Silent mode or Vibrate mode. Check to below settings on fix LED flash for alerts on iPhone, iPad.
we are happy to help you, submit this Form, if your solution is not covered in this article.
There is no extra light for flesh alert on the backside of the iPhone. Flash alert use your Camera flashlight.
Troubleshoot: LED Flash for Alerts Not Working on iPhone, iPad
Judge the problem with LED Light: Hardware issue
Turn on LED flashlight from the control center, Swipe up a finger to open the control center on iPhone 8 and Earlier. Swipe down finger from the right corner of the screen, Tap on an LED flash icon for test on iPhone.
You must enable notification on the lock screen
Turn on Notification on Lock Screen, if you want LED flesh alert for specific apps or Messages. If Notification is disabled, then you can't get a flesh alert.
Go to the Settings app > Notifications > Tap on App [That won't work on LED Flesh] > Enable on Lock Screen.
Find more tips:
Enable or Turn on LED Flash for Alert of notifications
Double-check and verify LED Flash For Alert enabled from iPhone Settings.
in iOS 13 & later user can turn on LED Flash for Alerts using bottom steps-
Go to Settings App on iPhone
Scroll down the screen and Tap Accessibility
Click on Audio/Visual then scroll to LED Flash For Alerts.
Now Turn toggle Flash On Silent ON/Green.
---
Steps for iOS 12 & Earlier user to turn on LED Flash for Alerts:
Go to the Settings app on iPhone
Find and Tap General
Now Click on Accessibility
Tap LED Flash For Alerts
Now turn "LED Flash for Alerts" On/green.
Most of the cases, we need an LED flash while the iPhone is in Silent mode. "Flash on Silent" option is here, let's make it enabled.
Camera's Flash not working on iPhone
See the below settings for use LED fleshlight on camera. The open Camera app, tap on the flash icon and select "On" option from the top camera app tab.
Now, Flesh with on while we tap on camera photo click button. Try yourself.
Hard Reset or Reboot
iPhone 8 Plus/8 Plus/ iPhone X/ iPhone XR/ XS/ XS Max:
Press and Quickly Release Volume Up button on iPhone,
Press and Quickly Release Volume Down Button,
Press and Hold Side Button until you see the Apple logo on Screen.
To Wakeup iPhone screen, press Side button until startup apple logo on the screen.
iPhone 6S and Earlier: Sleep/Wake + Home button
iPhone 7/7 Plus: Press Sleep/Wake + Volume Down button, Until you apple logo on the screen.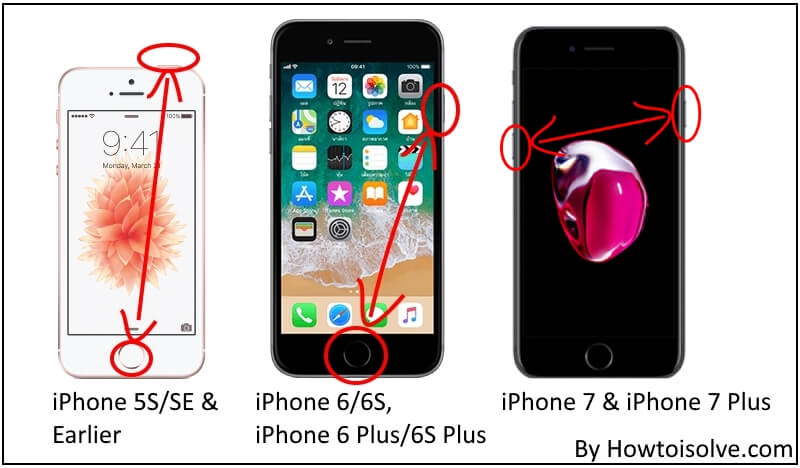 Turn On low power mode
Turn On low power mode on iPhone, Check on your iPhone if low power mode is enabled then we can't receive a notification on the iPhone.
Because low power mode help to stop the battery from use power while it comes to notification or Calls on iPhone. [Low Powe Mode from control center]
or
Add Low power mode in the control center, or Go to the Settings > Battery > Enable/Turn off Low Power Mode.
Turn off Do Not Disturb
In the same way, you need to turn off Do Not Disturb. Because Do not disturb will stop all new notifications and Calls. [New in iOS 11: Do Not Disturb While Driving]
Go to the Settings > Turn off Do Not Disturb.
Backup and Restore device
Fix your all problems by restoring a new iOS-like clean install after then restore back up and check it's fixed or not.
LED Flesh Alert Not working on iPad
This setting only comes in Cellular iPad. Make sure are you using your iPad for Call and SIM Slot. Some users are not able to find the option for LED flesh alert on iPad Settings but Settings search showing text box and Option for this.
Above all are the helpful settings that we should check on LED Flash for Alerts Not Working on incoming notifications and Call [Voice Call, FaceTime Audio or Video]. Why not share with your Friends? Please Like and share it.