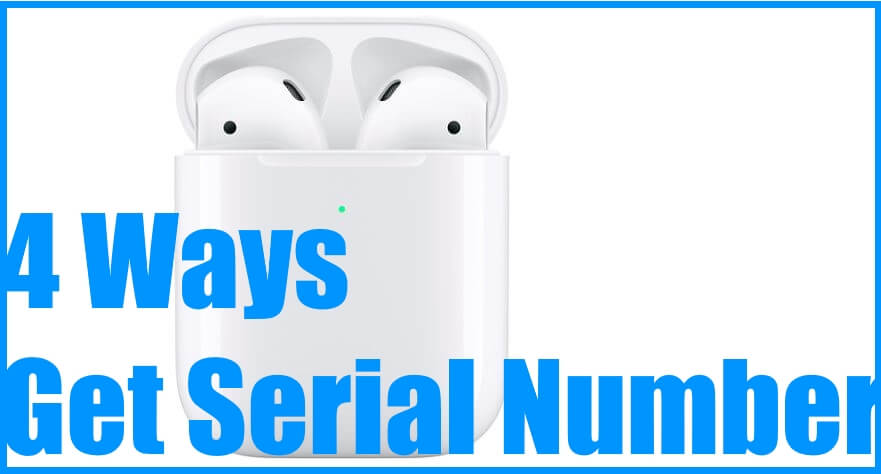 Last Updated on Aug 17, 2019
Check these ways to Find Airpods Serial Number That use for Submit Report, Check Airpods Warranty and Purchase date on Apple Website. When we talk about any Apple device, serial number plays a very important role. Serial Number is used to check the coverage of Apple gadgets because whenever you need to replace the broken AirPods serial number is required. The serial number is mentioned differently as per the devices, so today we will see how to check AirPods Serial Number.
we are happy to help you, submit this Form, if your solution is not covered in this article.
As far as I know, there are four different ways through which we can get the AirPods Serial Number. Whichever suits you, go with the one and make sure to note down the Serial Number of AirPods in your secret diary.
How to Check AirPods Serial Number: 4 Ways to Find Airpods Serial Number, Airpods 2, Airpods 1
in this tutorial, you can get video tutorial to find your Airpods serial number at the end of this guide.
Method 1: Check out the Charging Case Cap
One of the simplest ways to check AirPods serial number is, take out the charging case and open the lid. When you open the lid, on the beneath the case, the serial number is mentioned in small fonts. Though it is a handy method to check the serial number it is difficult to read the numbers because of small fonts. You may need a magnifying glass to fetch out the serial number.
Method 2: From Paired iPhone Settings App
Undoubtedly, your iPhone is with you and so we have another way to check the AirPods Serial Number using iPhone. When you connect AirPods with iPhone, the iPhone collects the information of the connected device which you can access right from your iPhone. Before doing so, you must verify that AirPods are connected to the iPhone.
Step #1: Go to the "Settings" app.
Step #2: Tap "Bluetooth".
Step #3: Check if AirPods is connected or not. if not paired then please connect to your iPhone. then follow the bottom steps.
Step #4: Now, get back to the "Settings" app.
Step #5: Tap "General".
Step #6: Open the "About".
Step #7: Scroll down and select "AirPods" or next to AirPods the serial number is mentioned.
Method 3: Get Airpods Serial Number On AirPods packing Box
If you still have AirPods box then also you can get the Serial Number of AirPods. Most of the people throw the box of such devices or misplace it and lastly unable to find, but if you have it, then bring out the box and note down the serial number of AirPods somewhere safe.
Method 4: Find Airpods Serial Number  On Original invoice of AirPods
Hopefully, you haven't forgotten to take the bill of AirPods while buying it. The original bill is very helpful in case the AirPods gets broken or damaged. Alternatively, that bill also contains the Serial Number of AirPods. Without wasting much time, grab the original bill of AirPods and write down the number.
Premium Support is Free Now
We are happy to help you! Follow the next Step if Your Solution is not in this article, Submit this form without Sign Up, We will revert back to you via Personal Mail. In Form, Please Use the Description field to Mention our reference Webpage URL which you visited and Describe your problem in detail if possible. We covered your iPhone 11 Pro, iPhone 11 Pro Max, iPhone 11, iPhone 8(Plus), iPhone 7(Plus), iPhone 6S(Plus), iPhone 6(Plus), iPhone SE, SE 2(2020), iPhone 5S, iPhone 5, iPad All Generation, iPad Pro All Models, MacOS Catalina or Earlier MacOS for iMac, Mac Mini, MacBook Pro, WatchOS 6 & Earlier on Apple Watch 5/4/3/2/1, Apple TV. You can also mention iOS/iPadOS/MacOS. To be Continued...
Video to Find Airpods Serial Number in Alternate Ways