🗓️
November 23, 2023
By ✍️
Jaysukh patel
Now WhatsApp added new features just like other social or messenger app. recently WhatsApp added Sticker and Gif Support that available in WhatsApp Sticker store. Find your Favorite stickers from WhatsApp sticker store, download it and send quickly. also, we can delete downloaded sticker pack from WhatsApp keyboard. Check out this tutorial and share with your friends how we can download and use WhatsApp stickers and Gif to send in the message.
Pre-requisite: WhatsApp should be the latest version, update if not updated WhatsApp app from app store.
Download and Send Sticker or GIF on WhatsApp iPhone, iPad
1. Open WhatsApp app on iPhone, iPad.
2. Next, Tap on Square button inside the typing box at the end. Now you are on sticker keyboard. the first time you will see a message like "You Havent's added a favorite sticker yet". Tap on (+) button to get whole sticker store within the WhatsApp app.
3. Here's the list of stickers pack with categories like Cuppy, Salty, Momo, Bibimbap Friends, Unchi & Rollie, Shiba Inu, The Maladroits, Koko, Hatch, Fearless and Fabulous, Banana, Biscuit. Tap on (Down arrow to download it locally).
4. Once you download the sticker pack, you can manage it under my Stickers section.
Send Live Photo as a GIF on iPhone
Yes, we can send any live photo from iPhone to WhatsApp messages as a GIF picture. Follow the steps for use Live Photo as an Animated GIF to other iPhone or Android mobile.
Open the WhatsApp app on your iPhone.
Tap on Plus icon to browse Live photo from iPhone camera roll. Select Photo & Video Library option.
Now Touch and Hold on Live photo until you see a full picture in a big screen and swipe up to top near to notch of your iPhone. Until you see the Option Select as GIF option.
Select Option Select as GIF and Send on whatsApp.
Rearrange and Delete Downloaded WhatsApp Stickers on iPhone, iPad
After that, you can Re-arrange order in a list, Tap on it to Delete from My Stickers section.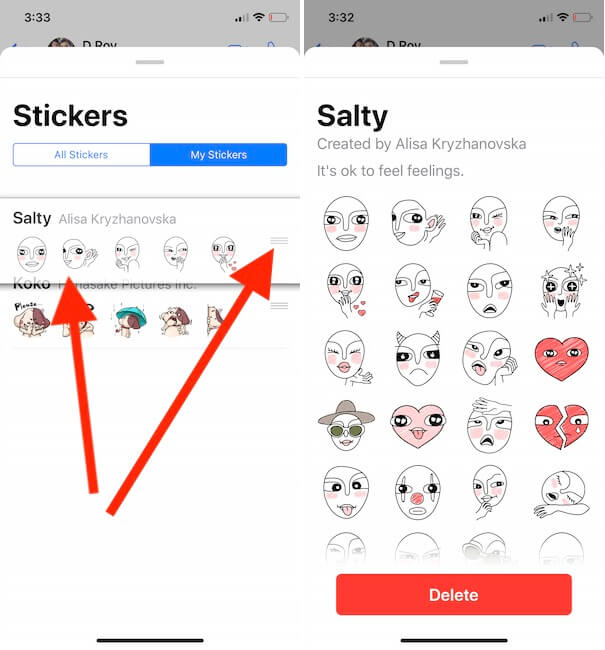 Now Switch Between Sicker and Gif WhatsApp Keyboard
At the end of the Sticker or Gif keyboard, You can see two side by side icon, tap on it to navigate from Sticker or Gif.
That's it.
Browser or Search GIF on WhatsApp iPhone with Keyword or Category Name
On the WhatsApp GIF keyboard, Tap on the Search icon and type the keyword in the "Search GIPHY" text section.
I found the good result of the "Sad" GIF category.
That's it.
More tips and Tricks on WhatsApp messenger or any Other Social app, Comment me. if you like this and helpful, then don't miss to follow us on Social page: