🗓️
July 17, 2023
By ✍️
Jaysukh patel
here's the beginner's guide to starting using Quick Notes with Notes taking ideas to quickly open on any app on Mac using Keyboard Shortcuts or Hot corner facility. Also, try the below steps on Quick Notes not working on Mac With macOS Monterey or newer, there are many hidden features loaded in the Mac, MacBook. One of them is Quick Notes. Call it a part of the Notes App; Quick Notes is a fantastic way of saving webpages, links, images, and many more elements right away without going to Notes App. A quick shortcut, Fn+Q launches the Quick Notes on the top of any app you're currently using.
Apparently, you need to update the Mac to recent macOS to get hands-on with this program. Moreover, these Quick Notes can be accessed from the Notes App too. So, let's get into the tutorial and see what Quick Notes is and how Quick Notes works.
How to Create Quick Notes on Mac Computer
What are Quick Notes?
The best thing about Quick Notes is, you don't need to close any app to use Quick Notes. Using the Fn+Q keys, Quick Notes can be created and used over any app, and of course, quit the Quick Notes when you're done. Note- Fn + Q Note working on Mac.
Either you're an employee or student, or housewife, we all have met a situation where we want to put a particular text or image or the entire webpage to save it to read later.
Furthermore, Apple took the Quick Notes to the next level by integrating Safari with Quick Notes. When you add any website URL to Quick Notes, it will show the website icon and will redirect you to the Safari page when you click on it.
2 Methods to Open Quick Notes on Mac screen
Method 1: How to Access Quick Note on Mac?
Apple has made accessing Quick Note a lot easier; there is no need to open any app or program to use the Quick Notes on Mac. To launch Quick Notes on Mac, use a keyboard shortcut "FN + Q" or move the cursor towards the lower-right corner, a Quick Notes will appear.
You can select any of the four Hot Corners to open Quick Notes on Mac. Top-right, Top-left, Lower-left, and Lower-right are the Hot Corners you can choose to open Quick Notes. Jump to the next section to set up Quick Notes to appear on Mac with any Hot Corners.
Method 2: How to Setup and Use Quick Notes on Mac with Hot Corners
Follow the below steps, To see Notes Preview while you hover the mouse on the corner of your Mac's screen [or MacBook].
macOS Monterey or Later
Click on the Apple icon in the top menu bar. Choose System Preferences.
Click on Mission Control.
In the lower-left corner, click on Hot Corners… button.
You will see four options to choose from; click on the Hot Corners dropdown and choose Quick Notes, depending on your preference.
Click OK.
Enable Quick Notes on macOS Ventura
Go to the Apple Logo from the top menu > System Settings.
Next, Desktop & Dock > Scroll to option "Hot Corners".
Select Quick Note for the Corner and Done to apply changes.
How to Create Quick Note on Mac?
Like we set up the Quick Notes to access with Hot Corners, you can just move the cursor towards the selected Hot Corner for Quick Notes, and a Quick Notes pop-up will appear, click on it to launch and create New Quick Note.
Alternatively, press the Fn+Q keys on the keyboard to launch the Quick Notes on Mac, anywhere while using any app.
How to Add Smart Links to Quick Note on Mac?
Even like an article and want to store somewhere to read it later? Well, it happens all the time with me. But now, with Quick Notes in MacOS, you can add Smart Links in one click.
Once you create a Quick Note, open the website link of which you want to save the link in Quick Notes.
I presume the website and Quick Notes are already open; click on the Add a link button.
Quick Notes will store the name of the webpage and website icon.
Smart Links works with apps like Safari, News, Mail, Photos, Messages, and more.
How to Add Text and Images from Safari to Quick Notes?
Apart from Links, Quick Notes comes with extensive features, including adding text and images from the webpage right in the Quick Notes.
Open any webpage on Safari from you want to copy the text and images to Quick Notes.
Select the text or image from the webpage.
Right-click and select New Quick Note to add the selected text or image in the new Quick Note and Add to Quick Note option, which will save the selected text into the existing Quick Note.
Once the text or image snippet is added into the Quick Notes, you can click on it to open the webpage.
Repeat the same to add new notes in the Notes app or Create a New Note.
Now, All Notes are available under the quick notes section.
That's it.
How to View and Edit Quick Notes in Notes App
Using the Notes App, you can Edit, Share, View, and Delete the Quick Notes on Mac. Learn how to manage Quick Notes on Mac.
Launch Notes app on your Mac.
Click on the Quick Notes folder on the right side.
Select the Quick Note to edit, delete or share.
Quick Troubleshooting:-
Reinstall macOS using Recovery mode on Mac – Without Data loss.
Try in Safe mode on Mac
Select or Enable Quick Notes Shortcut on Mac

For MacOS Monterey:– Apple logo > System Preferences > Keyboard > Shortcuts > Mission Control – Select "Quick Note" also Change Keyboard Shortcuts if it's conflicting with another custom keyboard shortcut.
For MacOS Ventura:- Go to the Apple Logo from the top menu > System Settings > keyboard from the left side of windows > Keyboard Shortcuts > Mission Control > and See Quick Notes Shortcut.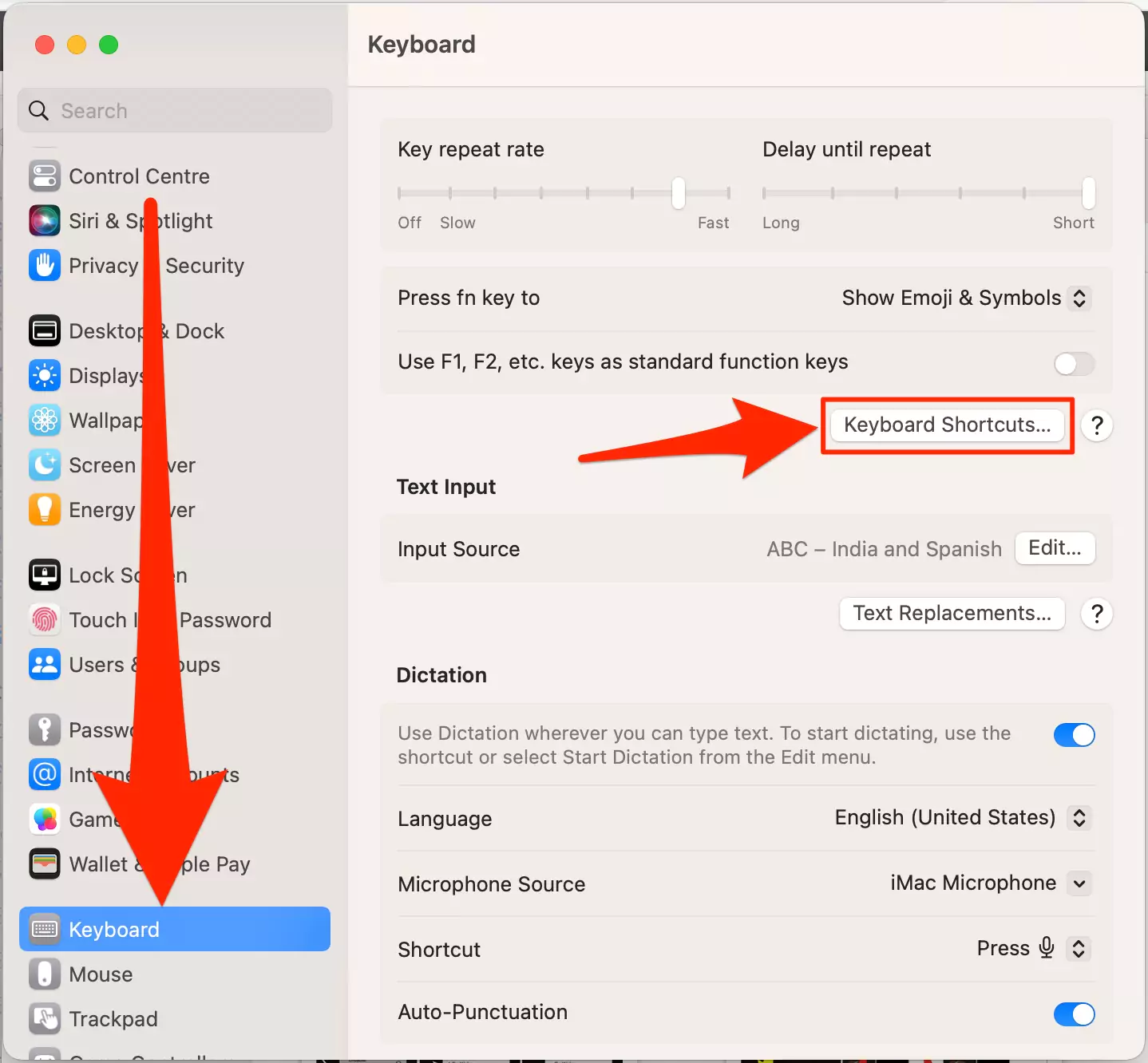 Change Keyboard Shortcuts for Quick Notes
Change or Enable Quick Notes in Hot corners on Mac
Restart your Mac
Make sure, your Mac is updated with the latest macOS.
Delete Quick Notes and Re-create new ones from the Notes app – Open Notes app on Mac > See the Quick Notes option.