🗓️ October 9, 2023 By ✍️ Jaysukh patelSiri understands your command and trying to find in contacts, Apps, Data in Apps (Notes, Mail, Messages, News app) will show in the result while you search in Siri search suggestion. Also, we can manage it and troubleshoot your desired problem using the settings given in this article. iOS packed with New Siri Shortcuts options also know where are Siri suggestions in settings?
Siri Suggestions in iOS Spotlight search is too much improved and ready to use and find your query from the iOS device and over the Internet. Siri will help to search even if your device is offline or online. but it keeps crashing, Freezing, or not showing results while we type using the Keyboard.
Some users keep turning off unused results: Siri Suggested Website, Siri Suggested contacts, Siri Suggestions apps. This article fixes Siri's suggestions bug.
Siri Suggestions also work in the office line, at this time, Siri will get results from your Browser Search history, Saved web pages, and Cache/cookies.
–
Common issues and fixes for Siri Search Suggestion not working on iPhone and iPad
Tip 1: Turn off/ Disable Siri Search on iPhone/iPad
Go to the "Settings app" on your iPhone
Next, Find and Tap on "Siri and Search".
Now, Disable Options for not Showing in iOS Spotlight Search result, Hide or Disable Siri Suggestion in Spotlight Search on iPhone or iPad.
Suggestions in Search
Suggestions in Look Up
Suggestions on Lock Screen
1.1: Turn Off Siri App Suggestions
Total 8 Apps Showing on Siri Search Suggestions [Spotlight Search], That recently used app for quick open. But we can turn off or hide that prevent showing most of the time used apps on your iPhone and iPad running recent iOS.
---
Tip 2: Update iOS
iOS Update fix all the problem. That was my experience on My iPhone 15 Pro. This will also give a fast result because outdated iOS might be slow down iOS device or Freeze/unresponsive screen while we search or type from the keyboard.
Sometimes Siri suggestions blank or Broken.
---
Tip 3: Force Retest or Hard Reboot, Verified your Apple ID
Apple ID is not verified and Apple ID verification is pending after update iOS device. First check it inside settings app. Open "Settings app" > "Apple ID Suggestions" > Continue in "Update Apple ID Settings" > Enter "Apple ID password".
---
Tip 4: Microphone not showing after iOS Update
Siri Search Suggestion In Spotlight search we can using type text in Search Boy with a keyboard or Dictation.
Use Your Speech coming, by tap on the microphone icon appears in the Siri Suggestion text search.
Go to "Settings" > "Keyboard" > "Enable Dictation".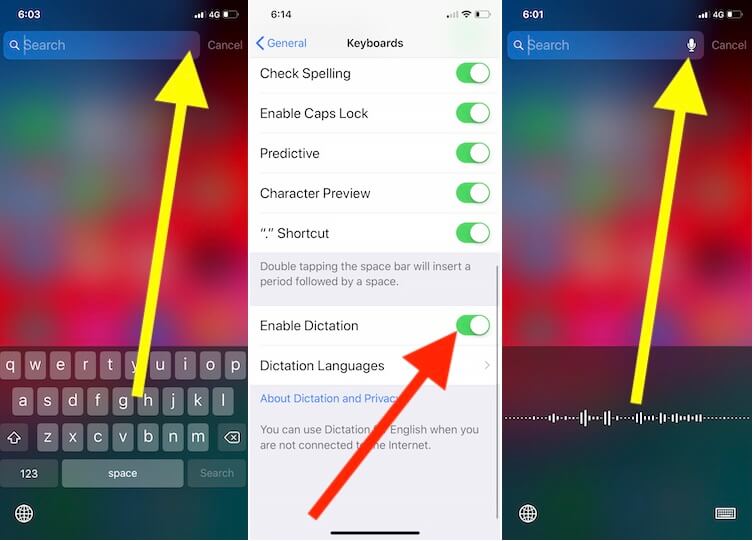 ---
Tip 5: Clear or Remove Other Data that results in Siri Suggestions
perverted data saved in the file system can't find and iOS unable to clear or remove data saved on your iOS device itself using settings given for optimise iPhone/iPad.
Try to clean Restore or Update, First Take the full backup of the iOS device on iTunes or iCloud.
Reset all Content and Settings, Go to the "Settings" > "General" > "Reset" > "Reset All Content and Settings".
Now, Connect your iPhone to iTunes > Once you Find your Device in iTunes > Select Latest Backup and Restore it with the latest version of iOS.
---
Tip 6: Unable to use Siri Search [Spotlight] Using Dictation
Microphone not showing in Spotlight search or Siri Suggestion textbook on iPhone.
Enable Dictation, Go to the "Settings" > "Keyboard" > Scroll Down and See "Enable Dictation".
Now, like or share. Above tips help to make Siri Suggestions accurate by Edit or Delete unwanted data that manage from settings in iOS.