Last Updated on Jun 26, 2018
iOS 12 group notifications for the apps installed on iPhone, iPad is returned features by apple that discontinued from iOS 8. That we can use it and enabled by default on update & install iOS 12 on supported devices. There are too many challenges and techniques to customize or use Grouped notifications in iOS 12 (iPhone, iPad) and WatchOS 5 on Apple Watch.
we are happy to help you, submit this Form, if your solution is not covered in this article.
[Must Read: How to Manage Group notifications on the Lock screen: iOS 12]
-:Jump To Content:-
Troubleshooting issues: iOS 12 group notifications
What is the difference between Group notification Automatic or By App?
By Default, you will get Group notifications on Automatically for all apps installed on your iOS 12 device. In this case, you will get two different notifications set in a group by topic or Contacts in Gmail.
Grouped notification By App means you will merge all topics and Contacts notification in a single group for the app only.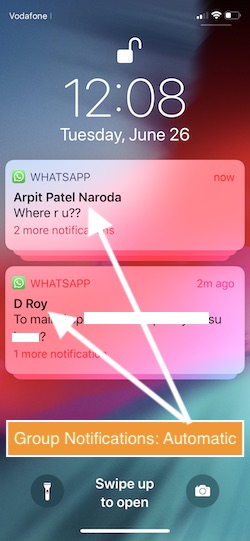 Never or Off Group notification arrange all notification on the lock screen in Smart Stacks pattern like earlier iOS 11.
Check: Enable Group notifications By app on iPhone in iOS 12.
---
Reset All Settings
Group notification not working on the lock screen, Reset all the settings. Because new iOS 12 update restores old settings, this can't make a change here.
So reset all the settings to default value: Go to the "Settings app" on iPhone > "General" > "Reset" > "Reset all the settings".
Enter the passcode and Reset settings.
---
Check for Enable Group Notification for Individual app
Yes, we can manage all the app for the Group notification settings.
Go to the "Settings app" > "Notifications" > "Scroll down and Find all app (Third-Party)" > "Tap on it" and Scroll down, Tap on Notification Grouping > Select "By App" or "Automatic".
Don't select off.
---
Keep your iOS device up-to-date with iOS 12
You can contact app developer, App is not optimized for iOS 12.
Apple is waiting for your device up-to-date and bug fixed as well.
Go to the "Settings app" > "General" > "Software Update" > "Check for Update".
---
Restart or Reboot your iPhone/iPad
Internal error and sucked iOS you can fix by hard restart or reboot your iOS system.
Let's check How to restart or Reboot iPhone.
---
Enable Group notification on Apple Watch
You can also enable or manage Group notification by app or automatic for your Apple watch running watchOS 5.
Premium Support is Free Now
We are happy to help you! Follow the next Step if Your Solution is not in this article, Submit this form without Sign Up, We will revert back to you via Personal Mail. In Form, Please Use the Description field to Mention our reference Webpage URL which you visited and Describe your problem in detail if possible. We covered your iPhone 11 Pro, iPhone 11 Pro Max, iPhone 11, iPhone 8(Plus), iPhone 7(Plus), iPhone 6S(Plus), iPhone 6(Plus), iPhone SE, SE 2(2020), iPhone 5S, iPhone 5, iPad All Generation, iPad Pro All Models, MacOS Catalina or Earlier MacOS for iMac, Mac Mini, MacBook Pro, WatchOS 6 & Earlier on Apple Watch 5/4/3/2/1, Apple TV. You can also mention iOS/iPadOS/MacOS. To be Continued...
To manage this, Open "Watch App" on iPhone > "My Watch" > "Notifications" > "Scroll down and See Apps" > Tap on name and See "Notification Grouping" > "By App/ automatic/ Off".
here are the troubleshooting tips on Group notification not working and Won't merge or showing all notification in the group on iPhone, iPad.