Last Updated on Aug 17, 2023
The Apple Notes app lets you doodle valuable thoughts and to-dos. At the same point, it offers the ability to secure your planning using a password or biometrics. But what happens when you forget the password? Obviously, it's inaccessible. Nor will you be able to take help from Apple; it's a stressful situation "how do you unlock a note if you forgot the password".
In this troubleshooting guide, we cover how to reset forgotten password Notes on iPhone, iPad, and Mac computers.
If you have forgotten the password of the Notes you have created. Worry not; this guide will let you know how to retrieve it.
how to unlock old notes on iPhone forgot password iOS 17
No, We can't reset old Notes password, I recommend trying your password with maximum attempt. After three failed attempts you will see a hint that is useful to unlock the old notes. we can reset the Notes password for use on the new Notes only. we can not unlock Old forgotten notes with a reset password option.
Pre-Requisition for Reset Old Note Password & Reset Notes Password
Old Notes We can not Reset without the Original old password. We must require an old password for unlocking old password Protected notes.
We can Reset Old Passwords and Use It for New Notes only.
Important! we strongly recommended that you add a hint when you create your password. Notes show the hint after three failed attempts.
We can do unlimited attempt to unlock the old not that is forgotten on any device. locked not will not disabled anytime.
Free Trick on How to Reset old Notes Password on iPhone, iPad: That's Forgotten
Once you set a password for any note, you can't reset or remove it from Apple's help. This password is only Save on your device for security reasons. That's we can't recover using forgot option. So let's follow the step by step way to reset your locked note password if you can't remember the password for locked Notes.
1: Go to the Settings app on Your iPhone/ iPad home screen.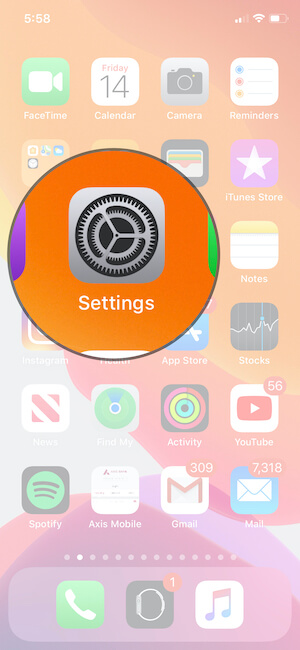 2: Scroll Down screen, Tap Notes.
3: Next, Tap on Password.
→ there are two options: iCloud and On My iPhone – if you forgot iCloud Notes password then go with iCloud, otherwise tap On my iPhone.
→Here, For reset Tap on "Reset Password".
→ Your phone asks Enter iPhone passcode for "Settings" [Hit: this password is your Phone unlocked screen passcode]
Are you sure you want to reset your password? This will change the password you use for Notes in your "On My iPhone" account from now on.
Tap Reset Password.
→Enter the Apple ID password for making changes. Follow the on-screen instruction,
→Enter New password, Verify password and Import the Hint field. Or Enable Touch ID if you agree
Update or Change Password in Notes App on the iOS Device
Change Password on notes app option under setting helpful to update the old password. A new password is only applicable to new notes. That will not reflect on existing notes saved with old Password. But you can apply a new password after the open the first time, Popup will ask for an apply new password on the note. luckily this way is same answer of How do I remove the password from iPhone notes?
Now, Enable password on note, Open note in notes app > Tap on the Share icon at top right > Lock Note from Sharing popup
Have you any questions on how do I recover notes that have a Password? Comment me on the comment section.
Apple iPhone Notes Password Reset Not Working
Note: If you use multiple accounts on Notes App, click the account that has the password you want to change before you change the password.
in case your iPhone notes password won't reset, then try on Apple Mac. With the Macbook Pro, MacBook Air, iMac, and Mac Mini you can also reset Notes Password.
How to Reset Forgotten Notes Password on Mac
macOS Ventura And Later
1: Go Notes App. Choose Notes from the menu bar. From the drop-down, click on Settings…
2: In the next window, select Reset Password…
3: From the pop-up, choose OK.
4: In the next pop-up, enter the password of the iCloud ID.
5: Now you will receive a pop saying Are You Sure You Want To Reset Password, for confirmation, click on Reset Password.
In the next screen, you receive two options; Use Touch ID and Not Now. Clicking on the Not Now Button will create a Password For All Your Locked Notes Screen.
Enter the new password and then click on Set Password Button. That's It!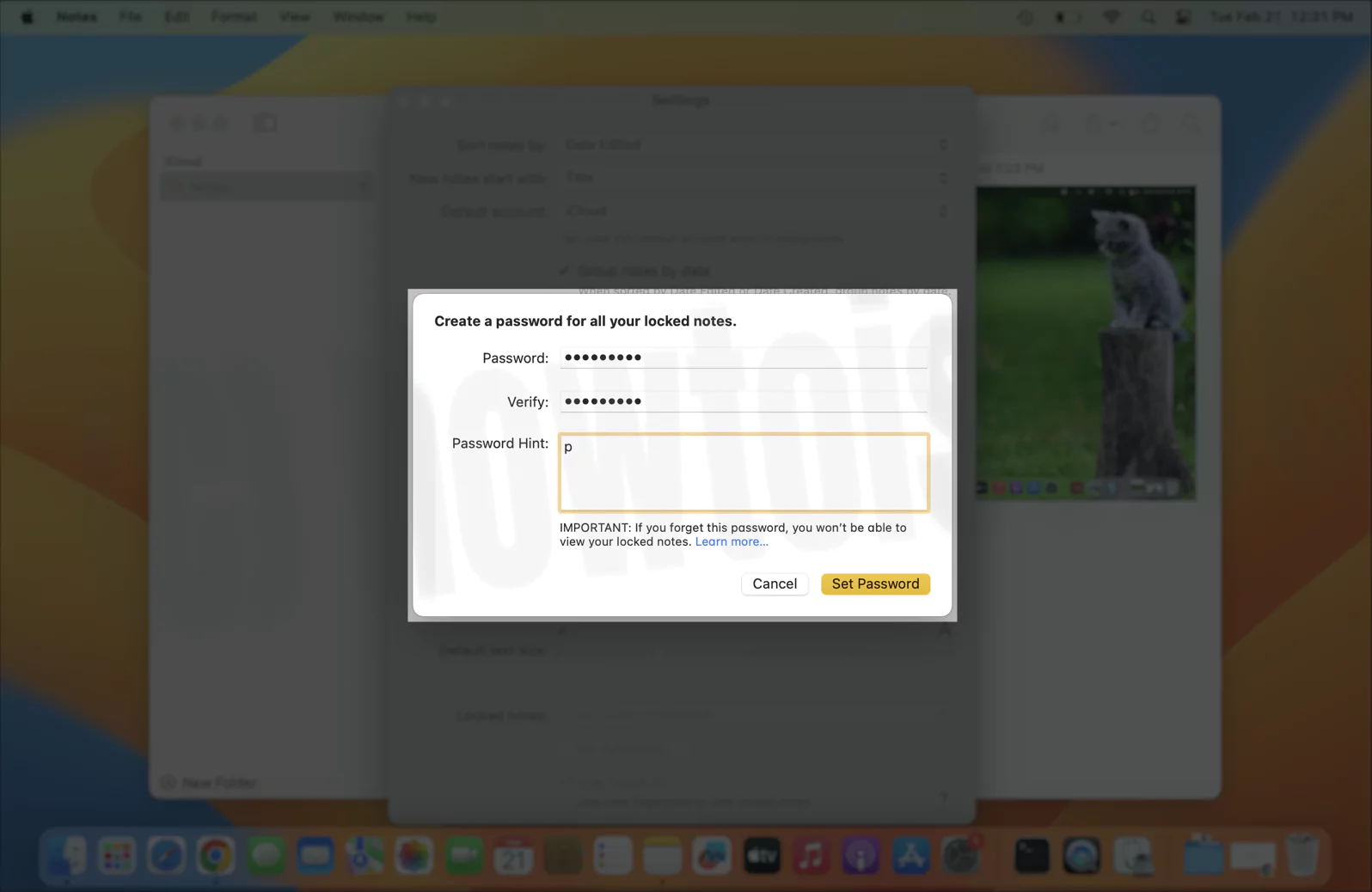 That's it
On MacOS Monterey & Earlier
We can reset Old Password for use lock on new Notes only. We can't use password after reset on old notes. that means we need old passwords for unlocking old notes. Follow the below steps for Change Password for lock note in the Notes app on MacBook Mac. and Use New password on new notes.
Launch Notes App on your Mac.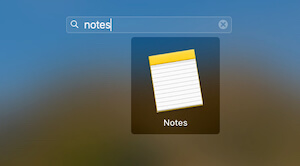 Once, Notes app is open on your Mac, Follow the below steps,
Now In the menu bar, click Notes > Preferences.
Under the Preferences video, Click on the Reset Password button.
Click on OK.
Click Reset Password.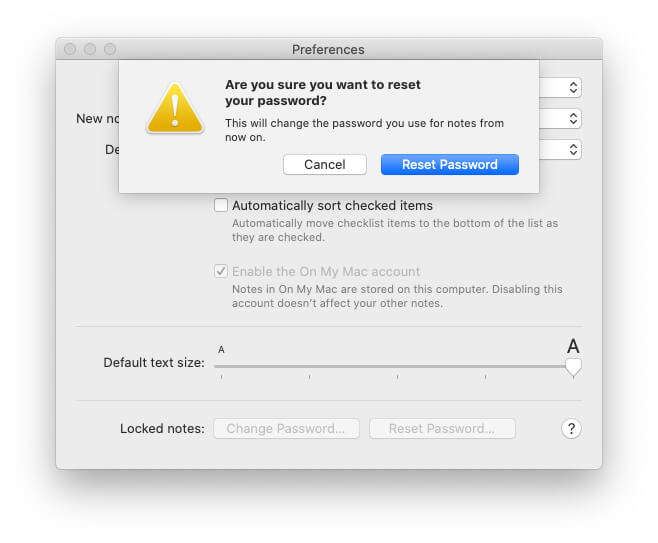 Now Enter your new password and follow the password hint. (Password Hint will not show easily After Three failed attempt Password hint will show), I Strongly Recommend entering a password hint incorrect way.
That's it.
How to Unlock Old Notes on iPhone If Forgot Password
Unfortunately, if you don't remember the password for locked Notes, there's nothing that can be done, neither you nor Apple can help you regain access to the same. And if you're finding a way to reset the password to unlock old notes on your iPhone, I'm afraid that is not possible. The new password will be applicable to the Notes that you will create after resetting the password.
Ultimately, if you forgot the old Notes Password on your iPhone and want to unlock it, it's not possible.
How to Reset Forgotten Apple Notes Password on iPhone
Resetting Apple Notes Password on iPhone merely takes a minute, however, there are few points that need to be kept in mind before resetting the Notes Password. First and foremost, when you reset or change the password in the Notes app, the older notes and locked notes won't be changed, you still have to use the old password to unlock old notes. Nevertheless, if you remember the old password, then update the Notes with the New Password. The New Password will be applicable to the new Notes that you will create after changing the password.
Open the Settings App.
Tap Notes App.
Select Password.
Tap Reset Notes Password.
If asked, enter the Apple account password.
Confirm Reset Notes Password.
Enter the New Password.
How to Remove the Lock on Notes Forgot Password
If you don't remember the Notes Password, then removing the lock from it is not possible. Still, you can try the below mentioned steps to remove the lock on Notes App on iPhone.
Open the Notes App on your iPhone.
Tap on the Note for which you want to remove the lock.
Select View Note.
Enter the password or use Touch ID or Face ID.
Select the three dots menu button.
And tap Remove.
How to Unlock a Note on iPhone
Unlocking a Note on iPhone is only possible if you remember the password, otherwise, there is no way to regain access to the note without a password. Refer to the above-mentioned steps to unlock the Notes if you know the password.
My Notes Password Won't Reset
That sounds weird, if you're following the correct way to reset Notes Password on iPhone, it should be done by now. Try troubleshooting the iPhone following the potential tips,
Restart the iPhone
For iPhone 8 or later,
Press and quickly release the Volume Up button.
Press and quickly release the Volume Down button.
Press and hold the Side button until the Apple logo displays.
For iPhone 7, 7Plus,
Press and hold the Volume Down and Power button until the Apple logo appears.
For iPhone 6S, 6S Plus, or earlier,
Press and hold the Home button and Sleep/Wake button until the Apple logo displays.
Update iPhone
Connect iPhone to the Wi-Fi and open the Settings app > General > Software Update.
How to Remove Lock from Notes without Password
When the Notes is locked, without the correct password there is no way to get access to it. This might be the first case, where even Apple couldn't help us reset the Notes Password to access it. So, if you're locking the Notes with a password, make sure to write somewhere else, just for backup, otherwise, you won't be able to access it.
That's it.
Bottom Line
In the busy schedule, it is fair to say that we can forget the password of notes. But when you know the right way, as mentioned above in the guide, it's pretty easy to reset the forgotten notes password on iPhone, Mac, and iPad.