Last Updated on Jan 11, 2022
Your Screen Recording Can't be Saved, or Screen Recording is not saving in your drive after stop screen recording and Won't Play in Preview. There are too many reasons and helpful troubleshooting tips to fix it yourself. MacOS Monterey, Big Sur, Mojave, and Earlier OS X running Mac we can use a Free screen recorder by apple. But Apple makes massive changes in Functionality and Features that make screen recording more user-friendly and comfortable.
Shift + Command + 5 doesn't work for taking a screenshot or Record Video, Record screen on Mac (We have another free screen recording, Restart your Mac and Check, also try QuickTime Player, Follow my guide to use QuickTime for record video).
Screen Recording stuck and crashing, Stop automatically after some time or interval. Remove recording timer 5 seconds, 10 seconds to None.
Troubleshooting guide: Screen Recording not Working, Can't be Saved on Mac
Fix 1: Recorded Screen video won't play
The last time when I try to record my Mac running MacOS Mojave, Video Doesn't play and save on Mac. An error message is saying – Your Screen Recording Can't be Saved.
I am using Full-screen recording with a microphone (record screen with audio). At that time microphone not working due to hardware issues. After I disabled the microphone, That's work fine for me.
Use Keyboard Shortcut keys: "Shift + Command + 5".
also, we can change Default Keyboard Shortcut on Mac from Keyboard Preferences, Click on Apple Logo from Top Mac menu > System Preferences > Keyboard > Shortcuts Tab > Screenshots > Select all Checkbox and Verify your Mac Keyboard Shortcuts for Screen Recording or Screenshot.
Select Record screen, Click on "Options" > Set the Microphone to "None."
Or Fix your Microphone problems on Mac, That help to fix the issues for Screen Recording audio not working on Mac
Big Sur/ Monterey Screen Recording Permission Not Working
Some Mac users reported the issue with the App and the Browser won't allow a recording screen or "screen recording not showing up in system preferences". For Example, Screen Recording Video making software, Record screen during Zoom meeting in-app or Browser. So, You have to Enable the screen recording permission from mac privacy settings.
Go to the Apple Logo from the top mac menu > System Preferences.
Click on Security & Privacy > Click on lock [Enter Administrator Name and Password] the make changes > Select "Screen Recording" from the left side of the window.
Also Select the App, or Browser to allow Screen recording while open on the screen.
That's it.
Mac Privacy Screen Recording Missing
Due to other internal System Errors or App bugs, your app is not showing under the Screen Recording Privacy option on Mac System Preferences. Follow the below steps to add and allow for Screen recording.
If your app is not in the list then, add Manually from [+] Option,
Select Applications Folder and > App that you want to add.
Browser app from Mac, and Enable Checkbox to allow screen recording for mac.
That's it.
---
Fix 2: Check for Software Update On Mac
Go to the Apple Logo on your Mac.
Next, Tap on System Preference.
Now, Find and Tap on Software Update.
Wait for few seconds to check and get the Software update. Update if available.
---
Fix 3: Restart your Mac
Internal software glitches and hardware issues we can re-fix with a simple restart. My Mac mini was affected by the problems of Keyboard Shortcut (Shift + Command + 5) for taking Screenshot or Start Video Recording not working or not start.
Go to the Apple menu > Apple logo > Restart.
Or, Use the Power button for force restart or turn off your Mac, iMac, MacBook Pro, MacBook Air.
Delete Screen Recorder Plist file from Library on Mac
Open Finder on Mac and Go to the Top menu, Go > Go to Folder….
Enter the below command line: ~/Library/Preferences/
Tap on the Go button.
Search the "Screen" [com.apple.screen capture.plist] file using the Search box, Select Folder Directory, and Quickly find your find.
Copy this File for Backup and Save it to another folder or place.
Delete this File under the Library folder. Check now screen recording works or not.
Otherwise, restart your Mac and Check it to get effect 100%.
Thanks.
---
Screen Recording Permission Mac Chromecast
That means you need to cast your Chrome to another compatible device from Mac. Here I assume that you want to mirror your Mac to Chromecast from Google Chrome Browser. So here need to give Screen Recording Permission to Google Chrome Browser under the Privacy settings.
Go to the Apple Logo from the top mac menu > System Preferences.
Next, Click on Security & Privacy > Unlock the Window by click on the Lock icon [Enter your Mac name and Password] to Verify > Select Screen Recording from Sidebar > and Select Google Chrome Browser.
Quit and Reopen your Browser and Start cast to Chromecast. if Google Chrome not showing in the list then manually add the Google Chrome app to the List and allow it. As explained earlier in this article.
Cast mac screen to Chromecast: Open Tab in Google Chrome Mac Browser on your Mac, Click on More button from the top right corner of the screen > Cast > Select Sources and Device that's in your Network. Also, Record your Mac screen,
---
Fix 4: Screen Recording stop automatically
Maybe you applied the time limit to capture or record video. See the option for record screen for a specific time: 5 Seconds or 10 Seconds to None.
Shift + Command + 5 Not working on Mac to Capture Video or Screenshot. – (Recommend:- restart your Mac or Use Quick Time Player)
---
Can I Record the Mac screen With Internal audio?
Officially this option is disabled for the Mac users, But we can do it using the Extension on Supported MacOS Big Sur & Earlier. macOS Monterey doesn't support this extension.
Download and Install Loopback Extension on Mac.
Enable Loopback as an internal audio reference from Microphone Preferences, Go to the Apple Logo from top Mac menu > System Preferences > Sound > Under the Output tab, select Loopback.
Now, Start Built-in Screen Recording On Mac screen "Command + Opton + 5", Select Options menu > Select Built-In Microphone. and Start recording.
Now, Your Mac is able to Record internal mac system sound.
That's it.
Screen Record Mac with internal audio QuickTime not recording
Can I Record Mac Screen Using Quick Time? No. Apple doesn't allow to record audio with Quick Time Screen recording because of apple's terms and conditions. But Third-Party Screen Recording software will help you to record Mac screen with Audio [System Sound, Click, Video with Sound]. Here's Example,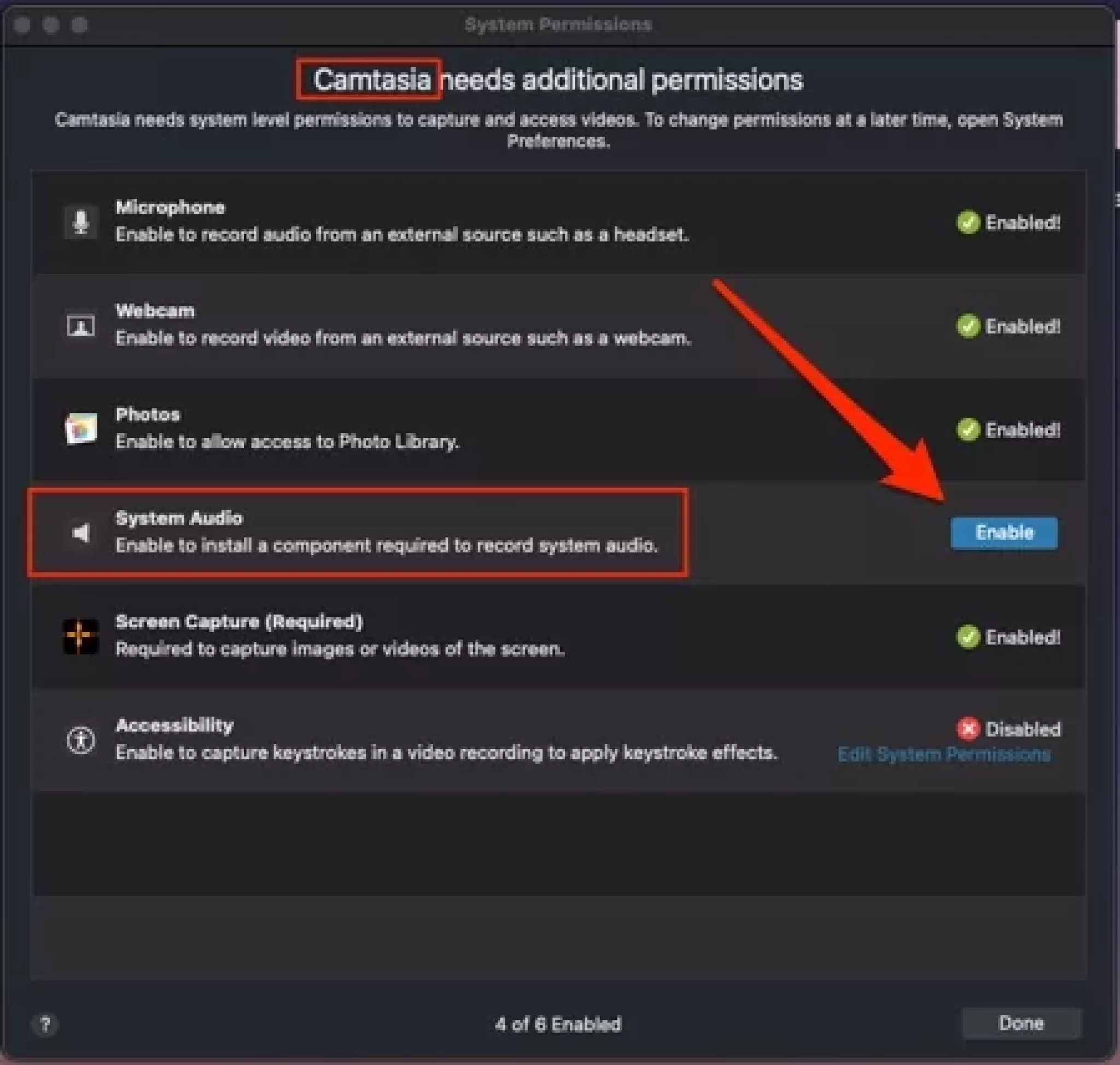 Fix 6: Quick Time Player Has still in use
Open Quick Time Player on Mac using Spotlight Search (Command + Space).
Do Right Click on the Quick Time Play icon showing on the dock, select "New Screen Recording."
Start to record screen by click on Button on Quick Time player.
Now, Click to record full screen or Drag to the selected part to be recorded.
Don't miss to save your task before closing it.
---
> Your Mac has no enough space to spare – Free Up space on mac.
Share this guide with your friends or anyone who's looking to Screen Recording Can't be Saved & Record Screen Not Working.