In this article, I'll give you fixes on the MacBook microphone stopped working. Apple Mac computer internal Microphone does much useful than External Microphones. We daily use Applications like discord for the gaming community, Skype for video call, Fortnite game, and much more App need Mic. Also, if it doesn't work in some case, then user feel frustrate. Are you looking to troubleshoot my mic is not working on MacBook pro? Don't worry we have made this post which includes potential solutions to fix the microphone not working on Mac. If the Mic does not stop, responding then you can't FaceTime your friend, you can't even use Siri on Mac, and many more features will not function correctly.
Recently COVID-19 pandemic is spreading worldwide. In this critical situation, Work from Home is an ideal option, for example, computer programmers, business users' conference meetings and many more. I hope, you are working at home, as I'm doing. But for that, the user takes help with various professional help such as Skype, Zoom, GoToMeeting, etc. it does a better role in our industry's work. And as you know that, these all kinds of platforms needed our Apple Mac or Windows laptop microphone and camera in workable mode. in case your laptop mic or camera doesn't work at this moment my this post will help you to fix your issues free and DIY. So let's see!!
we are happy to help you, submit this Form, if your solution is not covered in this article.
This guide How do I get my microphone to work on my Mac? right away so that you can begin communications with your friends and colleagues.
Don't Miss: How to Setup and Use Zoom App on Mac, MacBook: Start Video and Audio Conference Calls from Home 
How do I Fix My Microphone on My MacBook? Get Solved
Turn on Dictation ->
"Justin," said that in the comment, he serves the tips to enable Dictation on Mac,
What you need to do it go to System Preferences > Accessibility and then switch dictation to 'on' [Enable Voice Control]. My iMac downloaded something that took 4 minutes and hey presto it now registers my voice.
Try Now.
Allow to Use Microphone For Installed Apps on Macbook, Mac
In general, if you want to verify the microphone access to the applications on Mac, you can do so by following a few instructions. You can find Such apps like Zoom, Skype, Recording software and Other All Video conference or Group Chat software.
Click on the Apple Logo () From Top Mac Menu > System Preferences.
Go to Security & Privacy.
Select Privacy Tab [In Last] and find Microphone from Side panel.
On the other side, you can see the list of apps that are allowed Apps to access the microphone of the Mac. Keep the Selected app with a Checked box.
That's it. Next Sollution is Set Built-In Microphone in use from Sound Settings.
Fix 1: Configure the Microphone Settings
Step #1: Click on Apple Logo () From Top Mac Menu.
Step #2: Select "System Preferences."
Step #3: Locate "Sound" and open it.
Step #4: Click on the "Input" tab.
Step #5: Choose the "Internal Microphone" if not. Try to speak in the microphone and observe the blue lines of the Input level. or Select Third-Party Headphone if you are using on your MacBook Mac with a

gaming headset mic,

afterglow headset mic, hyperx headset mic as Eaxtnerla mic.
Step #6: If blue bars are rising while you speak then the microphone is working correctly otherwise there is a problem with the Microphone.
Step #7: If the blue lines are not rising then drag the slider of "Input volume" to the maximum. [

Shoud be loud enough if your microphone delivering low sound through Built-in Microphone

.]
Step #8: Again check the blue bars by speaking into a microphone.
Update Your Mac System: Click on Apple Logo () From Top Mac Menu > System Preferences > Software Update > Download and install the latest macOS version.
Tricks: Use Bluetooth Earbuds or Wired Headphone: Have a Mic
Bluetooth Earbuds perfectly work with your macOS Version for the Conferencing on Skype, Zoom Using Apple AirPods and Other Headphone use for Microphone amazing solution that really appreciated by mac users. here's the guide on Setup your Airpods with your Mac,
Open Bluetooth Preferences on your Mac.
Reset your Bluetooth Earbuds [Press and Hold on the Reset button for AirPods/Pro], and Connect.
Your AirPods will appear in the Input/Output Device. Select the new Bluetooth Headphone.

Move back to System Preferences on Mac > Sound > Set Headphone for input and Output device.

That's it.
Note: If you wish to use 3.5mm Headphone to your Mac from USB port then you must have this Audio Adapter that has built-in Sound card: USB C, | USB Adapter.
Fix 2: Zoom Microphone Not Working Mac, MacBook
As we know Zoom Doesn't support Safari Web Browser on your MacBook, Mac. So We can download and install the Zoom mac app as an Identified Developer [Third-Party], App is not available on the app store. Follow this guide, Install Zoom on Mac. As of discussed earlier we can customize an Audio interface like External Microphone [Bluetooth Earbuds, Wired Headphone]. Same settings we can also manage from Zoom Preferences settings. Follow the below steps to Make Loud and Zoom Failed to Detect microphone [Set Built-in or External]. and the Same we can setup Speaker [That helps in fix Zoom can't Detect your speaker on MacBook Mac].
Open Zoom on MacBook Mac.
Now, Select Audio option from the Side Panel, Under the Audio settings first Uncheck the Automatically check the microphone volume.

Audio Settings on MacBook mac Zoom us the app

Also, select the Device if you are using external Headphones with your Mac. Or select Buit-in microphone from the dropdown devices list.
Speak something to test the microphone level. if your microphone is unable to deliver sound then replace the mic or Select alternate built-in microphone.

 In the Same way, Check the Speaker section.

Select the Output Speaker device from dropdown.
Set the Speaker volume level to the max.

That's it.
zoom no audio mac: Force Quite Zoom app from MacBook Mac System Use Command + Q Key from keyboard to Force close. Re-launch the Zoom app and test again.
Fix 2: Restart the Mac
Still, the microphone is not responding on macOS Mojave then reboot the Mac. Give a fresh start to your Mac and check the Microphone of it.
Step #1: Click on the "Apple" menu and then click on "Restart."
Fix 3: Reset PRAM on Mac
As it is a hardware issue so you must reset the PRAM, Here's how to reset the PRAM in macOS Mojave.
Step #1: Shut down the Mac.
Step #2: Now, turn on the Mac and press and hold the Command+Option+P+R keys together and release when you hear the startup chime.
Step #3: After the PRAM is reset you will have to reconfigure the microphone settings by following the fix 1 and test the Mic.
You can get here more to Reset NVRAM and Reset SMC on Apple documents and get your mic workable again on your mac without going anywhere at the repair shop.
Fix 4: Create New Account
By changing the account if your microphone not working on Mac is fixed then the issue is with your user account. Still, if the microphone is not responding on macOS Mojave, then the problem is with hardware, so you need to contact for Apple Support.
Step #1: Click on Apple Logo () From Top Mac Menu and then open "System Preferences."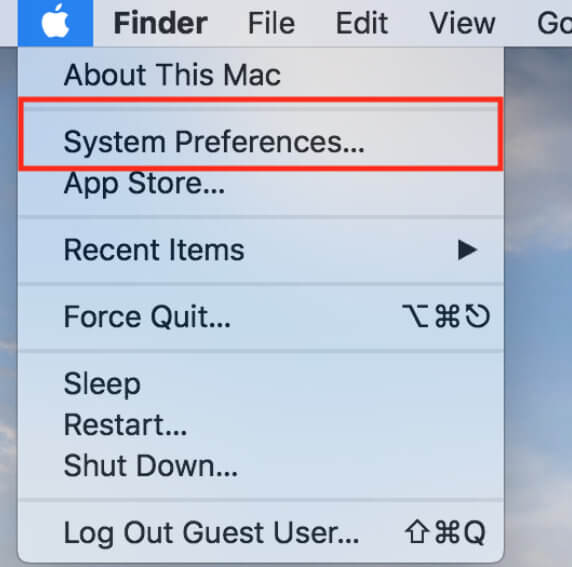 Step #2: Now, select "Users & Groups." Unlock the Window and enter Mac System Password.
Step #3: Click on the "+" button to add a new user account. Enter Account type, and Enter Your details.
Step #4: Logout from the current account and then switch into the newly created account and login with it.
Note: Make sure you must log out from the current account and then login with a new story. Do not switch accounts.
Fix #5. MacBook Microphone Not Working on Skype
It's an unfortunate condition when we were talking business on Skype and the microphone stopped working on MacBook Skype. However, our MacBook Pro and MacBook Air have an inbuilt microphone to facilitate several services like FaceTime, Skype, Video Calls and more. But if Skype for business web app microphone not working mac, at that time you need to check out a few workarounds and fix the issue.
Solution 1: Give Skype Microphone Access on Mac
Firstly, make sure your MacBook Pro/Air has given access to the Skype app to use the microphone. Sometimes due to bug, these permissions turned off automatically.
Click on the Apple menu > System Preferences.
Open the Security & Privacy and click on Privacy
Find the Skype app listed on the Microphone.
Check the box of Skype app and if it is already checked, then uncheck and recheck the option.
Solution 2: Fix Microphone on Skype Not Working using Terminal
One of the users had tried this command on the terminal app and fixed microphone on Skype not working on MacBook Air/Pro. Doing this will kick start the audio system of MacBook without any loss of data or settings.
Launch the Terminal and type the following code,
sudo killall coreaudiod
You will be asked to enter the Administrator password to confirm the action.
Solution 3: Uninstall and Reinstall Skype
If nothing resolves the Skype microphone not working on MacBook Pro/Air then, simply uninstall the app and restart the MacBook and then reinstall it.
Quit the Skype app on Mac.
Go to the Applications folder and drag the Skype application to the trash
Later, empty the Trash folder too and if possible restart the Mac.
Fix #6. Mac Internal Microphone Not Listed
By default your Mac's internal microphone should be active; however, to confirm the settings, you can proceed with the below stepwise guide and fix the internal microphone not working on Mac.
Open the System Preferences from the Apple
Click on Sound.
Select Input
Your Mac will show the list of Microphones, and we are searching for the internal microphone, so click on Internal Microphone.
After that, adjust the Input volume and Input volume of the microphone.
What if you could see the blue bars are raising, but still it is not working on some programs?
The blue bars are rising perfectly when you are speaking in the microphone, but still, it is not working for some programs then you must contact for their developer support and tell them about Microphone not working on Mac issue. Don't do more experiments if the problem is related to hardware. Book Appointment at apple Genius bar, Get Free repair service if your mac system is under warranty.
Premium Support is Free Now
We are happy to help you! Follow the next Step if Your Solution is not in this article, Submit this form without Sign Up, We will revert back to you via Personal Mail. In Form, Please Use the Description field to Mention our reference Webpage URL which you visited and Describe your problem in detail if possible. We covered your iPhone 11 Pro, iPhone 11 Pro Max, iPhone 11, iPhone 8(Plus), iPhone 7(Plus), iPhone 6S(Plus), iPhone 6(Plus), iPhone SE, iPhone 5S, iPhone 5, iPad All Generation, iPad Pro All Models, MacOS Catalina or Earlier MacOS for iMac, Mac Mini, MacBook Pro, WatchOS 6 & Earlier on Apple Watch 5/4/3/2/1, Apple TV. You can also mention iOS/iPadOS/MacOS. To be Continued...
In case your iOS mic not work correctly then get Fix Microphone not working in iOS. For India Guys: Pick Best Cheap Microphone.
Jaysukh Patel is the founder of howtoisolve. Also self Professional Developer, Techno lover mainly for iPhone, iPad, iPod Touch and iOS, Jaysukh is one of responsible person in his family.
Contact On: [email protected] [OR] [email protected]