Last Updated on Sep 14, 2023
Get here the best stainless steel watch bands for Apple Watch. Third-party Apple Watch metal band you can replace daily for wear in party, Function, and Suitable for your clothing. Best stylish, Lightweight steel metal more durable for rough and tough use, compared to Apple watch Leather band and Watch rubber band. 
High-quality metal strap and Band improve your personality compare to the Sports band. Apple is giving the option for replacing band in just a secure press lock backside of the apple watch face, So why we left the chance of succeeding with the other third-party band for Men/Women.
Best Apple Watch Metal Bands
#1. Fullmosa Stainless Steel Black Metal Band
I can't miss suggesting Fullmosa Stainless Steel Metal Band for Apple Watch, look at its black bold designed, its not only elegant, as it looks but also much more comfortable after wearing on the wrist. The pack comes with the metal band and all the tools that needed to resize the band to make it fit on your wrist.
Besides, there's enough space for air to pass between the band and wrist, bigger clasp to remove and lock the watch easily, durable, corrosion-resistant, etc. If you really are a fan of Black, don't miss the deal.
Check Fullmosa Stainless Steel Black Metal Band Price on Amazon
#2. iiteeology Jet Black Apple Watch Band
Not really a fan of Bold Black? You might want to check out this Jet Black color. Its remarkably designed lightweight band for your Apple Watch, that can bring wicked change on your Apple Watch, on spending around $30. Upgrading the Apple Watch band is quite difficult, as sometimes the band doesn't fit in our budget and other time it won't fit in the wrist or it's an outdated fashion.
However, if you tend to spend less, but want more, go with this band. Various color options are available for both Apple Watch 42mm and 44mm all of them are collectively made to change the look of your Watch.
Check iiteeology iWatch Band Price on Amazon
#3. WAAILU Stainless Steel Mesh Sports Band
Till now you probably have checked the official website of Apple to buy a replacement of current Apple Watch am I right? If not then let me tell you, the sport band that Apple sells is quite similar to this band, and both of them costs approx $99 and $11 respectively, see the price difference?
When I realized the price difference I was amazed, its almost the same stainless steel mesh look Apple Watch band, like Apple; but since Apple is Apple, we can't argue when it comes to quality.
If you'd ask me, I would definitely suggest you go with this sport band, rather than spending $99 on Apple's band. No doubt, WAAILU is convenient to wear, lightweight quickly fits on wrist, and secure enough to hold the premium Apple Watch safely into the hand. The choice is yours.
Check WAAILU Mesh Sports Band Price on Amazon
#4. Natural Wooden Sandalwood Bracelet Strap

Well, its not a professional Apple Watch Band, iiteeology's this collection is more of funky and stylish polished with natural wooden sandalwood in the middle sections while remaining portion stays black. Do not worry about the color being faded or peeled off after long usage, they haven't used the chemical or paint to give this beautiful touch.
Unlike the stainless steel bands, it doesn't contain pure steel, this band is a well-combined mixture of raw wood and stainless steel to reduce weight from the wrist. It can fit the wrist size between 5.8" to 8.6", you can resize between the given size using the professional removal tool.
Check Natural Wooden Sandalwood Band Price on Amazon
#5. Apple Watch Bangle Bracelet for Women
I've especially reviewed this exclusive bangle bracelet for the Women who used to wear Apple Watch and looking for a better replacement, that feels like Silver jewelry after wearing on the wrist. It's a premium 304 Stainless Steel that fights against rusts and scratches to keep the original finish of the band.
The wrist size of the band can be adjusted between 5.5" to 8.1" for smooth and comfortable fitting with no more tighten or loose ends. It requires only one push to adjust into your hand, no typical clasp or buckle is there to irritate you.
Check Apple Watch Silver Band for Women Price on Amazon
#6. EPULY Black Finish Watch Band

If you're looking for Apple's stainless steel bands but an affordable one, Posh Tech's this band is a grand mixture of high-quality material, for a comfortable and secure fit. As you can see, the band is designed according to the Watch standards to get precisely linked with Apple Watch.
It's your chance to stay with the current trend, and refresh your Apple watch. It costs $12 for all the watch models.
Check EPULY Apple Watch Band Price on Amazon
#7. GBPOOT's Apple Watch Loop Stainless Steel Band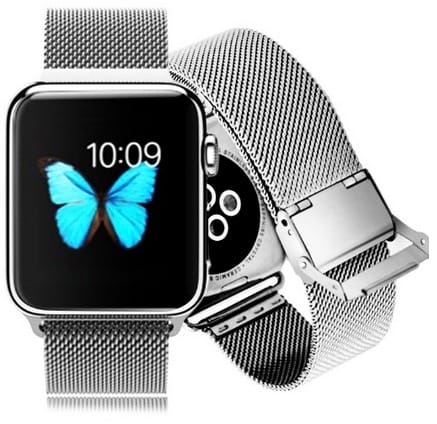 In the category of the loop type best apple watch band, here is the third party with the band for you, So now you can replace it with it and make your watch always look new.
Comfortable to wear, Good looking and best lock security system make you free when you wear on the wrist. With a lifetime metal warranty, the Adjustable strap will be perfect for your wrist size.
#8. Steel Apple Watch Band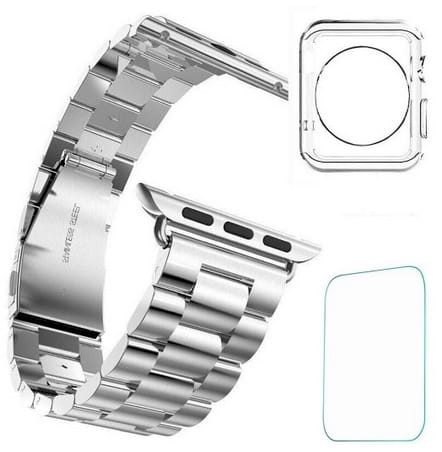 High quality, Best designed and classic buckle Apple watch band strap fill good when you replace the band with this. Stainless Steel metal, the Complete solution with the Screen protector and Watchcase give more protection against dust and water. Self-adjusts belt length with band pin remover tools with this kit is free of cost.
#9. jwacct Adjustable Stainless Steel Mesh Wristband Sport Loop for Apple Watch
Best stylish watchband build your personality by Experienced this band. Fully compatible with Watch, Sports, and Edition category. Made from the high-quality metal material.
#10. Golden polished Apple watch Band: Stainless steel
Make your watch look like an edition (Gold 18 karat). Gold polished over steel band available for 38mm and 42mm. Premium material never frustrates you in the future when you will use it for daily use. Totally unique design and look computer to other third-party apple watch metal bands in this list.
Top best in Their party Apple watch Metal Band made from Stainless steel, high-quality Metal, Gold layered band and strap for your Apple Watch, Sports and Edition.