Last Updated on Jul 25, 2023
Would you like to send an imessage instead of a text from your iPhone to another Apple device? You must set up and activate iMessage on your iPhone or iPad. This article teaches you how to successfully set up and use iMessage to send GIFs, Audio Messages, Recording, Videos, Stickers, and Effects (Love, Bubble & more), and Play Games in iMessage with your Friends and family.
Before starting, I briefly tell you that Apple's Imessage service is more popular and gives fun to chat with iMessage users' friends. Furthermore, Microsoft and Android users are eager to use blue color text messages, but, unfortunately, Apple's own developed imessage is limited for its users (iMessage is an exclusive official chat app of Apple. iMessage is compatible with every iPhone, iPad, and iPod Touch or on Mac.).
For Android phone users, see here how to send iMessage from Android.
Now, Let's See
SHORT HIGHLIGHTS ON IMESSAGE

I think you know well-using iMessage you can send or exchange words, videos, photos, contacts, and location too. As well over the Wi-Fi, you can send a message to one person or many friends at once.
Remember iMessage text bubble is blue instead of green, it's for you'll know you're using iMessage instead of SMS. So, let's check out how to set up iMessage on iPhone.
How to Set up and Activate iMessage on iPhone, or iPad
1→ To set up imessage, first, Go to the Settings app from your device's home screen. You can also find it using spotlight search.
2→ After launching the Settings app, scroll the screen and tap Messages app settings that look green color with a bubble chat App icon. Now, on the Messages setting screen, you can see the first option, iMessage, with a white toggle. It indicates Your device iMessage does not activate, so do it first.
3→ Turn the iMessage toggle ON/Green.
So what will happen? Waiting for Activation label appears at the bottom of the iMessage setting tab.
This process will take some time; there is a limited duration of time to get approval for Imessage activation from the cellular service.
Suppose, unluckily, your device is stuck on imessage waiting for activation means you cannot use imessage on your device until you fix the problem.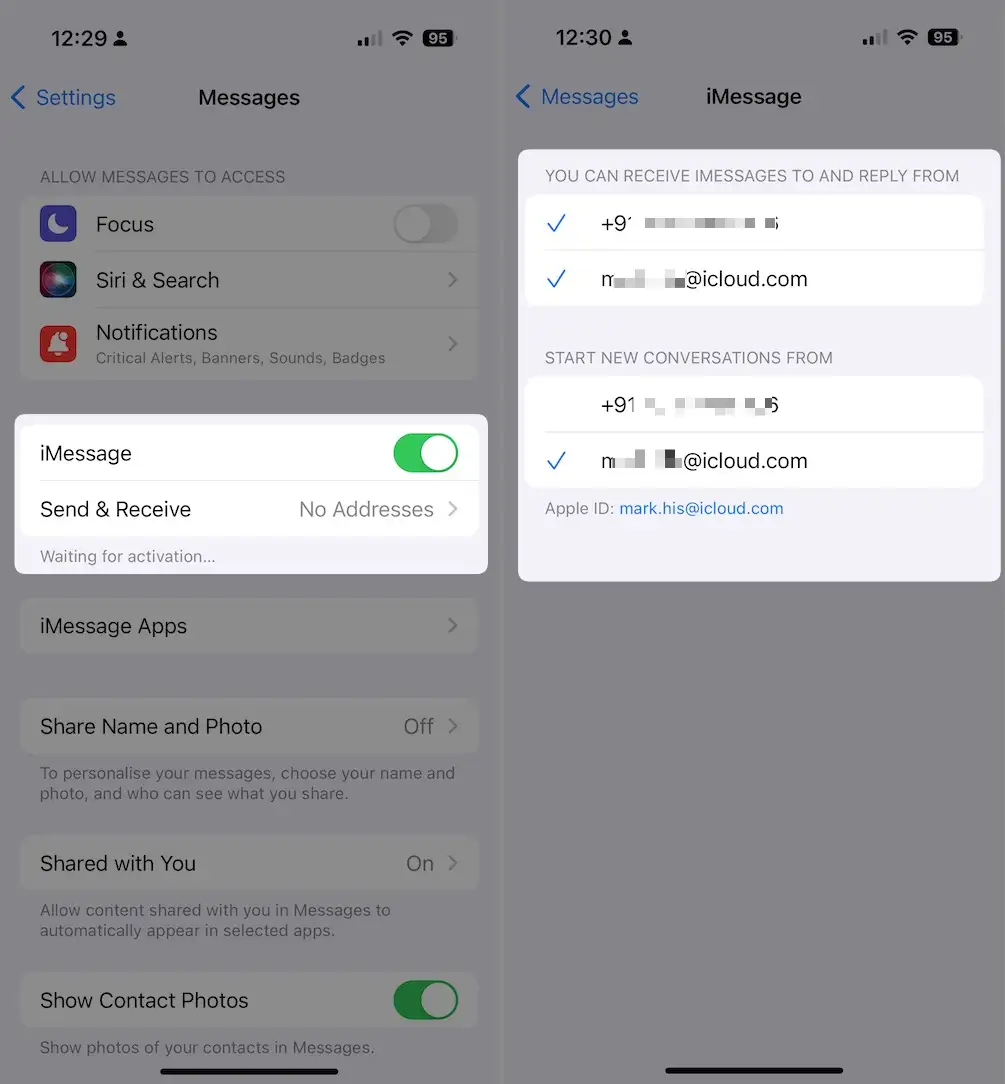 For that, Follow our guide that will help you to fix iMessage waiting for activation error on iPhone, iPad, iPod touch, or Mac.
How to Activate iMessage with phone number
Step #1. Launch the Settings app on your iPhone.
Step #2. Scroll down the screen to Find & Tap Messages
Step #3. Now, turn the toggle on iMessage; under the Send & Receive > Select Phone Number for START NEW CONVERSATIONS FROM & YOU CAN RECEIVE iMESSAGES TO AND REPLY FROM.
Under the ''Start new conversions form''- select the phone number and email address you would like to use to send outgoing Messages.
If you've already set up other devices for Messages, they will alert you that a new device has been created for messages.
A caveat: when iMessage is unavailable, the message may be sent as SMS. Therefore carrier messaging fees apply.
Even you might see an iMessage Activation error during the setup of iMessage on iPhone running on the latest iOS devices.
Get More Tricks for Apple iMessage