🗓️
January 21, 2023
By ✍️
Jaysukh patel
Do you want an app that can intelligently manage and sort your emails? There are plenty of Free Email Clients apps available in the app store with a lot of features. But somehow it is difficult to try each of these apps, so to make this easy here; we will suggest the most excellent among all of them.
Various factors are considered when you install an email client for your important emails. Like widget support, themes, security, calendar integration, smart notifications, and much more. Here I have listed a few best free email clients by recognizing the needs of professionals, and all the required essential features.
Free Email Clients Apps iPhone, iPad- Free Mail Apps Alternatives
#1: Spark
Spark is a brilliant app specially designed to sort multiple accounts with the most innovative techniques.
It has some advanced functions which make this client user-friendly. Likewise, it bifurcates incoming emails into three categories Newsletter, Personal, and Notifications across all your connected accounts.
With its smart features, you can schedule emails to send later, and also if you're waiting for an email reply which is very important then set remainder for it. Search and get emails quickly, even you can find emails by searching attachment names, and all these searches will be saved.
Even without launching the spark app, you can directly send emails from the lock screen for quick replies.
Spark allows you to customize your front page with a variety of themes with different like Black, Light Blue, Dark Sky, and Dark Blue.
Download from App Store – Free
#2: Edison Mail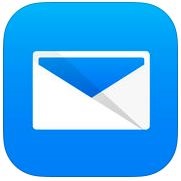 Edison reflects for its assistant features along with some standard features on Spark.
Assistant doesn't mean that it will write an email for your automatically, it has some features which can bring ease in the management of emails which is why it has been given the title of Assistant.
Like if you have subscribed newsletter or product or organization to receive an email from them, then Edison can unsubscribe with just a one-touch operation.
You can snooze essential emails so you will never forget to read them and sadly it doesn't allow you to make a VIP list and schedule emails like Spark.
The developers have designed the UI of the app in such a way that if you have iPhone X then it will cover the whole screen of it and you will love it.
View your emails directly from the widget of Edison, and as usual, you will get notifications too.
Download App – Free
#3: Outlook
It doesn't mean that Outlook is Microsoft's product, so it will not work with iOS. Instead, it works great with iPhone.
It intelligently manages and sorts all of your inboxes of different accounts, and you will get a special Focused inbox that is specially included for important emails. Be focused only on essential emails by enabling the snooze function.
Multiple gestures for quick results like swipe right will schedule mail; swipe left for archive and more. Smart tech of Outlook only shows important correspondence on the lock screen and avoids junk emails.
Maintain your privacy with Outlook, without your Touch ID no one can read your emails once you activate that lock.
The calendar is synced with this client to keep you updated about events.
Download Outlook – Free
#4: myMail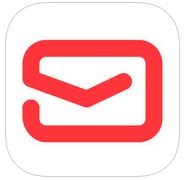 If you're looking for an email client that can intelligently manage all your accounts (Yahoo, Google Gmail, Microsoft Exchange, AOL, Hotmail), then my Mail is here.
You will not get some of the advanced features, but yes all the essential functions that a client should possess is in this client.
This app offers the highest five swipe gestures for quick use, and even it saves all your search history and search attachments.
The excellent customizable features take myMail to the next level. However, every app has its new features and which makes them best in their way.
It depends on you and your need which one to choose.
Download App – Free
Let's use a third-party Mail app on iPhone for use any mail server like your Apple Mail app. Extra Features and Security are always with you with these above best Mail apps for iPhone in 2022.