Keep an eye on the Best iPhone XS Max Waterproof Cases, The newest of Apple phones have inbuilt water resistance capabilities to keep any water damage at bay. But these smartphones are a bit exorbitant, and water damage if happens can cost you a repair summary of hundreds of dollars. Why settle for less when you can have dual appended protection?
Smartphone cases these days are available with the capability to sustain a considerable amount of water damage, and they can bear the rough and tough situations. Whether, it's an accidental fall in the toilet, a spilled drink or a puddle, you must always be assured that your iPhone is completely safe and you can do so using the right case.
We have narrowed some smart cases that are waterproof and will protect your phone in all scenarios, and you can choose the one which suits your taste:
Best iPhone XS Max Waterproof Cases to avoid your Phone against Water Damage
---
#1. Temdan Waterproof case iPhone XS Max:
You will be entertained with a peace of mind while using this military-grade case from Temdan. This case amplifies the grip while making your device ready to surpass any drop. The IP68 waterproof resistance assures you complete safety even if your device is plunged in water. Wireless charging and touch work seamlessly in this fortification suitcase, which specially designed for iPhone XS Max.
Order it from Amazon: Price $26.99
---
#2. Richu Rugged Waterproof Case iPhone XS Max:
This case has adequate room inside to cater your large device. Less of a case and more than a jacket, Richu is entirely waterproof and is crafted with shock absorbent TPU. Unlike other iPhone XS Max Waterproof hard cases, you don't have to hurt your fingers while pressing the button. Richu case has sensitive buttons and comes with a 1-year intact warranty. This list iPhone XS Max Waterproof Phone cases is not complete without this underwater XS Max Case.
Buy on Amazon Online store Price – $20.99
---
#3. GOCOOL Waterproof Case for iPhone XS Max:
There are Numerous iPhone XS Max waterproof cases which an excellent job protecting your phone, but at the same time, they often add more bulk to your device. Fortunately, that's not the case with GOCOOL waterproof case. Designed significantly for iPhone XS Max, this case provisions clear audio even after comprehensive water resistance.
With an easy job and installation time of 15 seconds, GOCOOL will snap your phone while revealing its beauty from the transparent back. Along with that you also get an in-inbuilt screen protector, so you don't have to run for tempered glasses.
Buy Case on Amazon Price- $22.99
---
#4. Vapesoon Waterproof Case iPhone XS Max:
You'll need to make some serious efforts to locate an iPhone XS Max Waterproof case that's more effective than the one made by Vapesoo. This waterproof case has an IP68 rating and can bear water splashes easily.
You can even take your phone for a short swim quickly within 15 feet of water depth. Manufactured with shock absorbent TPU, you get a reveling back and scratch resistance. That's a plus point!
Order it on Amazon Price- $22.88
---
#5. Spidercase's iPhone XS Max Waterproof Case
This case has a magnificent look that doesn't add any bulk to your Smartphone. Unlike other cases that get loose when you open them multiple times, this one is tested. Whether you are a snow snorkeling fan or enjoy a small swim, spidercase is a perfect assistant. There's a warranty period of 12 months, so feel free and go for this.
Order on Amazon Price- $22.99
---
#6. Clayco Waterproof Case iPhone XS Max:
This case not only provides you with an extra layer of security, but it does so while allowing you to show off that coveted Apple Logo All thanks to the precise back cut.
Underwater selfies are the most in trend these days, and for that, you don't have to buy a waterproof camera. With Clayco, you can take your iPhone underwater as it has an IP68 water resistant layer. The polycarbonate shell looks super amazing while preventing any bumps. The design is durable, and the installation is also a child's play.
Order on Amazon – Price $19.99
---
#7. Yuqoka Waterproof Case iPhone XS Max:
Most of the waterproof cases are hard and curtail usability experience, but that's a thing of past. With the introduction of Yukoka cases, things got easy.
You can submerge your phone in a deep pond of 6 feet, and this case vows that there will be no water damage. The revealing back look and perfect camera fit avoid the entrance of dust and debris.
Purchase from Amazon: Price $18.99
---
#8. Fustonus Waterproof Case iPhone XS Max:
This is another iPhone XS Max waterproof case that acts as a life jacket to your phone. The clamps in this case cover shut easily, making it completely water sealed. The TPU built, and IP68 water resistance rating means that your device is drop proof while being secure from water damages at the same time. You can pick this case if you have a transparent taste and it's worth it.
Get it on Amazon – Price $
---
#9. Procase Universal Waterproof Case for iPhone XS Max: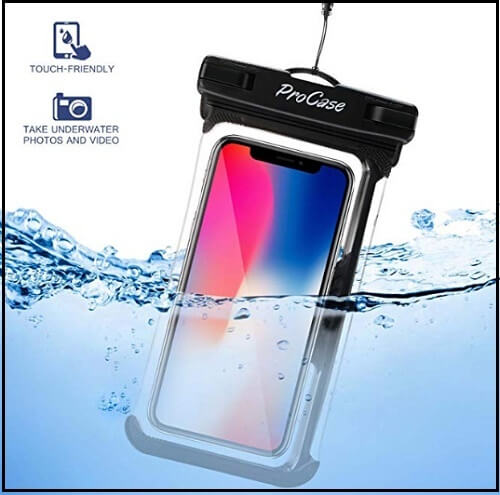 Procase is more of a pouch and less of a case. This is a dry bag in black color and a belt that universally fits any phone up to 6.5 inches. So along with carrying your phone, you can also put in your cash and cards to fortify them from the water.
This iPhone XS Max waterproof case has an ultimate IPX8 water resistance that means it can protect your phone up to 100 feet of water depth and that's amazing. If you own multiple devices, then going with this one is a smart decision.
Get it on Amazon: Price $10.99
Wrap up
All these iPhone XS Max waterproof cases have a glove-like fit and can make your phone more water resistant. However, proper installation is an absolute requirement as water can seep in even from the tiniest of the space.
Read user manual carefully and install these cases. For a small test, you can dunk your phone into a bowl full of water for complete satisfaction.
Get More Stylist Cases for iPhone XS Max