🗓️
December 6, 2023
By ✍️
Jaysukh patel
I am saying that my iPhone is just fine for me. Let's follow me to fix your problems. We can change fast, Normally depending on the situation. Pick the best tips for what you should do when your iPhone 15 Pro Max Doesn't charge or is charging slowly after a long time.
Think of the situation when you want to call or text someone very urgently, and your iPhone's battery gets drained, and even after connecting the charger, it is not responding. How frustrating it will be for you. Or your iPhone 13 Pro is taking so much time to charge. What to do in that state? The first idea that will come to your mind is to visit the Apple Service Centre to fix this weird issue.
But before going to Apple Store, we would like to share some suggestions to fix iPhone 13 Pro that won't charge or charging slowly. There are many reasons behind this problem, some users don't properly use their iPhones, or some are unlucky to have battery faults at such an early stage.
Useful guide whenever you noticed symptoms like the Phone won't charge past 80, 13 Pro Max won't charge in Car or MacBook air or wirelessly, and quick fix Phone won't charge to 100 percent after getting wet.
You can temporarily charge your iPhone fast using iPad's Charging Adapter.
Fix iPhone Not Charging
Solution #1: Check the Lightning cable and Adapter
To confirm that the charger is working correctly, you must first examine it through various experiments. First, connect the charger to another iOS device and see if it's responding; if not, replace your cable. Although, you should use another spare charger to ensure that any hardware part of the iPhone isn't damaged, While these experiments try to use different power sources/sockets.
If you have a wireless charger, check whether the charger is compatible with your iPhone. Besides, if any fault is raised in the wireless charger, then it causes iPhone won't charge or slow charging issues.
Wait for at least five minutes your iPhone will see the Apple logo in Charging mode. –
Keep in mind that your Phone charging port hasn't debris inside; the second thing is cable and charging port connector must be connected properly (You may know loose contact between both won't transmit enough power energy).
Another thing is, please never use a Faulty cable to charge your device. It is against our safety. Suppose your charging cable is broken and you don't have a budget right now – Please follow my ideas to Fixes Frayed iPhone Charging Cable at Home.
---
Solution #2: Force Restart
Doing this will force quit all the applications and functions to run behind. Another reason behind iPhone won't charge your iPhone is stuck on a black screen, it is unable to show the charging indicator, and you are assuming your iPhone is not charging. So try this fix once. This trick also works while your Phone won't charge past 85 or not charging more than 80.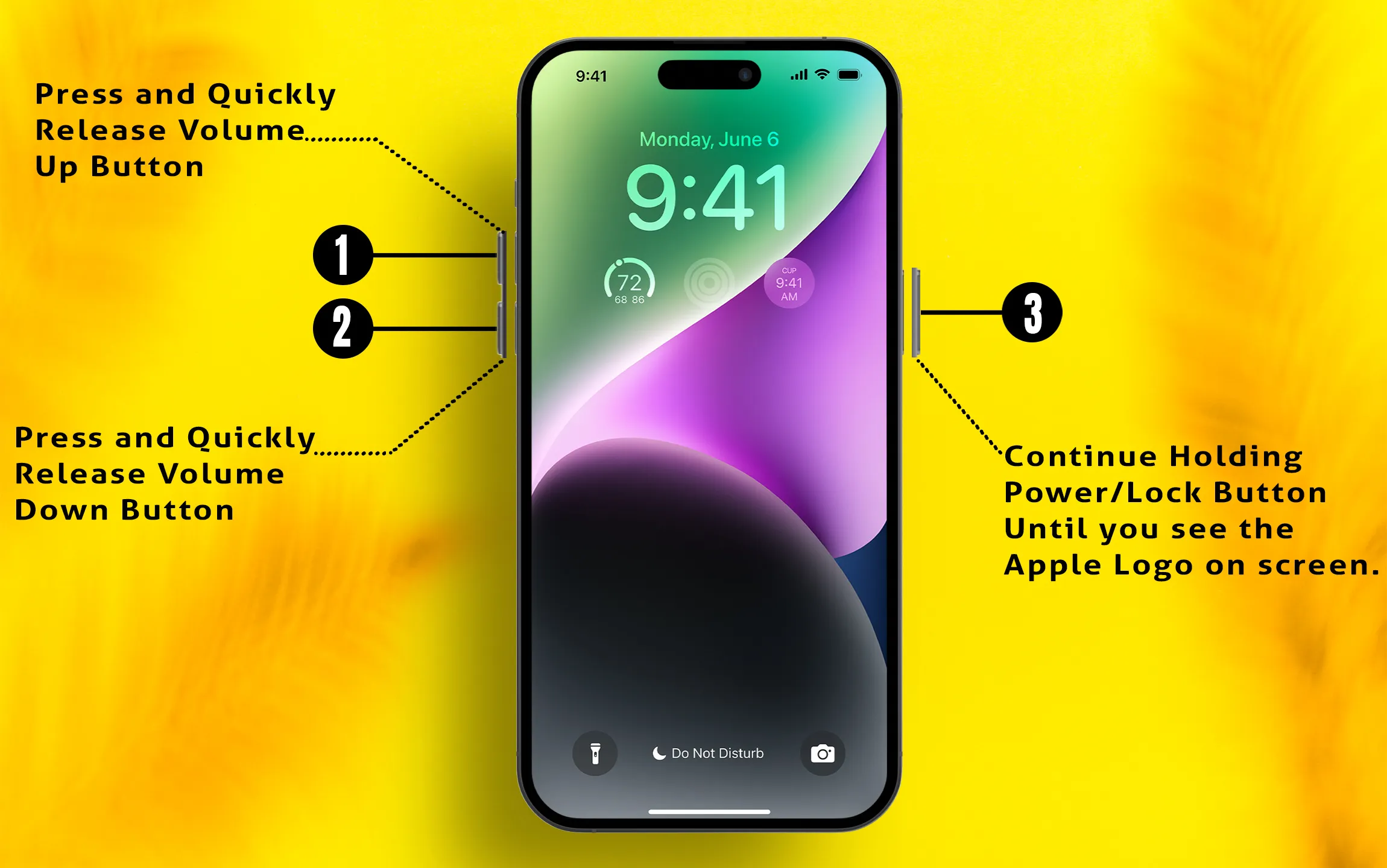 Quickly Press and release the Volume Up button.
Quickly Press and release the Volume Down button.
Now, Hold down the Side button until you see the Apple logo on the screen.
---
Solution #3: Place your iPhone Charge a little longer
Many users use their phone until the battery is drained to 0%, and then they are complaining their iPhone is charging slowly. When the battery is drained entirely, your iPhone will take a little longer to load. And if still, after 30 or 40 minutes, you don't find any charging indicator, then, like we said, change the cable or power source.
You must try to connect your iPhone to a computer or laptop and see whether iTunes can identify your device. If iTunes shows your device, update or restore your iPhone right from iTunes.
---
Solution #4: Try using your Mac or Windows Laptops to charge iPhone
Likewise, it is also a good solution if your adapter is corrupted, then you will come to know by charging via laptop. Just keep in mind that your laptop screen is turned on.
Check the Enable USB Accessories Settings. Or You should unlock your iPhone First using Face ID Or Passcode to permit Third-Party Accessories like Car Play, PC or Mac.
---
Solution #5: Calibrate your iPhone Max battery
This solution will optimize the iPhone 13 Pro Max's battery and may increase the charging speed. To try this, your iPhone will require some battery. Most probably iPhone slow charging will be fixed by calibrating the battery.
Use your device until it shuts down automatically after the battery is drained.

To check the battery is thoroughly drained, turn it on and wait until your iPhone 13 Pro Max is turned off automatically.

So up next, connect the charger and let your iPhone gets fully charged to 100%.

Remove the charger and turn on the device.

Check whether the battery indicator is showing 100% battery or not. If not, connect the charger and only disconnect when it reaches 100%.

Restart the device and disconnect the charger after the battery is full.

Again use it until its battery runs out and shuts off automatically.

Again charge iPhone 13 Pro Max to full.

Start your iPhone.
This is how the battery of the iPhone gets calibrated, and from now you can charge and use the mobile whenever you want.
---
Solution#6: Contact Apple Support and check Battery Health
Mostly Old iPhones suffer Battery problems because of an expired predefined number of charging cycles. But in some cases, a faulty battery shows the same problem as this.
---
Solution #7: Turn off the Background app refresh or unused app
Mail app, GPS Games, and the app always run in the background, that all apps we can manage by disabling background app refresh.
Go to the Settings app on the iPhone.
Next, Tap on General.
Now, Scroll to Background App Refresh and "Background App Refresh."
Set to Turn off.
Also, Turn off Personal Hotspot. Settings app > Personal Hotspot.
Tips:
• Do not use any other charger and accessories except OEM.
• Don't use the iPhone when it is charging.
Wrap up
We will update you on this page as per apple users' recommendations and Real problems that come in the next few days. So Come back here and Read new tips and tricks daily on howtoisolve and the YouTube channel as well.