🗓️ November 10, 2020 By ✍️ Jaysukh patelGet home cooking apps, useful as the recipes by ingredients app. Test your favorite recipes at home, just know the name and find it easily in the world's largest collections. Depends on batter cooking experience you will get more help with different functions only using the app. Recipes are the Chocolate chip, Pancakes, Soup, Pasta, Pork chops, Pizza, Casserole recipes, kinds of seafood, Bread recipes, Brownies, Breakfast/ dessert/ Starter/ Dinner, Soups, Cookies, and Types Salads to cakes. Also find favorite recipes on country based: American, Chines, Indian and many more. Here's the list of top best full facilitated Kitchen recipe finder app for iPad/ iPhone.
Know the experience, your Favorite cook, keep eye new recipe from well-known cook chefs. Open recipes on the app, keep iPad stand for Kitchen and start to experience.
Top Apps For Finding Recipes For Ingredients for iOS in 2019
#1. Forks over Knives – Recipes
Receive the best quality recipes that good for health from 20 leading chefs. The countdown began and joined over millions of test lovers with this network app. Fork Over is giving best service through the iOS app by new recipes update on every week, Step by step all ingredients guide, Auto-sync all data across multiple devices.
Also, get the suggestion from health professionals that serve different people affected by heart disease and diabetes.
#2. Yummly Recipes & shopping list
The yummly app has a great collection of top best recipes from popular food niche websites or online community portal. Improve old generation food for your family, that's really needed for this time. Yummly is available for the website, a free app for iOS and Android. Browse new recipes in a video, Articles (Community submitted content). Infinite test loop doesn't need to depend on another app.
This app is also compatible with Apple TV, Batter experience at all
Download Yummly App | Recipes Box
#3. Food Network in the Kitchen
A best-rated app in food making and Recipes finder in the app store. Browse from 50,000 recipes collected by Television food network. Recipe collections types are Desserts, Weeknight, and Healthy, Cocktails and evergreen recipes. Easy to learn & watch an original video made by homemade official Food Network. Save or Share handpicked recipes with your friends on Facebook, Twitter, Pinterest, Email.
#4. Kitchen Stories – Recipes, Baking, Healthy
Kitchen Stories is compatible with all Apple devices (Apple Watch, iPhone, iPad). Mostly all recipes corrected with a time base, Choose your time interval and be ready your recipes on time. HD pictures, how to video tutorial, new video or Recipes alert on every week.
This app designed for use any age people can use on Apple, Android Devices.
Bookmark your favorite recipes
#5. Allrecipes Dinner Spinner
Are you a learner and hungry to find out delicious recipes that can easily make at home or Find sales near to you. Active 30 millions of cook lovers are on this app and learning a lot from largest Cooking industry. A quick jump into recipes video, Search for most prominent recipes name keyword, chefs profile, and relatively recipes.
All Recipes Designed for iPad, iPad, Tablet, PC or TV
#6. NYT Cooking – Recipes by the New York Times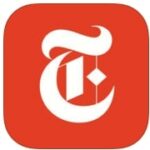 The New York Times officially gift a new gift to cook. It's easy to stay in touch with the largest media publisher. Be with this app with diet recipes over 17,000+ Create your private recipes inbox and manage it when you need. Sync Ever-note notebook and make your note of recipes that are very easy to repeat and mark important points.
#7. BigOven 35000 Recipes
With help for Free and Pro BigOven Membership always helps to find the best recipes for your mood. Meet inspired people from BigOven and Follow him from activity on Recipes, Experience. Practical, experienced and suggestion no one can ignore, I am always. Prepare grocery list and mark on it on that you have a shop. Pro membership activation is on per annual or monthly and auto/ Easy on the app.
The above list is more enough to find out your best Kitchen recipe finder app for iPad, iPhone. Share your favorite one in the comment box.